Robbie's Rules
LA Galaxy's out soccer star Robbie Rogers hits the field on his own terms
(Page 2 of 3)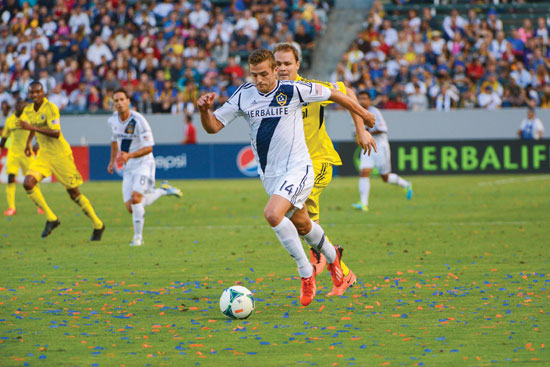 Robbie Rogers
(Photo courtesy LA Galaxy)
MW: Do you wish you had done it sooner?
ROGERS: No, I think everyone is different. For me, it was just coming to terms with myself and just kind of doing it on my own time. I think some people are maybe late bloomers and do it in their 30s. Some kids are really confident and know who they are at a young age. For me it took me some time, but I wouldn't have changed it. It was just kind of part of my journey.
MW: You grew up in California and I know that you spent a little bit of time at the University of Maryland. Those two places have reputations as being very accepting, so I'm wondering what drove you into the closet?
ROGERS: The culture of athletics. You're expected to be a straight, very manly like machine. That's the stereotype of athletes. So there was just hearing homophobic things and growing up in the locker room. California, in general, is a pretty liberal place, but the areas I grew up in were very conservative, very Christian-Catholic areas. You grow up hearing things that make you think that if you're gay and were to come out, you wouldn't be accepted.
Everyone has been very positive and accepting, but it starts at a young age that you hear so many things that are negative towards the gay community, which just scares you. And at Maryland, I didn't know anyone gay there. I only went there for a year. It was more so the sports world.
MW: How old were you when you had that realization that you were different?
ROGERS: I was 14 when I really put my finger on it, but I didn't really come to terms with myself until I was about 23. I struggled with it for a long time.
MW: You and Jason Collins are trailblazers in a lot of ways. Why do you think there are so few professional male athletes who have come out publicly, and when do you think that might change?
ROGERS: That last question is a difficult one. After I came out and after Jason came out I thought that there would be a bunch of different people back to back. I think the sports world is still very masculine and everyone is expected to be a certain way and there are those expectations to live up to. But I think there's a lot of fear that if an athlete came out they would not be treated the same by their teammates and by fans and by owners or agents. I don't think it's true, I think we've come to a point in society where we're very accepting and think at any time now is the time to do that.
I think everyone is on their own terms to have the courage and confidence to do that. I think it's tough to put a timeline on it and so it's tough for me to ask people to come out because I'd be a hypocrite. It took me 25 years and it was all about me finding the courage and confidence to do that. I think [other athletes] might look at Jason and I and say, "Okay, everything was good for them." But it's about them. It's about each individual athlete and of course hearing our stories is positive, but it's not going to change everything for them.
MW: You have a huge social media following. Was there any negative reaction to your coming out among them?
ROGERS: Of course. There's always some people out there who are negative and say things like, "Why can't you just keep it to yourself? Why do you have to talk about it?" I wish those people could see the letters that I get from young kids that are suicidal and say, "Hey, I read about your story and I don't want to kill myself anymore." As simple as that.
On social media people can say whatever they want, but I usually just ignore that stuff. I don't go out looking for negative comments. People are going to love you, people are going to hate you no matter. That's just part of being a public figure.
MW: How important is that message sent to kids?
ROGERS: Until I came out publicly I didn't realize how important it was. I didn't realize how important it was for me to talk about it and speak with kids and go visit kids and to share my life a little bit more just so it would help them out because I didn't have that growing up. I think, for me, it's something people with a platform need to do: Be a positive role model. I'm going to continue to do it until it's not an issue at all and then I'll stop talking about it.
MW: When you were growing up, was there anyone in particular who was a role model, maybe not necessarily an athlete?
ROGERS: My parents and family. My grandpa was a huge role model and just an amazing person, but not really. There wasn't anyone that I could really look up to or really relate to, which is probably why it took me so long to come out. I didn't have anyone to mold my life after that I thought was similar to me so that's something I struggled with. Hopefully kids can connect with me. I'm human, so I make mistakes, but I hope that I can live a life where I can be a positive role model for other kids.
MW: You've now played soccer in the U.S. and the U.K. How is it different?
ROGERS: Football in the U.K., it's the biggest sport. And here in the U.S. it's not, so the energy behind the teams, the fans, how much it's on TV, it's so different. If you can just imagine American football, but I think it's even more passionate over in the U.K. and other European countries. There's a lot of history and tradition over in Europe and the rivalries are insane.
MW: You mentioned some of the hyper-masculine environments.
ROGERS: It's very much in soccer in the U.K. and Europe.
MW: Do you think it's more so the case over there?
ROGERS: Definitely more than soccer here, but I've never been inside an NBA or an NFL locker room, so I can't speak for those. Over there it is very masculine and the banter and the jokes and all the conversation is very — I hate to say it like this — very straight, stereotype-athlete mentality talking about, you know, what girls you're hooking up with, what cars you're driving around, where you went out the weekend before, all that stuff. It's tough for a gay athlete to really connect with all that stuff.
MW: Did that ever get under your skin?
ROGERS: It bothered me and made me quiet, but I wouldn't say it got under my skin.
---