''LGBT People Know''
Openly gay law professor Tobias Wolff writes of shared experiences in opposing Arizona's harsh new immigration enforcement law
On April 23, Arizona Gov. Jan Brewer (R) signed Senate Bill 1070, the nation's most stringent state immigration enforcement bill, into law. On Tuesday, April 27, prominent openly gay legal scholar Tobias Wolff explained why LGBT people must ''stand up against'' what he called an ''appalling and dehumanizing statute.''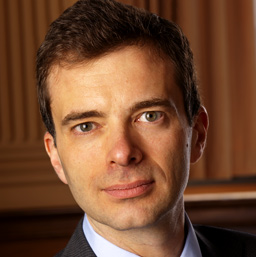 Tobias Wolff
In the antiseptic language of legislation, the bill begins by addressing ''cooperation and assistance in enforcement of immigration laws.'' As one proceeds further into the bill, even the language of law cannot hide its impact. Other sections cover ''trespassing by illegal aliens,'' ''unlawful stopping to hire and pick up passengers for work'' and ''unlawful transporting, moving, concealing, harboring or shielding of unlawful aliens.''
The bill has been criticized from many on the left, from immigrants' rights groups to civil liberties groups, by President Barack Obama and even by some of those on the right, like Rep. Tom Tancredo (R-Texas) who supports the bill but raised concerns about people being ''pulled over because you look like [you] should be pulled over.''
Today, however, Wolff – a professor at University of Pennsylvania Law School -- wrote an open letter about the new law, tying together multiple struggles for equality in his call for strong opposition to the measure. He writes, ''I have been studying the laws of the United States and working on civil rights issues for fifteen years, but I have never seen a more appalling and dehumanizing statute in present-day America than this measure.''
Wolff wrote, ''It is not merely that this statute declares an entire class of human beings to be inherently criminal -- trespassers on all public and private land in Arizona because of their status. It is not merely that the law requires police and other law enforcement agents in Arizona to treat an entire population as presumptively criminal on the basis of their race and appearance.''
He continued, ''The purpose of this law is to disempower all brown-skinned immigrants in Arizona, turning them into a third-class group who must live in constant fear of government and are subject to arbitrary abuse and exploitation.''
Connecting the movement in which he has been involved -- Wolff served as LGBT policy chair and a legal advisor for then-Sen. Barack Obama's presidential campaign -- to the Arizona law, Wolff concluded, ''LGBT people know what it means to be declared by statute to be inherent criminals -- to be told that we are illegal people. Transgender people know what it means to be told that their very being, dress or appearance makes them inherently suspicious and subject to arrest and detention.

''We must stand up against this law, and we must do so loudly and strongly.''
Human Rights Campaign spokesman Michael Cole noted that the group had posted Wolff's letter at its blog, adding, ''I think it really captured the sentiment that we agree with, that LGBT people – and all Americans – should be outraged at this draconian law.''
Speaking of ''government-sponsored marginalization,'' Cole said, ''Certainly, LGBT people understand the way that discrimination can hurt and marginalize people.''
The law's passage and national opposition to it come as the Trail of Dreams -- ''four students from Florida . . . who left Miami on January 1, 2010 to embark on a 1500-mile journey to our nation's capitol'' -- reaches its destination. An effort described by the group as one to ''share our stories and to call on our leaders to fix the system that forces people like us into the shadows'' has scheduled a week of activities in Washington to draw attention to immigrant youth.
The students, three of whom are undocumented, include an openly LGBT member. They have been talking about the problems faced by undocumented youth and pressing for passage of the Development, Relief and Education of Alien Minors Act, or DREAM Act, as they traveled throughout this spring. Their time in the District includes a lobby day on Thursday, April 29, and a rally in Lafayette Park on Saturday, May 1.
The DREAM Act, H.R. 1751/S. 729, was introduced by Rep. Howard Berman (D-Calif.) in the House, where it currently has 114 co-sponsors, and Sen. Richard Durbin (D-Ill.) in the Senate, where it has 36 co-sponsors.
---