Olson's Stand
Standing on principle and standing in the gaze of history, famed conservative attorney Ted Olson has become one of the nation's most powerful voices for marriage equality
Calling it a matter of ''human dignity,'' lawyer Ted Olson addressed the board and other supporters of the Human Rights Campaign on Saturday, March 5, to discuss the challenge to Proposition 8 that he, along with David Boies, has been leading for nearly the past two years.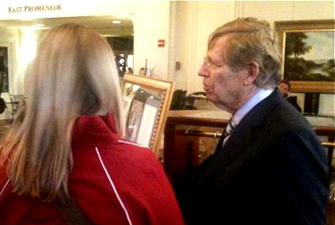 Ted Olson

(right) speaks with attendees of the Human Rights Campaign's Spring Board Meeting and Equality Convention after addressing the convention on Saturday, March 5, 2011
(Photo by Chris Geidner)
''It has been an enormously emotional experience for me to represent the American Foundation for Equal Rights (AFER) and the two couples that we represent in California and, beyond them, all of the people in California who wish to get married,'' Olson said at the HRC Spring Board Meeting and Equality Convention.
The famed conservative lawyer who served as George W. Bush's lawyer in Bush v. Gore, told the crowd at the Omni Shoreham Hotel in Woodley Park, ''We can't conquer discrimination in this country except if we're capable of dismantling things like Proposition 8 in California.''
Saying that he expects the U.S. Supreme Court to agree with his arguments that Proposition 8 is unconstitutional, Olson noted that the question of standing – whether there is an appropriate party appealing the case – may keep the Perry v. Schwarzenegger case from going forward.
That won't stop him or AFER.
''If that doesn't happen in this case,'' he said, ''then the American Foundation for Equal Rights is prepared to do what it takes to bring a case in other jurisdictions that will go all the way to the Supreme Court.''
Talking with Metro Weekly after his speech, Olson also questioned the response of House Speaker John Boehner (R-Ohio) to the Obama administration's Feb. 23 decision to stop defending Section 3 of the Defense of Marriage Act.
Of the House leadership's slow response, he said, ''Well, it doesn't look like they're too excited about it. It's taking them a while to get their thoughts together.''
On whether the March 4 action taken by Boehner toward beginning a House attempt to defend DOMA is a good thing, Olson said, ''I don't know. … It'll be interesting to see whether they have legal standing to do it. That's another tough question.''
The question of what action the lawmakers will be able to take – whether they will be able to intervene as a party to various DOMA challenges or be limited to filing briefs as an amicus curiae, or friend of the court – is not completely clear.
On Feb. 23, White House press secretary Jay Carney said ''the United States government will still be a party to those cases in order to allow those cases to proceed … so that other interested parties are able to take up the defense of the Defense of Marriage Act if they so wish, in particular, Congress or members of Congress who want to proceed and defend the law in these cases.''
Carney added, ''The administration will do everything it can to assist Congress if it so wishes to do that.'' He did not at the time say whether the administration specifically would support attempts by the House to intervene in the cases, if that is the course the House chooses to pursue.
Providing a stark contrast to Boehner's view that ''the Obama Administration has opened [a] divisive issue'' by refusing to defend Section 3 of DOMA in court, Olson argued on Saturday that, of the fight for marriage equality, ''It is a conservative value.''
Speaking about the Newsweek cover story that he wrote in January 2010 on the issue, he added, ''But I wanted to make the point that it isn't a conservative case for gay marriage, it isn't a liberal case for gay marriage, it's an American case.''
He told the crowd, ''I wanted to help open eyes.''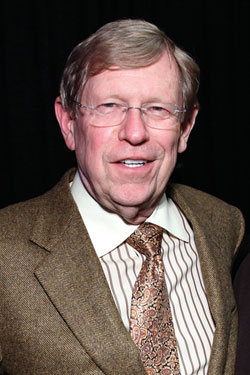 Ted Olson
(Photo by Alex J. Berliner)
Referring to the Perry challenge he brought to Proposition 8 on AFER's behalf, he said, ''I felt it was a responsibility for us to explain what we were doing, what we were saying, why we were saying it and why we were doing it.''
He shared with the activists some of his early discussions with Chad Griffin, the man behind AFER who now serves as the president of its board, and his thoughts upon agreeing to lead the case.
Of a man like him – a conservative icon – taking on the case, Olson admitted that he had some concerns.
''People aren't going to like it, they're not going to trust me, they're going to want to know what I'm up to, and there would be a lot of questions,'' he said that he thought at the time. ''I wanted to get a partner in this case.''
He said that he told Griffin, ''I want someone of prominence who's on the liberal side of the political spectrum. And we decided that my opponent in the Bush v. Gore case, David Boies, would be perfect.''
Calling Boies ''one of the finest lawyers in America,'' Olson said, ''David immediately agreed to do it. So, it became what now people are calling us the odd couple, and odd bedfellows – which,'' he noted, to laughter, ''my wife is bothered by.''
The odd couple, though, was able to push forward in a unique way, Olson explained.
''What it did for us is allow us to go to the American people and say this is not about Republicans or conservatives or left or right,'' he said. ''It's about America. It's about the Constitution.''
Channeling people who hear about the case, he said that they say, ''Oh, Ted Olson and David Boies, let's listen to what they have to say.''
Bluntly, Olson told the crowd, ''It gives us an audience any time we want, anywhere, to talk to people.''
Of the arguments against marriage equality, Olson's sureness continued unabated.
''I said, 'I am thrilled to take this case on because I don't know of anyone that I can debate with who's going to come up with an argument that I don't have an answer to.' And that's the way it's been,'' Olson said.
''They might say, 'Well, our religion …'''
Olson told the crowd that his response is: ''That's fine, and that's your religion … But your church or your religion can't put its principles into the constitution of California. That's a violation of the First Amendment. So, what do you say after that?''
Referring to another argument, Olson then said, ''During trial, they came up with something called 'protection of responsible procreation.' I was saying to Chad just before lunch, 'Well, Charlie Sheen.'''
The assembled activists – perhaps more impressed with the up-to-the-minute cultural reference – roared.
Olson, though, quickly returned to the law, explaining, ''The people that are being prevented from getting married are not going to engage in irresponsible procreation. Then, if you let them get married, that also is not going to cause irresponsible procreation.
''What are you talking about?'' he directed outward at his opposing lawyers in the Proposition 8 challenge.
''Those are the arguments,'' he told the crowd. ''I mean, really, I'm trying to do justice to them.''
But, Olson says he is certain that his arguments – the arguments for marriage equality – are the correct ones.
He adds, though, ''[O]ur job is not just to win this case in court. Our job is to win this case in court and in the arena of public opinion. We want to convince the people of America.''
Of the public case being made for marriage equality, Olson pointed to the rapid movement over the past two years in public opinion polls.
He also pointed out the two people who received HRC's Ally for Equality Award: Iowa resident Zach Wahls, who was ''raised by two women'' and spoke out against efforts to end marriage equality in Iowa, and Craig Stowell, who published a full-page ad in New Hampshire's Union Leader that contained a letter supporting his gay brother Calvin's right to marry.
Of the speech Wahls gave, Olson referenced his extensive public speaking and litigation history and said, ''This is incredible. This is the best speech I've ever heard.
''Three minutes. See what you can do in three minutes? You can change the world with a three-minute speech.''
Then, looking over at the Stowells, he said, ''And, Craig, writing that editorial that you undertook to write, that act of – people would say courage – but we know that it's an act of love.''
Olson said, ''That is changing the world.''
In a closing argument of sorts, he said, ''If people will listen to us, they will be persuaded. If they will hear what we have to say, they will start to believe. They will support the right of individuals in our society to have rights to marriage, irrespective of their sexual orientation.
''At the end of the day,'' Olson told the crowd, ''when the Supreme Court of the United States says that, in our case or some other case, the American people are going to say, 'Of course.'''
---