Incumbency Trumps in DC and Maryland
Amid light turnout, voters stick with the status quo
As with District residents writ large, D.C.'s LGBT community shouldn't expect any major changes in its collective relationship with the city's elected officials.
With results nearly wrapped, but not yet official, April 3's primary elections saw five of the 12 sitting councilmembers certain to or poised to advance to the November general election, with Councilmembers Jack Evans (D-Ward 2), Muriel Bowser (D-Ward 4) and Marion Barry (D-Ward 8) winning outright majorities, Councilmember Yvette Alexander (D-Ward 7) winning a plurality of votes, and Councilmember Vincent Orange (D-At-Large) holding onto a 543-vote lead over former Councilmember Sekou Biddle into the early morning hours of April 4. With D.C.'s overwhelmingly Democratic majority, the Democratic primary serves as the de facto election for those seats.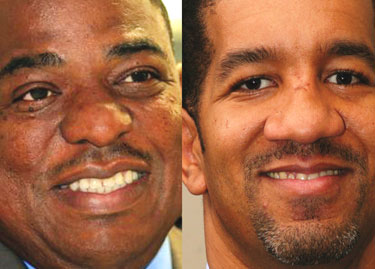 Orange and Biddle
Evans, running unopposed, has a long record of advocacy on behalf of the LGBT community and received 80 percent of Democratic primary votes. He was one of five candidates endorsed by the Gertrude Stein Democratic Club, and received an 8.5 rating, on a scale of -10 to 10, from the Gay and Lesbian Activists Alliance (GLAA) of Washington, which rates but does not endorse candidates.
According to results from the D.C. Board of Elections and Ethics, Bowser, another one of the candidates endorsed by the Stein Club, received 65 percent of the vote, 42 points ahead of her nearest challenger. Bowser earned a rating of 6.5 from the GLAA.
Longtime LGBT ally Del. Eleanor Holmes Norton (D), another Stein endorsee, easily won her party's nomination for re-election to Congress, and Stein endorsee Nate Bennett-Fleming ran unopposed for the District's ''shadow'' representative.
But in some races, incumbency worked against the LGBT community.
In Ward 7, Alexander earned just under 42 percent of the vote in a six-candidate field, but her two top opponents, Tom Brown and Kevin B. Chavous, split the anti-Alexander vote to earn 22 and 21 percent, respectively. Another 10 percent went to William ''Rev. Bill'' Bennett II. Brown was the sole non-incumbent endorsed by the Stein Club. He and Chavous tied for the top rating from GLAA in the Ward 7 race, with each earning 3.5. Alexander, meanwhile, earned a -3.5 from the GLAA. Bennett earned a -1.
In Ward 8, Barry matched Alexander for GLAA's lowest rating given in any race, -3.5. But he won more than 72 percent of the vote against three challengers with stronger GLAA ratings: Jacque Patterson, 2.5; Sandra ''S.S.'' Seegars, 5.5; and Darrell Danny Gaston, 4. Because no candidate received 60 percent of votes of Stein Club members, no endorsement was issued in the Ward 8 race.
In the city's heated At-Large Democratic primary race, voters had four choices: incumbent Councilmember Vincent Orange; interim Councilmember Sekou Biddle; former Prince George's County Councilmember Peter Shapiro; and E. Gail Anderson Holness. While Biddle and Shapiro earned GLAA ratings of 5.5, compared to -1.5 for Holness and .5 for Orange, it was Orange who seemed to carry the day with huge margins in Wards 5, 7 and 8.
The result of that race, however, has not yet been finalized. As of Metro Weekly press time, Orange led Biddle by 543 votes, or 39.77 to 38.75 percent. A 1 percent margin would trigger an automatic recount. And several hundred absentee, provisional and curbside ballots have yet to be counted. Those vote totals will be reported on April 13.
Lateefah Williams, president of the Stein Club, told Metro Weekly Wednesday morning that Stein-endorsed candidate enjoyed success in Tuesday's primaries.
''Overall, our endorsed candidates did well,'' Williams said. ''All but one of our endorsed candidates prevailed, and we knew he faced an uphill battle against an incumbent. Unfortunately, the opposition split the vote in that race. The incumbent received only 42 percent, but the opposition split, with Tom Brown leading the way. I'm proud of the efforts Tom Brown gave to this campaign, and proud of the other groups that supported him as well.''
In other party primaries, some LGBT voters may have been disappointed, as Ann C. Wilcox defeated G. Lee Aikin by a 59-23 margin in the D.C. Statehood Green Party primary for the At-Large seat. Wilcox received a .5 rating from GLAA, while Aikin received a 4.
On the other hand, LGBT-friendly Republicans had a very good night, as Peaceaholics founder Ron Moten, who earned a 1.5 from GLAA, defeated Donald Folden Sr. by 33 points in the Ward 7 race. Running unopposed for an At-Large seat on the council was Mary Brooks Beatty, who had the endorsement of the Log Cabin Republicans, while Nelson Rimensnyder ran unopposed for D.C. ''shadow'' senator.
In addition, in the races for GOP national committeeman and committeewoman for D.C., Bob Kabel and Jill Homan, two members of the D.C. Log Cabin Republicans, won their races, making D.C. the first jurisdiction to have two LCR members serving simultaneously as committeeman and committeewoman.
Robert Turner, president of the D.C. LCR chapter, issued a statement praising the group's candidates.
''DC Log Cabin looks forward to actively supporting Ron Moten and Mary Brooks Beatty in their races this fall. Together with a Tim Day victory in next month's Ward 5 special election, these contests will show our party's renewed energy in the District, and DC Log Cabin will do all we can to restore trust and commonsense leadership to the Council,'' Turner said in a statement.
Turner also praised the success of Kabel and Homan, saying they were friends of Log Cabin and that the organization ''looked forward to working with them to represent our core principles on the RNC.''
Meanwhile, in Maryland's primaries, also held on Tuesday, incumbent U.S. Sen. Ben Cardin (D) beat back several challengers, including state Sen. C. Anthony Muse (Prince Georges Co.), to win his party's nomination for re-election.
Cardin and fellow Sen. Barbara Mikulski (D) recently expressed support for adding marriage equality to the Democratic Party platform, while Muse was one of the most vocal members of the Maryland Senate opposing the recently passed marriage-equality law.
---