Sarah Smiles
After years of struggling with gender identity, AU student president comes out as transgender to supportive campus
As April turned to May, change was afoot on D.C.'s American University campus. For starters, April 30 marked the end of Student Government President Tim McBride's term. The next day, The Eagle, AU's student newspaper, featured a column from the outgoing president titled ''The Real Me.''
''For my entire life, I've wrestled with my gender identity,'' McBride wrote in part. ''It was only after the experiences of this year I was able to come to terms with what had been my deepest secret: I'm transgender.''
With that, Sarah Elizabeth McBride came out as a transgender woman about as publicly as possible. The reception she's gotten from her AU community has been, in a word, ''overwhelming.'' In a good way.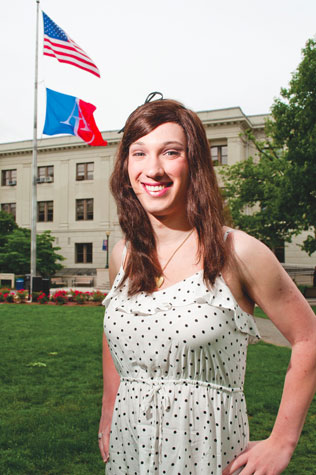 Sarah McBride
Photo by Todd Franson
''The outpouring of love and support from the AU community has been overwhelming,'' says McBride, a 21-year-old junior from Wilmington, Del., majoring in political science with a minor in history. ''I'm feeling great. I'm feeling loved. I'm feeling supported. I'm feeling very confident. With that incredible support network behind me, with my family behind me and with the incredible support network back home in Delaware, I'm feeling very comfortable. And, frankly, very lucky.''
While McBride's coming out has been warmly received on campus, it's not a decision she made lightly. As she wrote, she struggled privately with gender identity all her life. But she didn't begin to share that on May 1. Her steps out of this closet have taken months.
''I struggled with it in the fall very privately with one or two friends,'' she explains. ''Over winter break, I came out to my family. Actually on Christmas. I had not slept for about five or six days beforehand, because I knew I was going to come out and I wanted to wait until after Christmas. But I received a button-up shirt and tie for Christmas, and that sort of internally freaked me out. It was such a stark symbol of where I was versus where I needed to be.''
That led to a Christmas Day discussion, with McBride coming out to her parents. She says that they, along with her two older brothers – one of whom is gay – have been unconditionally loving and supportive. McBride knows how fortunate she is in that regard, and possibly more so when it comes to her campus reception.
The outgoing president of the American University Queers and Allies group, Jill Altman, like McBride, says that reception is testament to the AU community's commitment to diversity and respect.
''There's a huge part of me that's proud of her, but I'm also proud of our university,'' says Altman, who met McBride when she was presenting as male, working as student body president with Queers and Allies to expand gender-neutral student housing, to promote the Day of Silence, and other efforts. ''Seeing the reaction has made me really glad I go to AU. I transferred here, and the school I went to before this wouldn't have had this reaction. This shows who American University really is. People are not just accepting of her, but proud of her.''
That pride is not limited to campus. Mara Keisling, executive director of the D.C.-based National Center for Transgender Equality (NCTE), is also impressed with McBride.
''Sarah is remarkable,'' says Keisling. ''She already has quite an amazing political résumé. She's just going to be a really important, amazing, significant and visible trans person, I'm convinced. She's smart, amazing and committed to public service. I think that's why she's been willing to be visibly out.
''It's amazing when anybody comes out. The work we do at NCTE is really important, but the most important work is when people come out and educate their families, the people they know. She had an opportunity to educate the American University community all at once, and executed it spectacularly.''
McBride is as impressed with Keisling as Keisling is with her, listing Keisling and Amanda Simpson, the first openly transgender presidential appointee, as among those people who have helped her along this journey, women she admires.
There is another figure, however, that McBride holds in the highest esteem, an admiration that speaks to Keisling's mention of that ''amazing political résumé.''
If McBride has a hero, it's Delaware Gov. Jack Markell (D). As Tim, McBride volunteered on Markell's gubernatorial campaign and interned in the Markell administration. McBride even introduced Markell after his 2008 primary win – a win that essentially assured him the governorship in the largely Democratic state – to the campaign crowd.
''He is in incredible leader, an incredibly passionate, caring person,'' says McBride. ''He's been an amazing governor. He's an amazing father and husband. He's one of the strongest allies that someone like me could have. I've been very close to him and his wife, Carla, for some time. They have been so supportive.''
It's no wonder McBride offers such praise for Markell. After all, she's spent her life thinking of a career in politics. So it's also no surprise how she'll be spending her summer: as an intern at the Gay & Lesbian Victory Fund. For most of her life, McBride guessed that there would be no way to reconcile her political aspirations and her gender identity. Living as ''Tim'' might be an acceptable sacrifice, she rationalized. But it's a sacrifice – a life half lived – she's discovered she is unwilling to make.
Instead, in these days after coming out, McBride is learning to live fully. And she knows that her position – with regard to race, familial support, socio-economics and all the rest – grants her far more privilege than so many other transgender people. She is emphatic in that recognition, taking nothing for granted. Nor does she take her life as Tim for granted, saying that despite her struggle with identity, she is proud of all her pre-coming-out accomplishments. Still, no one can fault McBride for enjoying the simple indulgence of finding her footing, navigating her new life – even throwing a sort of ''birthday'' for herself last Saturday, May 5.
''Saturday was the first day of presenting as myself full time,'' says McBride, adding that the party included friends from both D.C. and Delaware. It was a celebration that helped to prepare her for moving about the AU campus Monday as herself, where she felt ''a thousand eyes'' looking at her. She's also faced down two women she passed on the street near her home who seemed to laugh at her.
''It's disappointing, but lots of people have to deal with more than people laughing at them.''
It would take far more than a couple of tittering passersby to knock McBride off her new stride, confident steps she's taking into a new, brighter world.
''It's the first time I'm at ease – or more at ease – in my own body,'' says McBride. ''I finally feel I'm in the present. My mind is free of all the stuff of struggling, re-imagining. I feel free to think about other things. There's freedom within my mind to finally experience life.''
---