Progressive Pocan
Mark Pocan hopes to become Madison's second out gay congressperson
While Wisconsin's capital city, Madison, is often dismissed by conservatives, including the state's Republican governor, as a liberal bastion out-of-step with the rest of the state, the college town has provided the perfect atmosphere for out gay state Rep. Mark Pocan.
A 14-year member of the Wisconsin State Assembly, first elected in 1998 to fill the seat of former assemblywoman and current U.S. Rep. Tammy Baldwin (D), the first out gay non-incumbent elected to Congress, Pocan is now seeking Baldwin's seat in the U.S. House of Representatives, while she runs for U.S. Senate.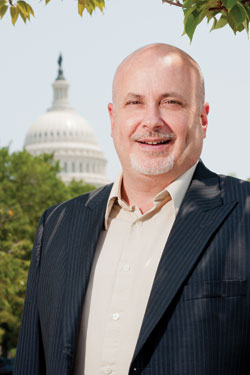 Mark Pocan
Photo by Todd Franson
In Wisconsin's heavily Democratic 2nd Congressional District, Pocan faces three other Democrats, including a fellow assemblymember, in an Aug. 14 primary that, barring an upset, will likely determine the outcome of the general election.
When asked what strengths he brings to the table relative to his competitors, Pocan first cites his 14 years in the Assembly and his leadership roles serving as the head of the Assembly Democratic Campaign Committee, which helped Democrats successfully gain control of the chamber in 2008 after 14 years in the minority, and as co-chair of the Joint Finance Committee for six years. He also has business experience, having owned and operated a printing company specializing in large-format graphics for 24 years.
On the policy front, Pocan's list of legislative accomplishment reads like a checklist of the major issues touted by left-leaning progressives, ranging from the extension of 41 rights of marriage to same-sex domestic partners, to partner benefits for state and university employees, to education, access to contraceptives and access to health care.
Appropriately, Pocan says the Congressional Progressive Caucus is a ''natural place'' for him to fit in if he is elected to Congress. He has been endorsed by one of the caucus's co-founders, U.S. Rep. George Miller (D-Calif.), in the race to succeed Baldwin.
And Pocan doesn't shy away from controversial issues, embracing the recently upheld federal health care law as an important first step in improving access to health care.
''Ultimately,'' he says, ''I'd love to see a day when we can get to universal single-payer, whether it be a Medicare-type system or another system, to ensure that health care is a right, and not something just for a few.''
But Pocan also sees his candidacy as a chance to make sure LGBT people are represented on Capitol Hill. He says the Democratic tilt and progressive nature of the 2nd District affords him the opportunity to serve as a spokesman for progressive causes nationally, including LGBT equality.
''I look at Tammy leaving the House to run for the Senate, Barney Frank retiring, we could be down to only two open members of the entire U.S. Congress,'' Pocan says. ''I know how important it is to have a seat at the table, because, if we didn't, we probably wouldn't have a domestic partnership law in Wisconsin, and we wouldn't have extended benefits.''
When it comes to being openly gay, Pocan says he has seen a significant change in attitudes, both in his district and statewide, since he was first elected to the Assembly.
''When Tammy got elected back in 1998 to Congress, we had the first attempt at a constitutional amendment in Wisconsin. There were only 19 Democrats in the Assembly and one Republican who opposed it,'' Pocan recalls. ''By 2006, when we had it come up as a constitutional amendment, every single Democrat in the Legislature voted against it. So we've seen exponential change in our state, not just within the Democratic Party, but also broad coalitions of labor and faith communities, all working together to stand against discrimination.''
Pocan, who married his husband of five-and-a-half years in Toronto – as Wisconsin does have that constitutional amendment he opposed banning marriage equality – says he would be a strong congressional advocate for gay-friendly policies, everything from recognition of spouses on insurance policies, to adoption, to marriage equality.
''When government allows discrimination, you allow it in a whole lot of other areas,'' Pocan says. ''And when government does everything it can to reduce discrimination, you have a better, positive impact on society.''
---