Platform in Play
News Analysis: A marriage-equality plank in the Democratic platform would be a first, but possibly little more
(Page 2 of 2)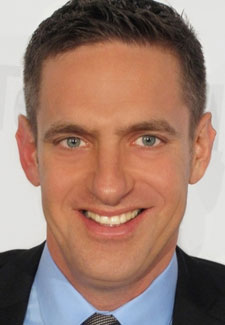 Marc Solomon of Freedom to Marry
Indeed, not only had President Obama come out in favor of same-sex couples' right to marry, he had also ordered his administration to stop defending the constitutionality of the Defense of Marriage Act in court. Democrats on Capitol Hill have also unified against that 1996 law that forbids federal recognition of same-sex marriage, which has led to numerous lawsuits.
And yet the move by the Democratic platform drafting committee, which will present their draft at the Democratic National Convention in Charlotte, N.C., in September, has struck a particular chord.
''For one of the major political parties to take a position on an important matter of human rights and civil rights is a big deal,'' Solomon told Metro Weekly in a phone interview. ''You don't have to go back very far to find a time when it wasn't a mainstream position of the Democratic Party to support the freedom to marry.''
In 2008, not one of the leading Democratic candidates for president explicitly supported marriage equality. Now the president of the United States has said ''same-sex couples should be able to get married.''
Despite these advances, divisions remain in the party. A recent poll by the Pew Research Center shows 29 percent of Democrats remain opposed to marriage equality, despite Obama's endorsement.
The White House has not commented on the platform plank, only referring to Obama's continued commitment to gay rights and deferring questions to the DNC.
When asked at a White House briefing if this move by the DNC could lead to a national campaign for marriage equality, Press Secretary Jay Carney deflected, stating that such a question was ''conflating a bunch of things about a discussion at the DNC about a party platform to a national campaign.''
''I would simply refer you to what the president has said and what his personal views are, and then to the DNC for what I understand is a process that is still developing as regards to their platform,'' Carney added.
The DNC has not commented publicly on the platform, nor released any language as to how the plank will read, but sources have confirmed marriage equality will be included.
Perhaps most telling has been the response from the Republican Party. Although a Romney spokesman reaffirmed his support for ''traditional marriage,'' Mitt Romney has not addressed the platform plank directly. The Republican National Committee has also been silent. Requests for comment from Metro Weekly have not been returned.
That silence, particularly as polls consistently show shifting support for marriage equality, could be an indication of a party coming to terms with an issue that increasingly appears inevitable.
Gregory Cendana, a gay man who will head to the Democratic National Convention as a D.C. delegate, said the move will create a starker contrast between Democrats and Republicans.
''This is one thing that's going to separate Democrats from Republicans,'' said Cendana. ''I think there's an element of it being a formality, but it will only be helpful to ensure more people are hearing the message.''
''The wedge has lost its edge,'' said Solomon. ''They're looking at the same data that we all are. It's not a helpful issue to try to score points in the same way the party used it in the past.''
In an appearance on Good Morning America last week, former Vice President Dick Cheney, whose daughter is a lesbian and married her partner in Washington in June, said he supported marriage equality back in 2000 before becoming vice president, but avoided the topic during the campaign.
Even though the Bush campaign drove voter turnout in places like Ohio in 2004 by supporting a constitutional amendment banning same-sex marriage, Cheney supported the freedom to marry. At a campaign event in 2004, Cheney said "freedom means freedom for everyone," adding that "people ought to be free to enter into any kind of relationship they want to."
Although the Republican Party will undoubtedly reaffirm their opposition to marriage equality this election cycle, a shift grounded in young voters is taking place. While 78 percent of Republicans oppose marriage equality, nearly half of Republicans ages 18 to 44 are in favor.
Freedom to Marry plans to continue lobbying the Republican Party and will testify before their platform committee on behalf of marriage equality, focusing on the stability and support marriage provides for gay and straight families alike.
What remains highly unlikely is any federal campaign for marriage equality. With the exception of DOMA, which has been labeled as an overreach of federal power, marriage is almost always left up to the states.
As Frank noted in a column published by The Huffington Post, there is no federal law recognizing marriage and there never has been.
''It is possible for the federal government to establish the right of same-sex couples to marry everywhere, but neither the president nor the Congress would have any role in that,'' Frank writes. ''The only way under our constitutional system to achieve a uniform federal right to marry is if the Supreme Court were to declare that a denial by a state of the right of same-sex couples to marry was a constitutional violation.''
---