Defining Hate
In the aftermath of the FRC shooting, debate surrounds ''hate group'' label
Debate over the tone of American political discourse continues a week after a gunman walked into the lobby of the Family Research Council's Washington office and shot a security guard in the arm.
Following the arrest of suspected shooter Floyd Lee Corkins II of Herndon, Va., the FRC was quick to lay blame not only with the 28-year-old Corkins, who was also a volunteer at The DC Center for the LGBT Community, but with LGBT advocacy organizations that have labeled the FRC a ''hate group.''
Speaking to reporters at a press conference a day after the shooting, FRC President Tony Perkins said Corkins was ''given a license to shoot an unarmed man by organizations like the Southern Poverty Law Center that have been reckless in labeling organizations as 'hate groups' because they disagree with them on public policy.''
During the press conference, Perkins was asked if the shooting should be investigated as a possible hate crime. Perkins replied that he is not a ''big supporter'' of hate-crime laws.
Corkins has been charged with assault with intent to kill.
Hate was clearly visible as Perkins spoke to reporters. Maryland Minister Leroy Swailes stood over Perkins's shoulder throughout the eight-minute press conference, although whether his presence was sanctioned by the FRC remains unclear.
"Minister Leroy," who has linked homosexuality to beastiality and the anti-Christ, is the founder of the anti-gay group Tears for Children, which works to "teach the children true love" and "speak truth in spite of evil and wickedness.''
The group is sponsored by Third Gender 666, also overseen by "Minister Leroy," which argues that God made only man and woman and "anything else has come from evil and will eventually die."
According to their website, Third Gender 666 must "defend the planet or destroy the planet" and start by "protecting defenseless children from satan."
Although Tears for Children lists the FRC as a partner on their website, repeated requests for comment on the FRC's connection to Swailes and his groups were not returned by the FRC.
A day later on FRC's Washington Watch Weekly radio show, Perkins went a step further and implicated President Barack Obama in the shooting.
Speaking to Rick Santorum, Perkins said the Obama administration's hostility to religious freedom has created an environment where religious groups are openly threatened with physical violence.
"Well, I think as we witnessed this past week at the Family Research Council, clearly linked to that same atmosphere of hostility that's created by the public policies of an administration that's indifferent or hostile to religious freedom and groups like, as I mentioned, the Southern Poverty Law Center that recklessly throws around labels giving people like this gunman who came into our building a license to take innocent life," Perkins said.
In an interview with Glenn Beck, FRC Executive Vice President Jerry Boykin called the SPLC an ''anti-American, anti-Christian, anti-Semitic, Marxist organization.''
Boykin went on to label the SPLC, which is a nonprofit civil rights organization, ''evil'' and ''dangerous.''
Although the White House has not addressed Perkins's charges, the Southern Poverty Law Center has, standing firmly behind their decision in 2010 to designate the FRC a hate group.
''The SPLC has listed the FRC as a hate group since 2010 because it has knowingly spread false and denigrating propaganda about LGBT people — not, as some claim, because it opposes same-sex marriage,'' said SPLC senior fellow Mark Potok in a statement. ''The FRC and its allies on the religious right are saying, in effect, that offering legitimate and fact-based criticism in a democratic society is tantamount to suggesting that the objects of criticism should be the targets of criminal violence.''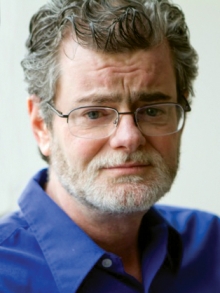 Mark Potok, Senior Fellow at Southern Poverty Law Center
(Photo by via SPLCcenter.org)
Potok accused the FRC and other groups of politicizing the attack.
''Perkins and his allies, seeing an opportunity to score points, are using the attack on their offices to pose a false equivalency between the SPLC's criticisms of the FRC and the FRC's criticisms of LGBT people,'' Potok added. ''The FRC routinely pushes out demonizing claims that gay people are child molesters and worse — claims that are provably false. It should stop the demonization and affirm the dignity of all people.''
In the past, representatives of the FRC have argued, among other things, that there should be criminal sanctions for homosexuality and that pedophilia is a ''homosexual problem.''
Several anti-gay groups have joined Perkins in implicating the SPLC with the shooting, including the National Organization for Marriage.
In a statement released Aug. 15, NOM President Brian Brown pointed the finger at gay-rights groups that have labeled "pro-marriage" organizations "hate groups."
"Today's attack is the clearest sign we've seen that labeling pro-marriage groups as 'hateful' must end," said Brown. "The Southern Poverty Law Center has labeled the Family Research Council a 'hate group' for its pro-marriage views, and less than a day ago the Human Rights Campaign issued a statement calling FRC a 'hate group' – they even specified that FRC hosts events in Washington, DC, where today's attack took place."
Brown said that for "too long national gay rights groups have intentionally marginalized and ostracized pro-marriage groups and individuals by labeling them as 'hateful' and 'bigoted.'''
Brown has also attempted to fundraise off the shooting. Although more than 40 LGBT groups signed a statement condemning the shooting, Brown writes in a fundraising letter that directly refers to the FRC shooting, ''We are not going to let gay activists get away with attempted murder.''
Brown then asks for a contribution of $50 or $100.
Although the FRC and others have sought to blame their political opponents for last week's violence, the overt politicization of shooting has not gone unnoticed.
In a column published by The Washington Post on Aug. 20, HRC President Chad Griffin called attempts to link the SPLC and other LGBT organizations to the shooting are ''outrageous and irresponsible.''
''Designating the Family Research Council a hate group has nothing to do with disagreements about marriage equality, nondiscrimination laws or any other policy debate,'' Griffin writes. ''The real issue is the Family Research Council's well-documented and continuous pattern of hateful rhetoric.''
The HRC and SPLC have shown no signs of backing off their assertions that the FRC supports hate.
Following Perkins's press conference last week, director of communications for the Human Rights Campaign, Michael Cole-Schwartz, reiterated the HRC's condemnation of violence, but warned that the shooting by a lone gunman was rapidly becoming politicized.
''Our hearts go out to the victim, his family and the rest of his co-workers at FRC,'' Cole-Schwartz wrote in an email to Metro Weekly. ''Unfortunately this issue is beginning to be unnecessarily politicized, confusing the disagreements we have over LGBT equality – not our unity against violence. The SPLC has called attention to FRC's past statements and positions which is entirely legitimate.''
Says Cole-Schwartz, ''Violence is never justified and no right-thinking person should believe that an organization being designated as a 'hate group' is license to do anything but have a civil discussion over political disagreements.''
---