UFCW Celebrates Maryland Marriages
Union employees shower same-sex couples with roses and congratulations in Rockville as marriage equality takes effect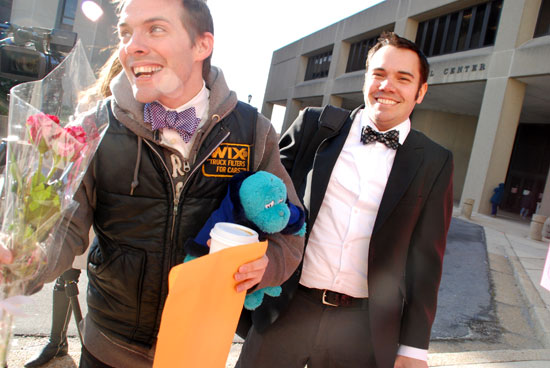 Nic Ruley (L) and Brett King of Chicago just before getting married in the Montgomery County Judicial Center Jan. 2
(Photo by Ward Morrison)
It may have been a small gesture, but to several Maryland couples it appeared to mean plenty.
Employees of the United Food and Commercial Workers (UFCW) International Union gathered outside the Montgomery County Judicial Center Jan. 2 to celebrate the first official business day on which same-sex couples could legally wed. The workers carried brightly colored signs made of poster board that contained messages of support for same-sex couples who were getting married or picking up marriage licenses in advance of their own nuptials.
Holding pink and white signs that read ''Love Wins!'' ''Congratulations! (finally)'' ''Labor Supports Equality'' and ''Celebrate Marriage Equality,'' the UFCW demonstrators stood in front of the Rockville courthouse, scanning the crowd for manila envelopes, the sign that a couple had received a marriage license. As they walked by, demonstrators gave each couple a small bouquet of roses in celebration.
The event, which was planned and carried out by the UFCW employees, was intended as a show of support for those couples getting married, said Iris Packman, one of the lead organizers.
''As a member of the labor movement, I think our job is to fight for everyone, including people who are marginalized in our society,'' Packman said. ''I see the fight for equality – whether it's based on income, or education, or class, race, sexuality – as interconnected. We can't have true justice in our society if anyone is treated unfairly. I see it as just a seamless connection between the two.''
Packman, a straight woman who got married in September, said that her LGBT friends have told her how important straight allies are in standing up for LGBT rights, which made her presence Wednesday morning all the more important.
Packman also noted that in some Maryland jurisdictions there were reports that members of a notoriously anti-gay Kansas church were planning to protest the legalization of same-sex marriage. While no protestors were spotted at the judicial center, Packman said she hoped the UFCW demonstration of love and acceptance would serve as a counterpoint to such bigotry.
''This should be a celebration,'' she said, as she congratulated the various same-sex couples entering and exiting the courthouse, handing them roses.
William Saunders and Mack Simon, of Montgomery Village, Md., who picked up their license Wednesday said they planned to get married Friday, Jan. 4, at Lake Whetstone in Montgomery County. Another couple, Tyranny Smith and Keith Bullock, of Temple Hills, Md., told Metro Weekly that they had been together for more than a year and were excited to be able to marry in their home state.
A short while later, Joe Rouch and Jeff Aberle of Gaithersburg, Md., exited the courthouse, flanked by a large group of family members and friends. The couple, who have been together 13-and-a-half years and are in the process of adopting a 2-month-old girl, said they had woken up earlier in the day feeling nervous and excited about their marriage ceremony.
''We thought you were protesters when we first saw the signs!'' Rouch told the UFCW members, to which the group's Mary Charlton teased, ''The pink poster board should have been a giveaway.''
''Marriage equality is a personal issue to me, as a member of the LGBT community,'' Charlton later told Metro Weekly. ''Professionally, as a member of the labor movement, it's up to me to support all progressive causes, including marriage equality.''
One woman, who did not give her name, walked by the UFCW demonstrators, telling them she had married her partner in Massachusetts, but that Maryland would not recognize her marriage prior to the passage of Question 6, the ballot measure that affirmed and upheld the Civil Marriage Protection Act that granted marriage rights to same-sex couples. Now, the woman said, the state will recognize her marriage.
''Congratulations!'' the demonstrators yelled as the woman rounded the corner out of sight.
''We're having so much fun today,'' said UFCW employee Jay Pascucci, who came dressed in wedding attire, right down to his black bowtie, in honor of the same-sex marriages. ''It's a really great day.''
Nic Ruley, 34, of Chicago, who was getting married to his partner of eight years, Brett King, was so excited that he bounded over to the UFCW group and began warmly hugging the well-wishers. The couple, who met in Montgomery County, where King, 31, is from originally, told Metro Weekly they decided to get married in Maryland because it was where they met and because they were visiting King's family and friends.
''I told people I'm getting 'Kinged' today,'' Ruley said.
Ruley also said he hoped that Illinois would also legalize same-sex marriage so their relationship could be recognized where they live.
''I think it will happen in Illinois. We can say to our friends that we did it first,'' he joked. ''Not that I'm competitive or anything.''
Inside the courthouse, after receiving nine copies of their marriage license, complete with name changes – to prove they are married for various tax and legal purposes – the grooms, the ''King Ruleys,'' entered a bare wooden room filled with pews where marriages are typically performed.
''It feels like a funeral parlor,'' Ruley joked, as he set down a blue stuffed Dr. Suess-looking fish in the front row.
''He's our ringbearer,'' King said, playing straight man to Ruley. ''Our child.''
The two recited their vows and gave each other messages of love and encouragement during the ceremony. As they finished, they kissed and hugged each other, with Ruley yelling out ''We won!'' and telling King, ''We did good.''
The newlyweds embraced once more, took a deep breath, and then lifted up their tuxedo vests and did a belly bump.
---