Daniel Hernandez on Giffords, Guns and Community Involvement
With a new memoir, humble hero of Tucson shooting shares how he channeled sudden notoriety into action
Shortly after 10 a.m., Jan. 8, 2011, Daniel Hernandez heard what he thought were fireworks at an event for Rep. Gabby Giffords in the parking lot of a Safeway outside Tucson, Ariz.
''Ten minutes into the event I first heard a noise. For a second I thought it might have been fireworks because in Arizona they had recently changed state laws, which allowed people to sell fireworks in parking lots of grocery stores,'' Hernandez says. ''But by the second or third bang and someone yelling the word, 'Gun!' it really clicked that it wasn't just fireworks.''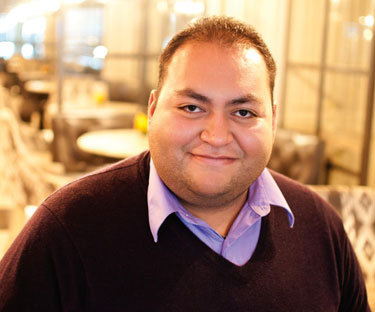 Daniel Hernandez, Jr.
(Photo by Todd Franson)
Hernandez, who is gay, was a few weeks shy of his 21st birthday when 22-year-old Jared Loughner, using a semi-automatic pistol with an extended magazine, shot Giffords in the head and then proceeded to fire into the crowd gathered for the Democratic congresswoman's ''Congress on Your Corner'' event. Though just an intern in Giffords's office at the time, when Loughner opened fire Hernandez acted instantly, crossing paths with the shooter to get to the injured.
Within seconds, Hernandez, also a certified nurse, was at Giffords's side, propping her against his chest in order to clear her airway as she breathed in blood. Waiting for paramedics to arrive, Hernandez tried to keep Giffords, who remained conscious, engaged and aware of what was happening.
Hernandez would stay with Giffords until they arrived at the hospital. As police and FBI conducted interviews with dozens of witnesses, Hernandez was considered a low priority because police knew his location – isolated, phone confiscated as he waited hours to be questioned, thinking he'd heard a nurse say Giffords had died.
''They wouldn't let anyone talk to me,'' Hernandez says. ''They didn't want my story changing because I was being influenced by other people.''
Since the shooting that left six dead and 13 wounded and led to Giffords resigning from Congress to focus on her rehabilitation, life for the now 23-year-old hailed as a hero has changed dramatically. Although already out and a member of a local LGBT commission at the time, Hernandez's sexual orientation was broadcast internationally in the aftermath of the shooting. Today, Hernandez serves on the School Board in Tucson, a seat he has held since 2011. Briefly, he was the youngest openly LGBT elected official in the country. He remains one of the nation's youngest Latino officials. Earlier this month, he released a memoir about his youth, They Call Me a Hero.
''When I was getting this attention I tried to really shine a spotlight, because getting my foot in the door, getting people to want to talk to me was the first step and that was done because people were interested in what had happened on the 8th,'' Hernandez says. ''But after that it was, 'How do I use this in a way that's constructive to talk about issues I care about?' I then ran for School Board in late 2011 won by 63 percent.''
For a long time, Hernandez focused his attention on LGBT issues and education, avoiding the discussion of gun violence that followed Tucson and reached a boiling point after the shooting at an elementary school in Newtown, Conn., late last year. For Hernandez, who is partly responsible for 19,000 students, the shooting at Sandy Hook Elementary School was a wakeup call.
''For the first two years I didn't really talk about this issue because I didn't want to politicize what had happened in Tucson. I didn't want to get accused of trying to change laws just because of this one event,'' Hernandez says. ''But as we've seen in the last two years, it hasn't just been one event.''
Indeed, mass shootings have captured the attention of the public and lawmakers as the White House and Congress search for a way to address gun violence in America. Hernandez says the issue can only be solved by looking at the country's broken background-check system, limiting extended magazines and helping those in need of mental health services, like Loughner, who pleaded guilty and was sentenced to seven life sentences.
While addressing gun violence has taken center stage, Hernandez says he hasn't lost sight of the other issues that matter, including LGBT issues.
''I think the big link for a lot of these issues is that they all have to do with making sure that the United States and Arizona and everyone has the same opportunities, everyone has the same chances to have a safe environment to go to school, a safe place to go to work and really has the same rights as everyone else,'' says Hernandez. ''We can't have a situation where people are in fear of going to school. We can't have a situation where people are in fear of coming out and serving in something like the Boy Scouts.''
With a new book and a platform, Hernandez says he hopes to inspire a new generation of leaders to get involved.
''It's not about being a nurse or being a doctor or being a member of Congress,'' says Hernandez. ''It's about finding what drives you and what makes you happy, and then being able to use that as a vehicle to help others.''
They Call Me a Hero, by Daniel Hernandez, is published by Simon & Schuster, selling for $17.95.
---