Allies on the Ice
Hockey world is working to give LGBT athletes and fans warm welcome
As far as the D.C.-area hockey community is concerned, the time to end any stereotypes of hockey as a virulently homophobic sport filled to the brim with machismo is long overdue. And now that community is getting backup on a national level.
The National Hockey League (NHL) and the NHL Players' Association (NHLPA) announced April 11 they would be partnering with the You Can Play Project as part of an initiative designed at making the NHL one of the most LGBT-inclusive professional sports leagues in the world.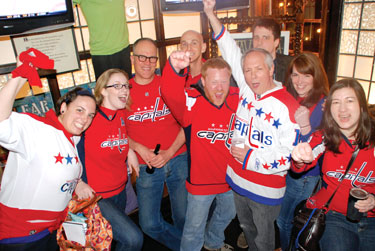 PuckBuddies party
By agreeing to the partnership, the NHL and players' association will dedicate resources to education and training for teams, players, media and fans, and will produce and broadcast public service announcements promoting LGBT inclusion in sports. In turn, the You Can Play Project will conduct educational seminars at the NHL's rookie symposium and will make its resources and personnel available to individual teams upon request. The NHL and NHLPA will also work to integrate the project into their Behavioral Health Program, which will allow players to confidentially seek counseling or answers to questions related to sexual orientation.
The announcement of the partnership with the NHL and NHLPA – two parties often at odds and who most recently clashed over the renegotiation of a collective bargaining agreement that delayed the start of the 2012-2013 season by three months – marks a significant commitment by all major stakeholders to advancing the goals of You Can Play, a nonprofit organization that seeks to ensure athletes have a fair chance of competing in sports, regardless of their sexual orientation.
For Patrick Burke, an NHL talent scout for the Philadelphia Flyers and cofounder of You Can Play, it's also a significant achievement just a little more than a year after You Can Play was launched, March 4, 2012. Burke, the son of former AHL player and Toronto Maple Leafs general manager Brian Burke, was inspired to found the organization following the 2010 death of his younger brother, Brendan, an athlete and student manager for the Miami University RedHawks men's ice hockey team who had come out as gay on ESPN.com and had been an advocate for greater LGBT inclusion in hockey.
In an April 19 interview with Metro Weekly, Burke said the partnership between You Can Play, the NHL and the players' association erases the hypotheticals that many gay athletes face concerning how they may be received if their sexual orientation becomes public.
''The most important thing to me is now there's no more doubt,'' Burke said, noting that acceptance goes beyond the players on the ice. ''We've removed that. The NHL and the NHLPA are officially LGBT-supportive. Whether you're a player, a coach, a fan, a media member, management, whatever your role in the NHL, the NHL and the NHLPA officially support you.''
Burke said he expects the partnership to accomplish two things: promote an ongoing culture shift in LGBT acceptance in the sports world, and provide educational resources and outreach to players moving up through the ranks to help them adopt the mindset needed to foster that acceptance in hockey.
When asked why hockey seems a more welcoming arena for LGBT players and fans, Burke said the international diversity of the sport and the sense of community in hockey help foster respect for fellow players and fans, regardless of their sexual orientation.
''There are no casual hockey fans,'' he said. ''You're either passionate about hockey or you're not. We are a culture that is very tight-knit. There's a bond that forms from being hockey players and hockey fans, and just in hockey culture in general, where we look out for each other.''
Burke also said his brother was able to find that sense of community through his involvement with hockey when he was at Miami University.
''In Miami's hockey program, they call themselves the 'brotherhood,''' Burke said. ''They take it very seriously that when you're part of the Miami hockey family, you are brothers. And Brendan was very lucky to find a group of people who loved him and cared about him. And when he came out to them, they couldn't have cared less.''
Burke said he believes the underlying acceptance of LGBT people is already in place in the wider hockey community, with many hockey players willing to support an out gay teammate. Where the education and outreach needs to be done, he says, is in ending the use of anti-gay slurs during the heat of competition or in the locker room.
''What we need is predominantly language-based,'' Burke said of the education and guidance that You Can Play will provide to players. ''I truly believe that the hearts and minds are in the right place. We just need the vocabulary to catch up.''
Burke's words resonate with Doug Johnson and Craig Brownstein, the cofounders of a local gay hockey blog, PuckBuddys, which bears the tagline ''Boys Who Like Boys Who Like Hockey.''
Both ardent Washington Capitals fans, Johnson and Brownstein – who also handles media relations for You Can Play in his professional life as a vice president at Edeleman, the world's largest PR firm – say the local hockey community has not just tolerated them, but embraced them since they started blogging in December 2010.
''Flashback to 2011, there was no You Can Play, there was no officially organized effort to combat homophobia in [professional] sports,'' Johnson says. ''And I remember walking through the arena at Verizon, telling Craig, 'Dude, there are tons of gay guys, and lesbians, and transgender, there's tons of people here,' and he was always like, 'No, no, no, it's impossible.' But they were, as fans.''
The blog has been so successful it has attracted the attention of other local sports bloggers, Capitals fans, and even the team owner, Ted Leonsis, who has commented, tweeted or linked to blog posts by the PuckBuddys.
''We were a fun alternative, but we were absolute tribal Caps fans,'' Brownstein says of PuckBuddys' success in attracting readers.
Last year, the two decided to expand the blog to include other hockey fans from around the North America and now have 22 contributors. And both Johnson and Brownstein were credentialed by the NHL to cover last summer's league draft.
''Folks like the Burke family and others have been working on the inside for more inclusion, but we were sort of that canary in the coal mine,'' Johnson said of the PuckBuddys blog's reception. ''Nobody else had done this before. We had no idea what was going to happen, and what we found was almost the entire Caps community has just embraced us.
''What happened with us, I think, is a good indicator of how sports teams, organizations, fans react. At times, even in the stands, there will be some loudmouth is spouting out about, 'Fucking fag, blah, blah, blah,' and not even from us, but from other Caps fans, that person will get shut down right away.''
Jason Rogers, a straight hockey player for the Manassas SpermWhales recreational hockey team and a contributor to the PuckBuddys blog, sees the Washington-area hockey community as very accepting of LGBT people, in some ways ahead of the NHL and NHLPA.
''I would say, as far as on a fundamental level, the culture of the sport, I think a big part of [that acceptance] is hockey is a sport where everyone is expected to play hurt, so to speak,'' Rogers says. ''As a result of that, it is more a sport of utter equality, where if you are skating hurt, and playing for the team and your teammates, and putting your body on the line for what the group is trying to do, I think part of that translates into more acceptance. So long as you step on the ice, you're one of us.''
Rogers says he believes that You Can Play's partnership with the NHL and NHLPA can help set an example for lower-level leagues and players within the hockey community by further fostering a more inclusive atmosphere in the sport.
''The way that all of this bigotry is going to be stamped out is through little actions,'' he says. ''It's on you if you hear a teammate use the word 'gay' to mean bad or dumb or stupid. It's on you to say something. And I know I've done that at times, on my team. I know my guys are not homophobes, but they've never been told it's not okay to say that to mean bad. I think what Patrick [Burke] is doing is saying, 'Hey, these people that you aspire to be, they're on board with this.' So if you really want to 'Be Like Mike,' so to speak, you're going to have to follow suit.''
Visit the PuckBuddys blog at puckbuddys.com or follow on Twitter @PuckBuddys. For more information about the You Can Play Project, visit youcanplayproject.org.
---