Virginia GOP Chooses Cuccinelli-Jackson-Obenshain Ticket
Republican picks for statewide office have notorious records of anti-LGBT animus
Nearly 8,000 Virginia Republican officeholders and activists gathered Saturday at the Greater Richmond Convention Center to select the party's candidates for governor, lieutenant governor and attorney general. The result is one of the most conservative candidate slates in recent memory.
The Republicans at Saturday's closed party convention – rather than a statewide primary, which likely would have diluted some of the right-leaning participation – selected Attorney General Ken Cuccinelli, a tea party supporter and conservative firebrand who has been the presumptive nominee for the past year, for governor. Conservative minister E.W. Jackson secured the spot for lieutenant governor, and state Sen. Mark Obenshain (R-Harrisonburg, Rockingham, Rappahannock, Warren, Page and Shenandoah counties) became the party's attorney general candidate.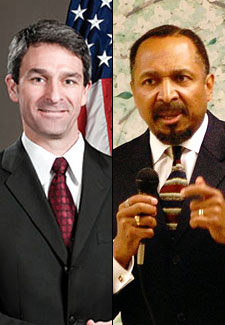 Ken Cuccinelli and E.W. Jackson
All three positions are up for election in November, in addition to 100 seats in the Virginia House of Delegates.
Each of the nominees has a long history of anti-LGBT animus.
As attorney general, one of Cuccinelli's first actions was to issue a letter advising the state's public colleges and universities that state laws and policies prohibit including sexual orientation, gender identity or gender expression in nondiscrimination policies, and that policies containing such protections are ''invalid.'' He also pressured – with varying success – the State Board of Social Services the State Board of Juvenile Justice to remove pro-LGBT language from regulations.
A vocal opponent of marriage equality, Cuccinelli voted in favor of the Marshall-Newman Amendment to the Virginia Constitution, banning marriage equality, while serving as a state senator. He called homosexual acts ''intrinsically wrong'' during his 2009 campaign for attorney general. More recently, Cuccinelli filed a petition – which was rejected – to challenge application in Virginia of the U.S. Supreme Court's Lawrence v. Texas ruling that ended sodomy laws.
Jackson, a little-known conservative minister from Chesapeake who ran in the U.S. Senate primary against eventual Republican nominee, former governor and former Sen. George Allen (R) in 2012, is the head pastor of Exodus Faith Ministries and the founder and president of Staying True to America's National Destiny (STAND), a conservative nonprofit organization that describes itself as ''dedicated to preserving America's Judeo-Christian History and Values.''
According to Right Wing Watch, a project of People for the American Way, in October 2012 Jackson appeared on a radio show where he referred to gay people as ''perverted,'' ''degenerate,'' ''spiritually darkened'' and ''frankly very sick people, psychologically, mentally and emotionally.'' In that same interview, Jackson said homosexuality ''poisons culture, it destroys families, it destroys societies; it brings the judgment of God unlike very few things that we can think of.''
Jackson has also argued that gays seek to ''sexualize [children] at the earliest possible age,'' and has said there is a ''direct connection'' between homosexuality and pedophilia. He has also claimed homosexuality is ''killing black men by the thousands'' in response to a question about the HIV rate among black men who have sex with men; criticized last year's Republican presidential platform for not advocating for the reintroduction of ''Don't Ask, Don't Tell''; and has said that gay marriage is like ''spitting in the face of every Bible-believing Christian in America.''
Obenshain, while not as vocal as Cuccinelli or Jackson, also has an anti-gay legislative record. Obenshain recently earned a perfect score of 100 from the Family Foundation of Virginia, a conservative interest group, for voting according to their recommendations on ''pro-family'' legislation, including four LGBT-related issues. Obenshain voted against adding sexual orientation to Virginia's nondiscrimination policy in 2010, and against a similar measure this year to prohibit discrimination in public employment.
Obenshain also voted this year in favor of a bill that allows student groups to discriminate against potential members based on religious, political or philosophical beliefs; and in favor of a 2012 ''conscience clause'' bill allowing child-placement agencies to discriminate against prospective parents on the basis of sexual orientation, among other factors. In January, Obenshain joined 11 other senators of the Republican caucus in abstaining from the final vote on confirming Tracy Thorne-Begland as the state's first out gay judge, following Virginia Senate tradition of abstaining from voting, rather than voting against, to express disapproval of a nomination.
Equality Virginia Advocates, a nonprofit organization working to advance LGBT rights in the commonwealth, issued a statement Monday labeling the Republican ticket as ''radical'' and ''anti-equality.''
''The Republican Party of Virginia has settled on an extreme statewide ticket dedicated to marginalizing and demonizing LGBT Virginians,'' the statement reads. ''To a man, Ken Cuccinelli, E.W. Jackson, and Mark Obenshain are united by their mean-spirited and downright outrageous statements and actions attacking LGBT Virginians.''
''Ken Cuccinelli, E.W. Jackson, and Mark Obenshain are openly hostile to LGBT families in communities across the Commonwealth,'' James Parrish, executive director of Equality Virginia Advocates, said in the statement. ''We deserve leaders who will represent and work for all Virginia families, regardless of whom they love. These attacks and outrageous statements demonstrate just how far these candidates are outside the mainstream.''
The Rev. Robin Gorsline, president of People of Faith for Equality in Virginia, also released a statement condemning the extremism of the GOP nominees.
''The hostility toward LGBT Virginians by this slate of candidates causes them to be outside the mainstream when it comes to marriage equality,'' Gorsline said. ''Despite the claim by one of the candidates that most Christians oppose marriage equality, the most recent Washington Post poll shows 56 percent of Virginians support full marriage rights – including solid majorities of Catholics, and white non-evangelical Christians – and more than 6 in 10 African Americans. We deserve leaders who are connected with today's Virginia, not yesterday's.''
In response to the nominations of Cuccinelli and Jackson in particular, the Human Rights Campaign (HRC) issued a press release labeling the two as ''rabidly anti-gay.''
''These candidates couldn't be more out of step with the values that a vast majority of Virginia voters hold,'' Fred Sainz, HRC's vice president of communications, said in the release. ''Ken Cuccinelli has attempted to take Virginia backwards during his tenure as Attorney General, at the expense of the livelihood of LGBT residents in his state. And the vitriol put forth by E.W. Jackson is offensive and utterly unbecoming of anyone hoping to hold elected office.''
HRC also cited the Post poll showing the majority of Virginians believe same-sex marriage should be legal.
''Both Cuccinelli and Jackson have made it clear that they see LGBT people as totally unworthy of the dignity and respect afforded to other Virginians under state law,'' Sainz continued. ''It's clear that these two are more concerned with pushing their outdated anti-gay agenda than they are with serving the best needs of their constituents.''
Jeff Jacobs, president of the Richmond chapter of the Republican LGBT group Log Cabin Republicans, expressed disappointment at the results of the convention, but vowed to work within the party to push for LGBT-friendly policies and legislation.
''It's fair to say that we're disappointed that the ticket, based on past statements and action, does not take the same inclusive approach to politics that Log Cabin does,'' Jacobs told Metro Weekly. ''We will certainly be advocating with them for policies, such as nondiscrimination in employment, that help the LGBT community.''
Virginia Democrats have opted to hold a primary in June, at which point they are expected to nominate Terry McAuliffe, a former chairman of the national Democratic Party, to run against Cuccinelli. They will also choose between Aneesh Chopra, the former chief technology officer of the United States, and state Sen. Ralph Northam (D-Norfolk, Virginia Beach, Mathews, Northampton and Accomack counties) for lieutenant governor against Jackson; and between state Sen. Mark Herring (D-Loudoun, Fairfax counties) and Justin Fairfax, a former federal prosecutor for the Eastern District of Virginia, for attorney general against Obenshain.
At the request of LGBT Democrats of Virginia, a caucus of the state party, the five Democratic candidates have issued campaign statements posted on the group's website. Although the group will not endorse in the primary, the LGBT Democrats of Virginia PAC, aka the Virginia Partisans, might endorse some statewide and General Assembly candidates ahead of the election, according to Maggie Sacra, chair of the LGBT Democrats of Virginia Caucus.
---