Ebbin and Others Denounce Virginia GOP Ticket
Senator joined by Equality Virginia's Parrish and Del. Herring in decrying nominees' records
(Page 2 of 2)
Ebbin warned that the GOP nominees will likely try to avoid social issues during the campaign and distance themselves from past comments.
''I know these people, I know their tricks, I know their schemes, and we will not let them get away with them,'' Ebbin said. ''Their ticket will try to run from their extreme agenda and distract voters with empty rhetoric, but their record speaks for itself.''
Parrish also put the Republicans' past statements and records in a larger context of economics.
''This language affects the image of Virginia when employers see our attorney general or our nominee for lieutenant governor pushing such a divisive agenda,'' he said. ''As long as Cuccinelli and Jackson are so focused on divisive social battles, they don't put their energy into the mainstream economic issues that we all care about.''
Parrish said actions by McDonnell and Cuccinelli once they took office help reinforce that LGBT groups and allies are not simply ''crying wolf.'' He promised that Equality Virginia Advocates, and its sister organization, Equality Virginia, would be working hard over the next five-and-a-half months to educate voters and make sure they are aware of the candidates' records.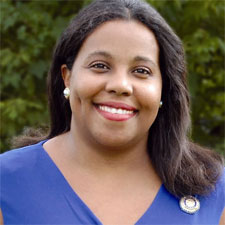 Charniele Herring
(Photo by herringfordelegate.com)
All three speakers on the conference call acknowledged one of their biggest challenges is targeting presidential-year voters who are less likely to vote in an off-year election.
Herring, speaking for the state Democratic Party, said the party has already begun a field program aimed at turning out those who vote less frequently.
''The reality is that the voters are there,'' Herring said. ''The complexion, the temperament, the political leanings of the state showed in 2008 and 2012 that Virginia is becoming more 'purple' and, indeed, on the verge of 'blue.' The electorate wants a moderate candidate as their governor, and, I think, straight down the ticket, down to the House of Delegates. It's going to take a lot of shoe leather, but we're ready and we've already started.''
---