Radiant Day
Inaya Day brings her positive and upbeat messages to Apex
Singer Inaya Day recalls the time she first heard herself on the radio, in the mid-1990s. ''I heard this song come on, and the chorus went, 'Keep pushing on, things can only get better.' I thought it was cute, and then I was like, 'Hold up, that's my vocal!''
The Brooklyn native didn't immediately recognize ''Keep Pushin''' because it was just one of many vocal demos she had tossed off in a German recording session a couple years earlier. And the radio announcer didn't credit her with the song. ''Right away, I called my lawyer,'' she says, with a chuckle. ''Within an hour, it was all taken care of.'' Almost as quickly, the song became a dance hit around the world. It was just the first of many for the vocalist, one of dance music's best -- and definitely one of the club scene's liveliest -- performers.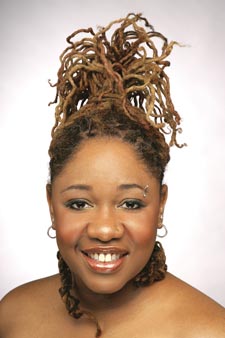 Inaya Day
''Oh right, you're the horny, nasty girl,'' Day quotes one British bloke joking to her, imitating his accent. In a manner of speaking, his comment is true: Inaya Day -- nee Davis -- scored her biggest hit to date in 1998 with ''Horny,'' and a few years ago she teamed up again with ''Horny'' producer Mousse T, this time on a ribald cover of '80s girl group Vanity 6's hit ''Nasty Girl.''
But those two songs are exceptions to Day's typical fare of positive and upbeat messages.
''My lyrics are usually about love, life and God,'' she says. ''All of that comes from my background as a gospel singer, and gospel's uplifting messages.'' Of course it works well on the dance floor too, since that's the place, as she memorably put it on ''Movin' Up,'' to leave your problems and make your spirit soar.
After attending the ''Fame Academy'' (technically, the High School of Music and the Performing Arts), Day went on to star on Broadway and in the touring production of The Wiz, as well as serve a backup session singer for the likes of Michael Jackson, P-Diddy and Missy Elliott. She even helped write Elliott's ''Gossip Folks,'' among other hits.
But Day remains devoted to dance as a recording artist -- and as a club act. ''That's how people know me, and that's what they want to hear,'' she says. And after more than a decade of dance hits, she's now finally working on her debut full-length album with producer Mike Cruz. She says it will feature all new productions, none of her previous recordings.
''I'm not ready for a greatest-hits compilation,'' she says. ''People want to hear new songs.'' Her goal is to have that released by next spring.
Inaya Day will perform next Friday, Sept. 19 at Apex Nightclub, 1415 22nd St. NW. Performance at 12:30 a.m. Cover $10. Visit www.apex-dc.com or call 202-296-0505.
From YouTube: Inaya Day, ''Hit Clips''
---