Very Cherry
The Cherry Fund's annual circuit party aims for expansion
For the first time in many years, the hit radio station Hot 99.5 has been touting Cherry as an HIV/AIDS dance benefit, mentioning it as part of its community calendar. It's just one of the ways organizers have stepped up marketing and promotion of the annual circuit party.
''We expect to do a little better than last year,'' says James Decker, co-chair of the Cherry Fund. Actually, last year's Saturday night main event at Town was one of the three biggest nights in that venue's history, says Decker. After last year's event, the Fund was able to distribute $10,000 in proceeds to 13 area nonprofits, from The DC Center to Capital Pride to the Whitman-Walker Clinic.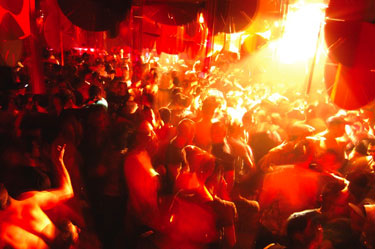 Cherry Main Event at Town Danceboutique
View 10 years of Cherry photos in Metro Weekly's Scene albums
This year's goal is to raise $20,000, specifically for the HIV/AIDS service community. That would bring the grand total raised for charity since Cherry's inception in 1997 to $1 million. It's a feat organizers expect to achieve by cutting overhead, including the money spent on DJs. ''We basically cut our DJ overhead in half,'' says Decker. All opening DJs, including Mike Reimer, David Merrill and Timothy Mykael, are volunteering their time.
And yet, they've still managed to secure a great lineup, along with a few new promising venues.
''They're all very high-caliber DJs,'' promises Decker. ''I would say it's not your typical dance music – it's maybe more of an international style.''
But a familiar international style: All of the main DJs are Cherry veterans – with the exception of Paul Goodyear. Goodyear, a longtime Atlantis Events DJ from Australia, kicks off the weekend Thursday, March 29, at Cobalt.
Friday night, March 30, brings a women's party at the new Phase 1 of Dupont, as well as a men's party with DJ Paulo at the new Warehouse Loft. Decker's Cherry co-chair Allen Sexton has been sprucing up this Northeast Washington venue near the New York Avenue Metro stop, painting it, adding flooring, as well as bringing in extra lighting and sound equipment. ''It definitely has an urban edge to it, which is going to be perfect for Paulo,'' says Decker.
Saturday, March 31, brings two parties to Town: Dr. Moody Mustafa's annual afternoon birthday party with DJ Joe Gauthreaux from L.A., which is not part of the official Cherry package, and then that evening's Blossom Party featuring DJ Marc Anthony from Montreal. Circuit Mom will also perform as part of Blossom. Town closes at 4 a.m., when Northeast D.C.'s posh Ibiza Nightclub opens its doors for Momentum, the Cherry After Hours with DJ Alyson Calagna. ''I don't think they've ever had a gay event,'' says Decker, adding that they do know about gay men's predilection for doffing shirts while dancing. ''Oh yes, we made that very clear.''
Cobalt will hold a Tea Dance featuring D.C.'s DJ tim'e Sunday, April 1, from noon to 3 p.m. Though brunch at Level One isn't included as part of official Cherry events, the restaurant will offer a special Cherry menu as part of its popular Disco Brunch.
Ultra Bar near the Verizon Center returns as Cherry's closing venue Sunday night, April 1, when New York DJ Eddie Elias will wind the Cherry pickers up one last time.
Decker expanded the outreach this year to include not just Hot 99.5 but also other circuit parties as far afield as Spain. The goal is ''rebuilding Cherry back to what it was,'' such as when it attracted more than 10,000 people in 2005. ''It's not just an overnight process,'' he says. ''It's really a multi-year project.''
Cherry Host Passes, allowing entrance and no-line at all main events but not sanctioned parties, are $120 each. Get the second pass at half-price. More information, including purchase of passes and individual tickets, is available at cherryfund.org.
---