Coverboy: Christian
All About Artistry
Dancing isn't just a booty-shaking pastime for Coverboy Christian, it's art. Raised with a sister who's a photographer, this 22-year-old Yorktown, Va., native often found himself on the other end of the camera lens. After trying his hand at modeling and acting, Christian feels most comfortable shedding his clothes and dancing at Ziegfeld's/Secrets, where his performances allow him the freedom to express himself, both through his costumes and by contorting his body into various positions as part of an exhibition of acrobatic feats. But even the guy in the spotlight needs what he calls his ''Joni Mitchell'' time, when he sips coffee and writes poetry in the comfort of his Manassas, Va., home. With two books of experimental poetry already published under a different name, this George Mason grad student is hoping to derive inspiration for his third book from his experiences as a male entertainer.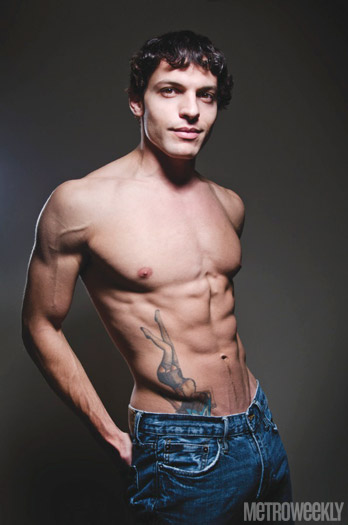 Coverboy: Christian
(Photo by Julian Vankim)
What's on your nightstand?
A toy of Allen Ginsberg, a toy of E.T. dressed as a woman, an alarm clock and a postcard from Hungary.
What's in your nightstand drawer?
An old calendar, a flashlight, a box of cigarettes, a condom attached to some Mardi Gras beads.
So is that where you keep the condoms and lube?
No, I stick those in a rainbow-unicorn Pillow Pet. Might as well be creative about it.
What are your television favorites?
I haven't turned on the TV in years. I'm kind of addicted to Netflix. I like Oddities. Crime Solvers is a good one.
What was your favorite cartoon when you were a kid?
Angry Beavers.
What superhero would you be?
I don't think I really respect any of the superheroes we know about. I just don't see much conflict or adversity, and they just try to hide who they are. Probably Kiss, the hottest men in the world, because they have a comic book of their own.
Who's your greatest influence?
My father and Gene Simmons. Gene Simmons because he's the master performer and is the most recognizable icon in rock music. My father because he taught me to take the initiative to always push the limit, doing more than your peers are. And because he's so level-headed. It all ties together, because as a stripper you're always trying to push yourself to put on a good performance. What makes a good stripper is not physical attributes as much as your creativity and willingness to use your attributes to put on the best show.
---