Soundwaves
Peter Rauhofer sounds off about the Grammys and screaming divas, plus Eurovision and WB's Superstar USA
A DJ'S NO SPIN ZONE… Dance music makers are a competitive lot, since there are a great number of them, chasing after the same fame from a relatively small pool of consumers. But that small pool makes them a rather collegial bunch, and most of them mince words when put on the spot to talk about the industry and, especially, their competitors. Not Peter Rauhofer. He gave a blunt breath of fresh air in a recent interview in New York's HX magazine, where he lodged a five-pronged broadside against Maurice Joshua. It's too juicy to pass up here.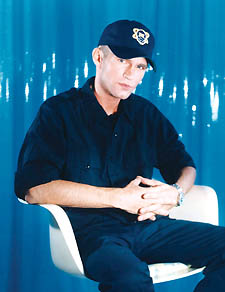 Rauhofer
1. "Everybody knows that Maurice Joshua only got the Grammy because of all the hype around Beyonce at the time of the awards." Joshua, you see, won this year's Grammy for Best Remixer for his work on Beyonce's incredible "Crazy in Love." It surely helped matters that the song and Beyonce's debut album, Dangerously in Love, were just beginning to peak at the time of voting. Unlike, say, Christina Aguilera's "Beautiful," which peaked nearly a year before.
2. "None of the DJs I know played the Maurice Joshua mix" of "Crazy in Love." "Junior [Vasquez] deserved to be nominated for a Grammy for his remix of [of the song] more than Maurice Joshua." Uh-huh.
3. "It's about the Remix of the Year; it's not some lifetime achievement award or what this guy did back in 1992 when he remixed CeCe Peniston, you know?" Joshua remixed Peniston? Wow, somehow that escaped our notice. Which is not surprising, Rauhofer contends.
4. "Who is this guy? We never heard of him." That's how Rauhofer categorizes most people's response at the mention of Joshua's name. And he's right: Joshua has been remixing one R&B singer after another for years, but about the only time you ever encounter his name is at Grammy time. Ah, and there's a reason for that too, Rauhofer says, lobbing his deadliest attack yet.
5. "Maurice Joshua is on the Grammy committee that decides who gets nominated for Best Remix -- and he has been nominated every year! If that's the way it is, then I'm going to become a member and nominate myself every year, too!" Ouch.
Now, before you start thinking Rauhofer's just a sore loser, think again. True, Joshua snagged this year's Grammy from Rauhofer, nominated for his popular remix of Christina Aguilera's "Beautiful." But Rauhofer, as Club 69, has already won a rare dance music Grammy for Best Remixer. He earned that in 2000…
RAUHOFER'S DIVA TRIBE… Rauhofer is the gay Austrian behind the leading underground dance label Star 69 Records, and he spins every other week at the Roxy's popular gay Saturday night party in New York. While we're here, we'd like to share a gripe of our own. During his five years at the Roxy he's rarely stopped in DC, which of course is just a hop, skip and a big electric bounce away. Could someone finally rectify this oversight?
In the HX interview, Rauhofer said his coming >Live@Roxy 3 compilation, much as with the first two before it, "will be very tribal." He added: "The 'screaming diva' thing is just so passé, you know? These days people are going for more underground stuff." Ah yes. Right again Rauhofer. But wait a minute. Didn't you, just two months back, release Divas to the Dancefloor Volume 1? Okay, so it does feature "more underground stuff" and certainly tribal sounds. But as its title suggests, it mostly features one "screaming diva" after another -- 12 of them, all told. That's a lot of screaming. And to think, a Volume 2 is probably being considered. My eyes roll every time I glance at the title. Yes, I'm more than blasé about the passé divas. But I have to admit this is a much better compilation than it had any right to be. It features alluring tracks you've likely heard before and are perfectly content to hear again, even if in altered form, such as the Attention Deficit Remix of Made by Monkey's "I Try"…
POP IDOLS WORLDWIDE… In part, no doubt, because it launched the careers of ABBA and Celine Dion (representing Switzerland as a guest), the Eurovision Song Contest has become one of the world's most watched competitions. Begun in an effort at continental unity soon after World War II, this weekend augurs in the 49th annual edition and likely the first to feature a gay contestant who is legally married. Tomas Thordarson will represent Denmark, where he lives with his husband of five years and their six-year-old adopted child, according to the British gossip newsletter Popbitch… Speaking of singing competitions, the WB network is spoofing Fox's American Idol in a seven-episode series beginning this week. The WB's Superstar USA, already filmed, deliberately chooses the worst singers among unsuspecting contestants, who go on to compete for a -- totally legit -- grand prize of a record deal worth $100,000. Washed-up popstars Tone-Loc and Vitamin C will judge. William Hung, meet your competition…
---