Soundwaves
Curiosa Festival coming to Merriweather, Andy Bell, and MTV's VMAs
THE CURE AND MODERN-DAY REMEDIES… The Cure may be the headliner -- the chief reason most people would consider going, and more to the point the chief reason why all the other opening bands exist. But when the eight-band Curiosa Festival stops by Columbia's Merriweather Post Pavilion this Friday, Aug. 6, I'll be paying closest attention to several of those sharing the bill: Interpol, The Rapture and Mogwai. The tour is basically a vanity project, demonstrating The Cure's three-decades-long influence on many of today's best and brightest retro-rock revivalists. It's too easy to dismiss Interpol and the Rapture for plying the tried and true, offering little in the way of the truly new. But these two bands earn their contemporary relevance for the manner in which they cull from their forebears.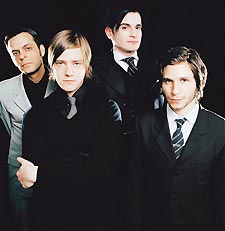 Interpol
And in fact, both bands, to my biased ears, hark back to the tightly wound nervous energy of early U2 as much as, if not more than, The Cure's unraveling heartbreak. I can only take so much of the heartbreak. Which is why The Rapture's dance-rock debut, Echoes, was so hard to warm to last fall: it opens with clear Cure-inspired murkiness, the ex's lament "Olio." It's an underdeveloped tune with few notes and one phrase, "over and over again," repeated over and over again -- in lead singer Luke Jenner's yelping, shrill voice. It's an acquired taste of a voice, and it works better on some tracks than others, especially those where he keeps it from shattering. "I Need Your Love," the band's second single, is a magical dance-rock gem, with a Prince-worthy funk bass line. The best argument for the band, though, is bassist and sometime keyboardist, Mattie Safer. Originally from D.C., Safer does the town proud as one of rock's best bassists.
The four smarties in Joy Division-loving Interpol -- formed while attending New York University -- run a tight musical ship of methodically swelling guitars: three of them, strumming in magnificent harmony. Their strong, conceptual debut, Turn on the Bright Lights, featured several masterful songs, including the enigmatic "Stella Was a Diver and She Was Always Going Down," and one song after another making a case for rock composition as a high art form. Their sophomore album, Antics, is due next month, and it is said to be lighter and more dance-oriented. It might not work: Daniel Kessler's anxiety-wracked voice was wholly unsuited to their most sunny-sounding song to date, the guitar stomper "Say Hello to the Angels." They'll reportedly play a couple of the new tracks on the Curiosa stage, so we can get an early glimpse to see if they've improved on this.
Mogwai is said to be captivating live, though you don't sense that from the Scottish instrumental rock group's most recent album, the sarcastically named Happy Songs for Happy People. The most interesting thing about the album is the song titles -- most tracks come and go before you even notice them, and those that do display passion display too much of it, in blustery heavy-metal style. Here's hoping the band finds a live-performance middle ground along the lines of the crescendo-laden, cinematic tune "I Know You Are But What Am I"…
ERASURE'S BELL TOLLS… Speaking of '80s Britpop, Erasure's fey frontman Andy Bell is currently putting together his first solo album. Billboard reports that Bell is working with London DJs Philip Larsen, who co-produced Kylie Minogue's Grammy-winning dance-popper "Come Into My World," and Chris Smith. The two, as Manhattan Clique, remixed several songs from Erasure's last album, Other People's Songs. Billboard quoted Larsen saying Bell's debut is an electic mix that will "encompass styles that people may not have heard Andy sing before." The album will drop early next year, but it doesn't mark the end of Erasure; the duo of Bell and Vince Clark will release a next set prior to Bell's solo…
MTV'S NON-TOXIC DANCE VIDEOS… They're almost inconsequential, the awards given out at the MTV Video Music Awards, which this year will air live Aug. 29 from Miami. The VMAs are all about spectacle. And anyway the nominees are always drawn from the same small pool of artists -- hip hop and R&B, almost exclusively -- who could get video exposure on MTV (if, you know, MTV played videos). We feel the need to draw your attention to the half-assed nominees for Best Dance Video. Half-assed not because the videos or the artists themselves are half-assed, though Usher ("Yeah") and the Black Eyed Peas ("Hey Mama") are seriously overexposed these days. Half-assed, we say, because every video here (also including Missy Elliott's "I'm Really Hot, Beyonce's "Naughty Girl" and Britney Spears' "Toxic") is nominated in at least one other of the nineteen categories.
You could argue that this means MTV only primarily plays dance videos (or they would if they played videos). But what it really means is that MTV's a little clueless about dance music today, only considering those videos with choreography as dance videos. The obvious intent of the award is to honor dance music, but four of the five nominees are also nominated in the best choreography category. And the only one nominated for best dance video and not best choreography? The only one that comes closest to what I thought was a commonly held conception of dance music, "Toxic." Obviously it's the one that should win…
---