Soundwaves
Dance Music Hall of Fame inductees, the latest from Junior Jack, Basment Jaxx, and more
DISCO FEELS LOVE… If you were asked to name just three artists who helped shape dance music as we know it, Donna Summer would factor high on the list, as would the Bee Gees and Barry White. In other words, the 1,000 voting members of the Dance Music Hall of Fame (www.dmhof.com) did just swell selecting its inaugural slate, which will be inducted at a New York ceremony this Monday night. And if you were further asked to pick five seminal dance songs to be inducted, would you pick Summer's "I Feel Love?" Of course you would. Thelma Houston's "Don't Leave Me This Way?" Indeed. Sylvester's "You Make Me Feel (Mighty Real)?" Mighty right. Evelyn "Champagne" King's "Shame?" Hmm, well, now that you mention it, sure. MFSB's "Love Is The Message?"
Come again? "Love Is The Message," according to the Hall of Fame's official notes, is a "timeless classic of danceable jazz-flavored R&B." Furthermore, a 1977 remix by Tom Moulton -- who's being inducted as the Hall's first remixer -- added "breakdown sections that have proven definitive to every subsequent form of dance music." To today's ears though, it's a syrupy-stringed, pretentious instrumental-based track that sunk with the "Love Boat Theme." There's not enough love in the world to persuade anyone to search for the drowned song's whereabouts. It's not unlike the original "Soul Train Theme," which was actually called "T.S.O.P. (The Sound of Philadelphia)" -- and also composed by MFSB. The acronym for this Philly group, a noted R&B backup band in its day, officially stands for "Mother, Father, Sister, Brother," though detractors let the acronym stand for two choice curse phrases, also of familial concern.
So the Hall of Fame voters hit one false note with "Love Is The Message," and it means that Gloria Gaynor's "Never Can Say Goodbye" was overlooked. Double injury: Her even better, and more long-lasting hit, "I Will Survive" wasn't even nominated. But there's always next year. Why does disco have a lock on the inductees, you may ask? Good question, one asked even before we mentioned Hall of Fame producer inductees Giorgio Moroder and Pete Bellotte, the men behind Summer's biggest hits (and Irene Cara's "Flashdance" and Blondie's "Call Me," as well). Well, disco's hold is easy to explain: all nominations and nominees have to be at least 25 years old. Disco was at its peak 25 years ago, a time when early house was just springing up, laying the groundwork for the "Disco Inferno." (D'oh! Another song that'll have to wait until next year for nomination.) And the Hall organizers were also eager to give the overly maligned disco the recognition it deserves…
STUPIDISCO NEVER DIES… Disco definitely deserves recognition among the dance music set because it remains significant today. Just glance at the most recent Billboard Hot Dance Music/Club Play chart. The past couple years have seen a rebirth in the old-school soul vocal vibe and hook-laden dance-pop sound of the disco era. Half of the chart's top 10 hits are clearly derived from disco, or at least post-disco early house. Junior Jack's latest, quickly ascending the chart, is even called "Stupidisco" – as in that "stupid disco track." Billboard reports the Italian-Belgian musicmaker -- born Vito Lucente -- created it as a sort-of joke. Well, the joke is shared by Dave Armstrong, whose "Make Your Move," at No. 9 on the chart, shares the same melody, with the same lyrics -- naturally, since they both sample the chorus of the Pointer Sisters' barely remembered '80s club hit "Dare Me." Who had the idea first? It's not clear, but Jack's higher-charting hit is better, with a better title -- and his case is helped by the fact that the song is just one of many highlights from his debut artist album, Trust It. Jack does an exemplary job of creating contemporary dance music. He touches on all sub-genres, from techno to soulful house to progressive house to disco, based on mostly obscure samples from past club hits. Among the many crowd-pleasing anthems on the album, there's last year's Latin jam "E Samba" and the recent hit "Da Hype," with guest vocals from The Cure's Robert Smith that features a prominent sample from the Midnight Express film score, composed by Giorgio Moroder -- yes, him again.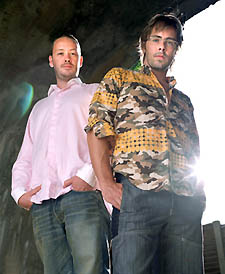 Basement Jaxx
The best duo in dance-pop today, Basement Jaxx is close to topping the chart with "Good Luck," featuring full-on disco-styled syncopated strings and adversity-overcoming, gloriously over-the-top vocals from Lisa Kekaula. As of this writing, the song is lodged at the No. 2 spot -- could it get a bump? -- but the bigger scandal is that it's the first Jaxx track to do well on the chart in years, even though it's the third release from the Jaxx's so-good-it's-k-krazy Kish Kash. (Even the presence of guest vocals from JC Chasez didn't help "Plug It In" last time out.) The other disco-colored ditties scoring on the chart: "Flawless," George Michael's reworking of The Ones' still-recent chart hit, and Shape: UK's "Lola's Theme," the song of the summer in Europe …
---