Soundwaves
Kylie Minogue's live video, Fred Schneider bounces off Sirius sattelite radio
KYLIE'S SLOW BLOW… Kylie Minogue never toured with her most recent album, Body Language. Was she just too lazy, or too aloof, or too uninspired by her own music to care? Probably not, but who knows? It's not like she would admit to those charges if they were true. Maybe she just wanted to save money, by performing at only a couple promotional gigs. The British press lauded her one full-fledged promotional concert -- the cost: well over $1 million -- as a sensory-loaded success. But would-be Kylie concertgoers don't have to settle for reviews of it. EMI Records has now released a DVD, Body Language Live, of footage and extras from the one-off event. It's a strange concert recording, since it's not something most purchasers can look back on as a de-facto concert souvenir. Also strange, because the concert itself was recorded just prior to the album's release in Europe (and months before it came to our shores). So save for her past hits -- and at the time her new number one hit "Slow" -- the audience was unfamiliar with the material.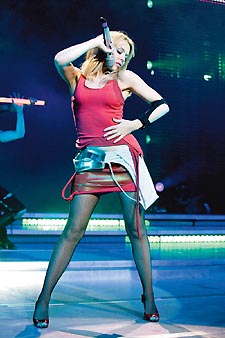 Minogue
The crowd doesn't truly roar until she sings "Can't Get You Out of My Head," and her many other hits from Fever and earlier albums. She never sings "Loco Motion" though. And speaking of singing, Minogue's voice is no stronger -- she reverts to a breathy coo too often -- than any of her contemporaries, from Madonna to Janet Jackson to Thalia. As with these worldwide superstars, Minogue has been accused of lip-synching in concert, and she may do it here on occasion. But it's clear that she's actually singing through most of it. As well she should be, since, unlike the others, Minogue doesn't really burn much energy dancing. Her choreography is often banal, her sense of rhythm seemingly tenuous, and it's her head -- and especially her hair -- spun around in provocative glances and sensual nods, that gets the true work out, not her exposed gams. She carries herself with a nearly permanent smile and a perky, happy-to-entertain manner that defies you to dislike her.
Like her last DVD documenting her Fever concert, Body Language Live is a visual treat. In particular, there's the performance of "Slow," where her boy dancers gyrate together -- and with brightly colored florescent tubes – in Cirque de Soleil fashion. Even better, the DVD includes the original "Slow" music video, our pick for the year's best. The video, by Ballie Walsh, perfectly captures the sexual heat that runs all through the song, without ever getting graphic. Also noteworthy is the video and performance of "Red Blooded Woman," which features one of the better pop song phrases heard in a while: "You'll never get to heaven if you're scared of getting high"…
SCISSOR SISTERS CUT UP KYLIE… Speaking of Minogue, next month in Europe she'll release a double cd, Ultimate Kylie. It's another greatest hits collection from the 36-year-old star, seven years and as many hits since her last. This set will feature all of the 31 hit singles she's had (pretty much everywhere but here) since she started, at 19, as well as two new songs, including "I Believe In You," co-written by the Scissor Sisters' Jake Shears and Babydaddy. Sounds wonderful, right? Well, you might have to pony up for a pricey import, since there's no word -- and a lot of doubt about – whether Capitol Records will release the compilation here. Except for a couple hit singles and Fever, Minogue just hasn't sold well enough here to suggest there's a demand for a greatest hits package…
SIRIUS' SERIOUS GAY SWAY… While hardcore Howard Stern fans have 16 months to wait to consider signing up for Sirius Satellite Radio -- where his show will eventually air -- that media company keeps dangling fruit to entice the gay market. No, not Stern, obviously. A near-opposite: Fred Schneider of The B-52s. Earlier this month Schneider began hosting a show, "Party Out of Bounds," on the station, where he DJs for three hours each week, picking material from his extensive personal music collection, said to number more than 60,000 vinyl albums and singles. "Believe me, I know how to throw a good party," Schneider told Billboard. "I'll spin 12-inch mixes, club favorites and obscure gems, along with classic tracks you don't get to hear much anymore." Add that to Sirius' OutQ 24/7 gay talk and music channel, and you've got serious reasons to consider Sirius. Still, the much more established XM Satellite Radio appeals too, since it's the hometown company -- and it now features former NPR Morning Edition host Bob Edwards. Too many choices...
---