Soundwaves
Sarah McLachlan, Gabriel and Dresden, Move Against AIDS Dance-a-thon in NYC
MCLACHLAN'S CALLING… Some videos are worth celebrating because they're so good. Gwen Stefani's "What You Waiting For?" for example. And some videos are worth celebrating because they're do-good. Have you seen "World on Fire?" Sarah McLachlan's latest song is world-weary: "I watch the heavens but I find no calling, something I can do to change what's coming," McLachlan sings. McLachlan has found her calling in philanthropy. "The more we take, the less we become/The fortune of one man means less for some." And to that end, McLachlan has donated $150,000 -- or the amount the video would have cost, had all services not been donated -- to charities, particularly those serving the developing world, from CARE to Heifer International to Engineers Without Borders. You can watch the video at www.sarahmclachlan.com.
It may be her newest hit, but two remixes of "World on Fire" have already come and gone on the Billboard Dance/Club Play Chart. It peaked at No. 2. Oddly enough, remix work for McLachlan has never reached the chart's pinnacle -- Tiesto's "Sweet Surrender" didn't do it, nor did Rabbit in the Moon's "Possession." Not even her featured guest vocal on the amazing "Silence" by Delerium could sway DJs enough to feature her voice more than any other for even one week.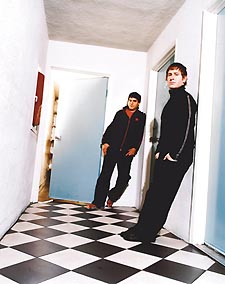 Gabriel and Dresden
And it's not easy for fans to show support. Except for the superb Remix collection released a couple years back, it's been difficult to track down some popular remixes of McLachlan's songs. "World on Fire," for example, is available only as a pricey import -- and it's not worth it. It doesn't even include Marius de Vries' remix, for starters. For that, you'll have to pony up for Nettwerk Records' Chillout 05/Ultimate Chillout compilation. But you'll never feel moved by it, not literally. And not figuratively either, as was the case with the original. To literally move to McLachlan's latest, Junkie XL's got your poison. The import-only single includes a truncated version of Junkie XL's imaginative reworking of the song. For the full version, better to go with Gabriel & Dresden's two-disc compilation Bloom…
BEAUTIFUL 'BLOOM'… We repeat: Go with Gabriel & Dresden's two-disc compilation Bloom -- even if you could care less about McLachlan and Junkie XL's remix. Well, give that remix a couple spins before declaring your verdict. I thought it too drawn out and it seemed too stretched through too many bars. It's still a lot to take, but conceptually, it's brilliant, musically acting out the song's lyrics and its alternating mood, from despairing to eternally optimistic. The remix sparks from a lonely guitar chord that slowly ignites every musical equipment -- and electronic sound effect -- causing them to burn over and over until they've run their course, ending in an ember.
But Bloom is far more than one 10-minute remix. It's actually 22 songs over two discs and two-and-a-half hours, with, amazingly, nary a dud and many a masterpiece to be had. It's certainly one of a handful of the best compilations released all year. And sixteen of the productions are original. Not only is that unusual, it's also very welcome. San Francisco-based G&D are among the very best producers and DJs working in dance music today, creating dazzling rhythms both supercharged and restrained, and songs rooted in both pop and rock, both trance and house, with strong melodies at every turn…
NATE KEEPS HOPE ALIVE… If you can make your way up to New York this Saturday, you can hear Junior Vasquez, Peter Rauhofer and Danny Tenaglia, among others, at "Move Against AIDS -- Return of the Dance-A-Thon." Another way to support the cause is through the purchase of Keep Hope Alive, a soulful house music compilation benefiting LIFEbeat, the music industry's AIDS charity. A whole host of house heads benefited their time, recording fees and publishing royalties, coming together as The Underground Dance Artists United for Life to record for the set. They sing as a group a "We Are the World"-style anthem, and individually seven other songs, all written by Blaze. Ultra Nate returns to form, turning out the best song, "A Wonderful Place." She sounds as good as ever. Oh, and if you're a fan of Barbara Tucker, well, her "Most Precious Thing" is a nice romp through her God-fearing soul. And Byron Stingily produces a Sylvester discofied track, "Spread Love"…
---