Soundwaves
Upcoming J.Lo, Mariah, Madonna, Janet, Erasure, Daft Punk, Morel and DC bands
DIVAS TO DANCE IN 2005... The coming year looks to be shaping up -- if you can believe it, and dare we jinx it -- as an even better one for dance than 2004. How's that? Just look at the slate of upcoming releases.
Jennifer Lopez will return with Rebirth and Mariah Carey with The Emancipation of Mimi, both in March. Oh, those don't excite you? Yeah, well, me neither. Although, in fairness, we should report that Carey has commissioned David Morales and Peter Rauhofer to remix her first single, "Say Something." Still nothing? You say you just assumed there'd be remixes of Carey's work, and anyway, who cares? Well, I can't say I do either, but Billboard reported that fact as if it was something noteworthy, as if it was something special for Carey to continue her tradition of writing bland, over-emoting ballads and then tapping remixers to liven things up.
Janet Jackson's producer boytoy Jermaine Dupri also worked with Carey on two tracks, even singing on one, "Get Your Number," which Billboard described as a "feel-good, dancefloor-primed R&B number." Speaking of Jackson and dancing Dupri, the latter is set to executive produce the former's next set. After a bad 2004, Jackson is eager to try again just one year later with a new album, one that Rolling Stone reports will be a return to Janet's old-school ways, a dance-oriented counterpart to the mostly slow Damita Jo. Madonna is said to be taking the same approach, after 2003's underperforming and sadly William Orbit-free American Life. Orbit is supposedly on hand to reinvent her once again, so that's something....
SEMINAL BANDS TO DANCE IN 2005… So how does a new release from New Order sound? Or the B-52's? No word on when exactly we might hear from both seminal bands, but early word was summer. Also on tap is Erasure, whose Nightbird will be released on Jan. 25. The band will perform for two nights, May 2 and 3, at the 9:30 Club. Also out Jan. 25: the latest from the Chemical Brothers, Push the Button.
French electronica duo Daft Punk will return March 22 three years after its last studio set Discovery, with Human After All. Billboard says the title reflects a less robotic sound than prior Daft Punk releases, featuring dashes of rock and "un-ironic emotional sentiments." We remain a bit skeptical, however. Track titles include "The Brainwasher," "On/Off," "Television Rules the Nation" and "Technologic"....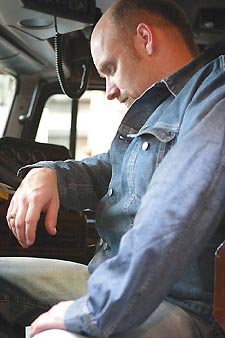 Morel
D.C.'S BEST-KNOWN BANDS TO DANCE IN 2005… The year 2005 will also be a big year for locally based but internationally renowned electronic acts. Eighteenth Street Lounge's Thievery Corporation will issue in February its next studio album, The Cosmic Game. Expanding the parameters of the downtempo chillout music that the duo helped pioneer, the album sees guest turns from rockers Perry Farrell, David Byrne, the Flaming Lips' Wayne Coyne and others. A tour is expected.
Deep Dish will release from its own D.C.-based label Yoshitoshi its long-awaited next studio set in May, with three songs featuring labelmate and longtime collaborator Richard Morel. Morel, in turn, will this summer release a Blowoff artist album with collaborator Bob Mould. Vocalist and musician Morel has actually been extremely busy as a recording artist for months now, what with the release of his eponymous band's Lucky Strike, one of last year's best electronic music releases, as well as one of its most underappreciated....
MORE MOREL IN 2005… Over the past month Morel has posted one tune after another on iTunes, including the magnificent, alt-Christmas pop song, "Merry Christmas to Everyone," which traffics in Morel's usual brooding contemplation. (Sample lyric: "Merry Christmas to anyone, who's holding on hope of a god when no one seems near.") He released that song in its original form along with a couple of his own Pink Noise club mixes, and in conjunction with another, "Santa Hugged Me," which he says "may be the first Christmas song to acknowledge Santa's bear status."
Released just weeks before Christmas, it was too late for his publishers to get much airplay or other exposure for the tunes in 2004, but they're already gearing up for this Christmas. Buy it now, as an early Christmas gift to yourself, and be way ahead of the curve.
Also, Morel's label just posted to iTunes Dean Coleman's Respekt remix of Lucky Strike's first single, "If You Love Me," which is increasingly getting play at a club near you. Actually, several remixes are available of the track, including Morel's extended mix of the original, but if you've only got 99 cents to spare, go with Coleman's. Coleman periodically blows icy wind on his pop-oriented tribal mix, keeping things from getting too hot due to the obsessive love of the lyrics. But that's not the best part. A distorted piece of Morel's vocals ribbits like an electronic frog throughout the vocal remix, singing what sounds like "Good butt"....
---