Soundwaves
Miami Dance Music Awards, P. Diddy, M.I.A., Kelly Osbourne,
P. DIDDY CRASHES THE PARTY... Two weeks ago, Miami hosted the annual Winter Music Conference, the dance music equivalent to the film industry's Sundance. The highlight of going, besides hobnobbing with the leading proponents of dance music, is uncovering the next big song and the next big act in dance music. Who will be the next Basement Jaxx, Crystal Waters, or Debbie Gibson? All three were brought to wider attention after performing at the event over the course of its 20-year existence.
According to reports, there are several leading candidates, the most obvious of whom is P. Diddy. Yes, that P. Diddy -- Sean Combs. It's been reported for over a year that the hip-hop impresario was working on his debut dance-music album, and that, according to Remix magazine, Felix da Housecat was almost driven insane by Diddy's demands as he worked producing tracks for the album. Nothing is known about the status of that project, but P. Diddy surprised the crowd at a club in downtown Miami by rocking to and fro next to DJ Housecat. No word on whether he did anything beyond looking glittery and jittery: not one of the reports from the event even mention his actual performance. That can't be a good sign....
M.I.A.'S EXOTIC ELECTRONICA... A Miami Herald critic suggested that the next big star could be M.I.A., praising her "sheer, original talent." M.I.A., from Sri Lanka, is already a sensation in the U.K., where she currently lives. I haven't yet heard her just-released album, Arular, which reportedly mixes U.K.-style hip-hop, bhangra and other exotic electronic styles and sounds not so dissimilar, apparently, to what Neneh Cherry created last decade. Sounds promising....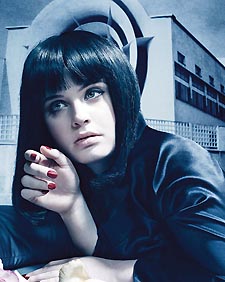 Osbourne
PAPA DON'T DANCE... But the next big dance-music star could very likely be someone we thought we already knew pretty intimately -- Kelly Osbourne. Osbourne's debut album, Shut Up, was pop-punk, true. But she says now that she hated it. "I really don't like it and I can't express that enough. It's not me," she says in an advance press release for her sophomore album, Sleeping in the Nothing, due out June. She goes on to say she doesn't listen to punk-rock "or even rock music for that matter." So, this time around, working with the best pop producer around, Linda Perry, who last year helped make Gwen Stefani a dance-pop princess, Osbourne has created an '80s-pop inspired album of tracks that she hopes "could be played at any dance club in the world."
Accordingly, Osbourne made the rounds in Miami, by appearing at the International Dance Music Awards, the Club World Awards and at a BBC Radio 1 live broadcast. Her new song, "One Word," a slinky synth-pop number with a catchy chorus of processed vocals, got play around town. It's also been remixed by former Thunderpuss heavyweight Chris Cox, so expect to hear at least that version soon enough....
DJ POPULARITY CONTEST... Paul Oakenfold, just one of many DJs in Miami for the music conference, is often touted as the most popular. But he hasn't won a popularity contest in years. This year, as ever, the Brit is the second runner-up to the Dutch Tiesto and the German Paul van Dyk, respectively, in the BPM Magazine's annual readers' poll. Winners of the magazine's America's Favorite DJ were announced in Miami. Washington's own Deep Dish moved up from last year to take fifth place, one of the few changes in the top tier. And only one female DJ managed to crack the top 50 -- the seriously hardcore techno lesbian DJ Irene…
HOWL TO MIAMI... British DJ Danny Howells was voted the 35th most popular in the BPM DJ poll. He was also in Miami to release a two-disc set largely dedicated to the conference -- or at least its unique locale. Global Underground #027 -- Miami should help him continue to build his fan base and climb higher in the poll next year. Apparently in line with the music he plays late in a Saturday night live set, or really early Sunday morning -- quirky disco, spacey grooves and warm deep house -- the compilation also suggests his stop Saturday, April 16, at D.C.'s still-new nightclub Fur would be worth your while. Miami doesn't sound much like a typical night out in its namesake Latin American capital, but then a night out at the city's mega-club Space isn't a typical night out -- and it's his fond memories of spinning at the club that inspired the set in the first place. Miami is a solid set, solid throughout its two-and-a-half hours of music, which is a feat all itself. Little chance you'll know any of the tunes, but since nearly every one is instrumental, yet thoroughly melodic, there's a big chance you'll be playing this for years to come....
AWARD WRAP-UP... Finally, a couple noteworthy developments at the International Dance Music Awards and Club World Awards, both jury-selected. At IDMA: Gwen Stefani's "What You Waiting For" took Best Alternative/Rock Dance Track title, besting U2's "Vertigo." David Morales with Lea-Lorien's "How Would U Feel" was honored Best House/Garage Track. Usher's "Yeah" bested Destiny's Child's "Lose My Breath" for Best R&B/Urban Dance Track. And hometown XM Radio's Channel 81, BPM, was deemed Best Satellite Radio Channel. At CWA, recognizing the best in nightclubs: DC's Fur lost out as Best New Club to Atlanta's Compound, and New York's Crobar owned the night with recognition as the Best Superclub and awarded for its lighting, design and video system....
---