Soundwaves
Scissor Sisters, Anna Vissi, Remixes resold
SUPERSTARS, NEW AND (ESPECIALLY) OLD…Who would have ever expected Kelly Clarkson as a dance-pop sensation? It could be just a temporary high, a one-hit dance wonder. But that can't-be-denied song, "Since U Been Gone," is the talk of the clubs right now, and it kicks off Superstars #1 Hits Remixed in blazing fashion. The compilation, due from Sony/BMG this Tuesday, is part of an emerging trend: a major-label dance version of Sony's hit series Now That's What I Call Music. Like the Virgin Records Dance Hits set last year, Superstars is a good introduction to dance-pop, especially for anyone who came of age in the last decade, a time when pop radio stopped playing dance. It features nothing but radio edits of club remixes, and it's not seamlessly mixed together by a DJ, two strikes against it for serious danceheads. But whoever assembled the collection is a little wily, ending the CD with a full-on diva track attack, all crying over a broken heart. And another American Idol, Fantasia, is, somewhat appropriately, cued up right after Whitney Houston -- Fantasia's "It's All Good" is the contemporary equivalent to Houston's "It's Not Right But It's Okay."
Hold up: Houston's song is on a brand-new release? The song is from 1998! And this particular remix is the original, overplayed Thunderpuss one. And it's now 2005. What gives? Well, Jennifer Lopez's "Waiting for Tonight" is nearly as old. And even older is Toni Braxton's "Un-Break My Heart." And Mariah Carey's "Dreamlover." That one is 12 years old! And sadly, they're all here. Just about half of the 19 tracks on this collection are old – years old. Again, unless you're a newbie to the dance scene, this set isn't intended for you, since you've already got these tracks – and if you don't, then the last thing you want is these tracks. And newbies want to be current, right?
So can't you just pick and choose tracks at an online music store, instead of buying the full set? Hmm, sadly, that looks doubtful. Sony has been reluctant to sell tracks from its Now series online, and it's a safe bet the label will feel the same with Superstars. The long-overdue return of the singles market is still not here yet, it seems....
A FILTHY NO. 1 HIT…Another problem with Superstars: It's a catfight in there. There are only two male voices heard. And neither Simon LeBon (Duran Duran) nor Adam Levine (Maroon5) is gay, as far as is known. Just where are the Scissor Sisters? Well, if Sony/BMG was being true to the compilation's title – and they aren't, since many of these tracks failed to hit #1 on any Billboard chart – they'd have included Scissor Sisters' "Filthy/Gorgeous." It's the Sisters' first No. 1 hit in the U.S., having just assumed the pole position on the Club Play Chart two weeks ago.
"Filthy" is about a prostitute, which you know from listening to the words or watching the gleefully depraved video of "Filthy/Gorgeous." Jake Shears sings about his days, pre-Scissor Sisters, turning tricks for money. (One might call them his Blower Brother days.) The Sisters' Babydaddy told NPR last December that it's a song intended to appeal to society's outsiders, those who might take solace in the prostitute's shared plight. On the other hand, he joked in the same NPR interview, it could be a theme song for senior citizens on cruise ships…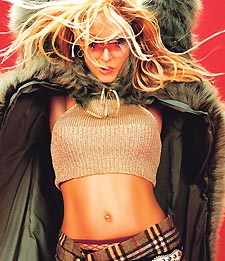 Anna Vissi
A GREEK SUPERSTAR…And to think there was a #1 female pop star missing from the Superstars roster. Okay, so there are many missing. But one of them is Anna Vissi, the Greek superstar. She's not very well known in the U.S. -- yet. She performed last year at the White Party in Miami, and her first single, "Call Me," just topped the Billboard Club Play Chart (the week before "Filthy/Gorgeous"). Her debut American release is expected soon. I have yet to hear a bad remix of "Call Me," and nearly every version stays pretty much true to the original, a pop anthem nicely sugarcoated with just a touch of exotica courtesy of flourishing Greek strings. But Friscia & Lamboy lives up to claims that it is the up-and-coming tribal remixing duo. The two don't overdue it here, mostly just gently speeding up the original, keeping things relatively calm. That is, until about two-thirds of the way through the Mixshow remix. That's when the duo breaks down the song and adds a tribal bridge, where what sounds like bongos compete to beat out an intoxicating rhythm that soon ushers in the original Greek strings, creating a hyper-charged plea to dance….
---