Soundwaves
Madonna, Gwen Stefani, Goldfrapp, Sasha and Digweed
MADONNA'S COMEBACK... Apparently it's not uncommon these days to be puzzled by the mere mention of Madonna's name. In fact, her handlers sounded testy in an official statement on her website about the news. ''If you haven't heard that Madonna is back in the studio recording, then you might be living under a rock.'' Well, what they call "a rock" you might call the Billboard Hot 100. Madonna has failed to hit on the main album or singles charts for nearly five years. Madonna did fare well with last year's Re-Invention Tour, of course (a DVD chronicle of that is expected later this year), and she continues to find favor in the dance community through remix work of her less-than-danceable American Life singles. Peter Rauhofer's ''Mother and Father'' rework is slowly ascending the Billboard Club Play Chart. Tracy Young has remixed Life's sweet closing track ''Easy Ride.'' That remix will appear on Young's Dance Culture mixed set, expected this summer. Plus, Victor Calderone has reportedly remixed her 10-years-old ''Bedtime Story.'' For what -- and more importantly, why -- we haven't been able to determine.
But what about that next studio album? Her handlers said next to nothing. No title. No release date. It's no wonder they're testy: Madonna won't let them release real news. ''Madonna is busy in the studio collaborating with new producers that she has never worked with before,'' was all they were permitted to say. Reading between the lines, that suggests Mirwais has finally been fired, and that she's opted not to rehire William Orbit. The vague statement also keeps alive the rumor that she's working with Stuart Price, aka this year's Grammy Award winning remixer Jacques Lu Cont. There's still hope....
STRIKE WHILE "HOLLABACK" IS HOT... Also unclear is the next single to come from Gwen Stefani's double-platinum debut, Love.Angel.Music.Baby, now that ''Hollaback Girl'' is falling from its four-week Hot 100 perch. Either ''Danger Zone'' or the New Order-produced ''The Real Thing'' would be super, although the deliriously giddy Andre 3000-production ''Bubble Pop Electric'' seems more likely. But enough about that. Stefani is already a step ahead. Beyond continued additions to her Harajuku-inspired fashion line, which PitchforkMedia.com calls ''borderline-racist,'' Stefani told MTV.com that she hopes to release her sophomore set before year's end. The set will mostly be leftovers from last year's recording sessions. Says Stefani: ''It's going to be kind of like 'part two.'" How do you say ''super cute'' in Japanese?....
OOH LA GOLDFRAPP... With its singles ''Train'' and ''Strict Machine'' having become minor and major club sensations, respectively, in the last year, timing couldn't be much better for Goldfrapp to drop its latest full-length album. Here's hoping Supernature, due September 20, fares better in the U.S. than the British duo's woefully underappreciated second album, 2003's Black Cherry. A quick preview of first single, ''Ooh La La,'' suggests Bjork-influenced vocalist Alison Goldfrapp and her musical partner Will Gregory are carrying on their tradition of appealing electronica eccentricity. ''It's sulky, it's sexy, it's a little bit ooh la la!'' the duo's web site teases about the song. It's also a little bit Rolling Stones with its naughty, seesawing electric bass lick. It's also a little bit Kylie Minogue -- specifically ''Slow.'' Ooh la la, indeed....
SASHA & DIGWEED, APART... Sasha, the Welsh-born Alexandar Coe, is iconic in the electronic music scene. He was the lead-half of the original super-DJ duo, Sasha & Digweed. That partnership with fellow Brit John Digweed helped usher in the DJ-as-rockstar phenomenon, as well as one obvious by-product, the DJ mixed compilation. The two straight lads never threw attitude or ego around the way of Junior Vasquez or some of their other contemporaries. And they didn't traffic in the common sound of overly dramatic, hyper-charged dance music. They still don't. Both independently continue to spin adventurous, rock-influenced pop that challenges the genre's conventions. Sasha demonstrated this last Saturday at Fur. Digweed is set to do the same at the same swanky D.C. nightspot on Saturday, June 18.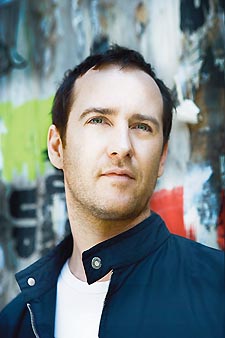 Digweed
They prefer an austere sound, at a gentle, not-quite-rolling-boil pace. It's beguiling much of the time, but also boring too often. Later this month Sasha releases FundacionNYC. And for that compilation and his live sets he's now completely turned away from the digitally enhanced turntables that remain a staple of the DJ booth. Sasha has created his own, all-digital equipment sans turntables, allowing him to manipulate songs and sounds with dizzying ease at the touch of a button. It makes his sound a bit busier and more cacophonous in stretches, and that's not necessarily a complaint.
Digweed, less prodigious and as such not as well known, isn't creating any new bells and whistles these days. In fact, he's looking to the past. He's touring chiefly to promote his new Choice: A Collection of Classics. This two-disc set is a ''collection of favorites,'' especially those tracks from before or just as Digweed was starting out as a DJ 20 years ago. But even more shocking is what it explicitly avoids: any mention of Sasha. His name is nowhere to be found in the liner notes. ''That is the history that has already been told. We're here to tell a different story,'' is the most the four-page, eight-column biography can bring itself to say about Digweed's partnership in the '90s. Sounds like someone feels a little overshadowed....
---