Soundwaves
Sarah McLachlan, BT, t.A.T.u.
MCLACHLAN'S LINGERING AFTERGLOW... Now two years old, Sarah McLachlan's ''World On Fire'' takes on new meaning in a post-Hurricane Katrina world, when so many of us fumble to do something, anything to respond. ''Tap into the water, try to bring my share,'' McLachlan sings in the bridge. ''Try to bring more, more than I can handle/Bring it to the table, Bring what I am able.'' Junkie XL's brilliant, blazing remix of the song kicks off McLachlan's just-released second remix collection. You might worry your stereo is on fire there's so much going on.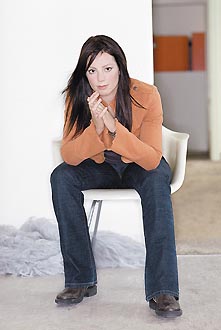 Bloom -- Remixes is a must-have for McLachlan fans, without question. But it's a must-have for everyone else, as well. If you don't count yourself as a McLachlan fan, perhaps you're just not familiar with her as a remixed artist. By and large, most of McLachlan's original productions are too langorous and often too slight. No thanks, I'd rather be sleeping, or watching a Lifetime movie about women in distress. But when a skilled remixer gets hold of a McLachlan track and really pays attention to what she's conveying through her stunning poetry, watch out: you'll quickly uncover some of your favorite dance songs of all time that way. And McLachlan has had an unprecedented, and largely unheralded, influence on today's dance music. TiŽsto, who might as well trademark the moniker World's Most Popular DJ, rose to dominance partly as a result of his reworking of McLachlan tunes, and all manner of DJs and dance artists after him have enlisted or remixed sweet, clear, breathy female vocalists to emulate her, from Jes to Kirsty Hawkshaw to Dido.
TiŽsto is nowhere to be found on Bloom, which initially seemed like a crime. After all, two of the best tracks on McLachlan's first remix collection, 2003's Remixed, were TiŽsto productions. Perhaps he asked too much for the job, but in the end he's not missed: Dusted, DJ Hyper, Tom Middleton and of course Junkie XL all produce mixes that shine as bright as TiŽsto's previous work. A particular treat is the mix of the 12-year-old ''Ice'' by Dusted, or Mark Bates, who had assistance from Dido's brother Rollo Armstrong of Faithless fame. ''The ice is thin, come on dive inÖThe only comfort is the moving of the river,'' McLachlan sings. Acting out the lyrics, the remix moves chillingly slow before sonically cracking through the ice and moving, with quickening speed, below the river's surface. Though it does stray a little too far beyond dance music with a couple remixes, Bloom, which primarily draws from her 2003 Afterglow album, is a more satisfying collection than Remixed was. Even supposed non-McLachlan fans will be won over....
BT PHONES HOME... Where in the Bloom is BT? BT being Brian Transeau, the Los Angeles-based Maryland native who originally started as a Deep Dish collaborator. Like TiŽsto BT polished two noteworthy tracks on Sarah McLachlan's first remixed set but wasn't invited back for a second go-around. Or maybe he turned them down, considering his busy schedule. As unlikely as it sounds, BT is currently serving as executive producer of the NBC reality show Tommy Lee Goes to College. Turns out it was BT's idea for the show in the first place, though he initially wanted it to focus on Journey's Steve Perry, who declined to star. Beyond that, BT is also said to be finishing work on his next artist album, which he told Billboard was ''for dancefloors,'' unlike 2003's more cinematic and genre-hopping Emotional Technology....
THE THINGS SHE SAID... ''Our first video was about the love between two girls. We do not pretend to be lesbians -- we've never said we were.'' So misspoke t.A.T.u.'s Lena Katina to Billboard this week in a calculated bit of revisionist history. It's true the two members of the Russian dance-pop group said little about their sexuality when they splashed onto the scene nearly three years ago. But their label and their handlers went out of their way to suggest that the two were lovers in plain sight. It was a charade that Katina got tired of playing a year into generating much publicity and impressive album sales. As she told the British tabloid The Sun in January 2004: ''We are very tired of each other and it's not fun playing lesbians any more.''
But why oh why are we dredging through the t.A.T.u. trash? Because, gentle readers, you need to brace yourselves: the duo is back to haunt and taunt us. Yes, unfortunately t.A.T.u. is still together. First single ''All About Us'' is making its way to DJs right now. And the two know how to keep stirring the publicity pot: somehow the girls enlisted Sting to play bass on one track of its sophomore album, Dangerous and Moving, due Oct. 11. And Richard Carpenter of the Carpenters arranged and conducted strings for another track. The girls still haven't completely let go of the sexuality tease either. Though Katina lied to Billboard about ever pretending to be a lesbian, she then added about her t.A.T.u. partner Julia Volkova: ''Julia just had a baby and currently has a girlfriend.'' And further, ''We share a special bond.'' Gag....
---