Soundwaves
Garbage, Britney Spears remixed, Madonna, Goldfrapp, DJ Jacque Lu Cont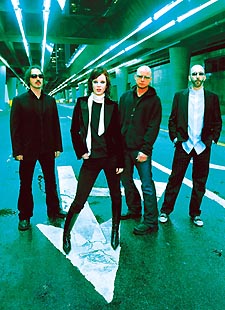 Garbage
DON'T THROW OUT GARBAGE YET... Don't put Garbage in the pop trash heap just yet. A Sept. 23 post to the band's Web site alerted the ''worried and confused'' not to -- well, not to worry at least. ''We are not breaking up. However, we are taking some much-deserved time off to spend with our families and friends. How much time? We don't know.'' So it could be they'll dive back in tomorrow, or never; it's unclear at this point. This will be the second ''long hiatus'' the band has embarked on, and it comes as a bit of surprise. The band's drummer Butch Vig had just told Billboard in the spring that he's not worried the band will implode, as it almost did two years ago when it took its first hiatus. ''Because we were on the verge of losing it all, we made the album of our career,'' said Vig. ''We feel completely rejuvenated.''
Not completely apparently, and perhaps it has something to do with lackluster sales and fleeting press attention to the band's fourth album, and first in four years, Bleed Like Me. Though it was the band's highest-charter of its career, it has only sold about the same number as the band's disappointing-selling third set, beautifulgarbage. Still, the band just notched another dance hit, courtesy of Eric Kupper's remix of the album's rocking title track. By peaking at No. 6 on the Billboard Club Play Chart, it was one notch shy of 1996's ''Stupid Girl,'' and two shy of 1994's ''When I Grow Up.'' At least in club circles, that was a career high....
BRITNEY GETS REMIXED... Britney Spears has topped the Billboard Club Play Chart twice, but only recently: two years ago with ''Me Against the Music'' and early last year with ''Toxic.'' Her very first single, 1998's ''Baby One More Time,'' didn't even register in clubland, and it wasn't until 2000's ''Stronger'' and especially 2001's ''I'm A Slave 4 U'' that remixers' interest was piqued. Now, however, everyone's on board: Spears, like the Madonna she wants to be, will release on Nov. 8 Remixed, a collection of her remixes. The album is led by Junkie XL's remix of a new single, ''And Then We Kiss,'' which factors into the commercial for Spears's new fragrance, ''Fantasy.'' A full track list has not been revealed, but Billboard reports it will include Jacques Lu Cont's ''Breathe on Me'' -- included on last year's Greatest Hits: My Prerogative compilation -- Hex Hector's ''Don't Let Me Be The Last to Know,'' Bill Hamel's ''Touch of My Hand,'' even a remix of ''Baby One More Time'' by Davidson Ospina. And even though Armand Van Helden's remix is the one you're most familiar with, Peter Rauhofer's hard-to-find ''Toxic'' will be included instead....
MADONNA NEWS AND GOSSIP... Do you ever feel like you've spent too much time and money on Madonna? Well, we've already spilt far too much ink on her forthcoming album, but there's more news to share and -- even better -- a little gossip. First the news. Madonna's new producer, Stuart Price, told attendees at last month's Billboard Dance Music Summit in New York that Madonna wanted to make a dance-pop album from the beginning -- clearly she's learned what best butters her bread. So Price has assembled Confessions on a Dancefloor's 12 tracks as if they formed a remix compilation, making it one of the first artist albums to be continuously mixed. The album, due Nov. 15, opens with lead single ''Hung Up,'' and carries on with a song titled ''Future Lovers'' and then another that sounds-like-it's-pandering, ''I Love New York.'' Maybe it should be subtitled ''But Not As Much As London.''
Now the good stuff. Popbitch.com, the weekly gossip email newsletter from the gossip-happy land of Britain, Madonna's adopted country of residency, has shared several other, much juicier details about the album. Of course, don't take our word for it, but Popbitch dishes that ''Hung Up'' samples ABBA's ''Gimme Gimme Gimme,'' and that the creatively named ''Future Lovers'' samples Seal's ''Future Love Paradise.'' As Popbitch put it, ''Early reports on the Madonna album confirm that she may be running out of ideas.'' A week prior, in mid-September, Popbitch gossiped that Madonna chortled when a friend suggested ''Hung Up'' sounded like Gwen Stefani. ''That c[***]'s been stealing from me for the last ten years so I thought it was about time I paid her back,'' Madonna responded, or so Popbitch tells it....
WAITING FOR GOLDFRAPP… Popbitch also dishes that staff at the London office of Warner Records, Madonna's label, have taken to calling her ''Oldfrapp.'' Whether it's true, it's a nickname obviously drawn from the name of British electronica duo Goldfrapp. That group's own label is so pleased about the group's forthcoming third album that it wants to make sure it gives as much promotional push in the States as possible. So Mute has pushed back Supernature's American release to February of next year. It was released late last month in Europe. Though it means we're forced to wait still longer for the next ''Train'' and ''Strict Machine'' to come, it's good news to everyone who wishes more push had been made to promote the underappreciated 2003 set Black Cherry....
PROUNOUNCING LU CONT?... Madonna's producer Stuart Price is to-date best known as the Grammy-winning remixer and DJ Jacques Lu Cont, a name the Brit coined, he told attendees at the Billboard Dance Music Summit, for a laugh. ''I wanted to hear someone on the BBC get tripped up while saying it. Which has happened.''
---