Soundwaves
Suzanne Palmer, Tiffany, Debbie Gibson, LeToya Luckett
TAKE COVER FROM COVERS... Soon you'll be hearing a dance cover of Sheila E's ''Glamorous Life.'' And just as with most dance covers of '80s and '90s pop tunes, you'll try to forget all about it. Melissa Thautz's girly chipmunk voice and cutesy delivery is all wrong for the song. The gritty guitars and hard-charging rock attitude of the Hotfuss Club Mix does work, however. But nothing could save the cover, or make it glamorous.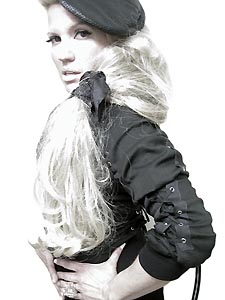 Suzanne Palmer
And could somebody please stop the madness? Please stop polluting our airwaves by tossing off these tepid covers that no one has put any thought into. Yes, here's looking at you DHT. Please just go away. You've had your fun, scoring, with ''Listen to Your Heart,'' a Billboard Hot 100 Top Ten hit -- Top Ten? Still, this Roxette cover made no dent on the Club Play Chart, so thank heaven for a chart haven. Lately only two covers have been worth remembering, and we can give credit to Peter Rauhofer's Star 69 label for both. First was this spring's cover by Inaya Day of ''Nasty Girl,'' originally performed by the also Prince-affiliated Vanity. Day got dirty and tore into the song, looking for a man to ''lo-ohve'' her. And wouldn't you know she found thousands of gay men ready and willing to do the honors.
More recently Suzanne Palmer lusted after a ''boy'' in her driving remake of the nearly 20-year-old house hit ''Fascinated,'' originally recorded by the short-lived Company B. The song just peaked at No. 10 on the Billboard Club Play Chart. Why it didn't go higher, I don't know. It's a standout track on Palmer's standout debut artist album, Home. Palmer explained to HX last month how the cover came to be. ''It was Peter [Rauhofer]'s suggestion,'' she told the New York magazine. ''At first I thought, 'I can't do that song. It's too bubble gum.''' Not anymore. ''The original sounds like it's a little girl, but [producer] Eric Kupper and I took it lower. Now it sounds like a woman singing''....
TIFFANY V. DEBBIE, TAKE II... Speaking of little-girl bubblegum pop from the '80s, we just might have a Tiffany v. Debbie Gibson match all over again. Where are they now, you ask? Well, Tiffany released a rock album a couple years back that didn't go anywhere, even though an appealing dance remix by Solar City of ''I'm Not Sleeping'' got some deserved play. Now she's just self-released a dance-pop album Dust Off and Dance that she hopes gets her more club action. The album is available for sale at cdbaby.com where reviewers have written salutary things like, ''Oh My God!'' and ''Awesome'' and ''Wow'' and ''Totally hot!'' Like, are these people stuck in the '80s or what? And one of them wrote this: ''1,000 times better than you'd ever imagine...'' Sorry, but that's 1,000 times overstated. The album sounds stuck in the '80s. She's still singing bubblegum, except when she tries a really unfortunate rock hip-hop blend (''Everyone Get Down''). And she's still singing through her nose. She even covers her own cover: her first No. 1 hit, ''I Think We're Alone Now.'' Have we mentioned how we feel about '80s covers?
Debbie -- now Deborah -- Gibson was more talented than Tiffany, a sharp pianist who wrote her own songs. She also had somewhat longer of a chart run. But where is Gibson now? Her Web site lists several upcoming events: as a one-time audition judge on the upcoming season of American Idol; as a performer on Fox's forthcoming new show Skating With Celebrities; and as the star of her very own Caribbean cruise, setting sail next March. But aside from all that and several past star turns on Broadway -- and, like Tiffany three years before her, a March spread in Playboy -- Billboard reports she's ''itching'' to get back into pop music-making. ''I'm ready for my big Tina Turner 'What's Love Got To Do With It' radio comeback,'' she told the magazine. Billboard says Gibson has written a couple songs, including a ''dance-pop club type,'' for the film Coffee Date, in which she'll co-star with Wilson Cruz. But she's not committed to dance pop, we're sorry to report. Billboard says she's considering writing in a jazz/blues piano style. ''As you mature, lyrically, the songs get more sophisticated and you want the music to support that,'' she said, in a slap that really stings....
SAY HER NAME... Yet another songstress of old wants to make a comeback. This time it's someone from the '90s, so not so old. And it's someone we didn't know too well in the first place. LeToya Luckett was one of the original members of Destiny's Child, before Beyonce and Daddy Knowles kicked her to the curb at the peak of ''Say My Name'' popularity, replacing her with Michelle Williams so fast everyone had whiplash. Well, Luckett's luck has finally come through, seven years later. Capitol Records will release her debut solo turn in February. Was she contractually forced to wait until DC broke up for good? Hmm... In any case, many of hip-hop's biggest names are assisting her in fashioning what she calls a ''hard R&B'' sound. So as her first single states it, ''All Eyes On Me'' may ring true for the first time in her career....
---