Soundwaves
Kristine W, DJs Are Alive, Dance Grammys, Washington's Dance Wammies
DANCE MUSIC'S LEADING ''LIGHT''... She's been a leading lady in dance music almost without let-up since busting onto the scene 12 years ago. But 2006 could be Kristine W's biggest year yet. A fourth solo album is tentatively set for release in the fall, and she's also joined an all-star dance band that is currently recording new music and beginning to tour. (See below.) Sadly, it hasn't been a perfect year: the fourth hit single from the multi-talented singer-songwriter's lively 2003 release Fly Again just missed the top spot on the Billboard Club Play Chart.
Part of the problem: ''I'll Be Your Light'' began getting notice as a single nearly a year ago. It just doesn't sound hot and fresh anymore. Even a hot and fresh song, though, would have a tough time against chart heavyweights like Beyonce and Mary J. Blige, both of whom just leapt passed Kristine to take the top spots, with ''Check On It'' and ''Be Without You'' respectively. Not to mention Madonna, whose ''Sorry'' is about to knock out all three.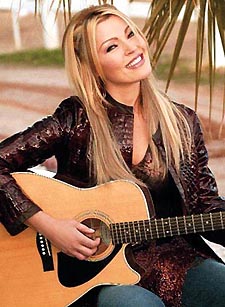 Kristine W
What's disappointing about ''I'll Be Your Light'' peaking at No. 2 -- which would normally be considered an achievement -- is that it mars what was a flawless record. Prior to this, every one of Kristine W's singles since 1994's ''Feel What You Want,'' her first, reached the top. That makes for an impressive nine No. 1's.
Also making this No. 2 peak a bit heartbreaking is the personal nature of the song. While every song on Fly Again was inspired by Kristine W's successful battle with acute myeloid leukemia, ''I'll Be Your Light'' seems the most personal. The personal nature is reflected in the song's video, which includes actual home video footage of her 6-year-old daughter, fictionally depicting a gradual recovery from leukemia as her mother plays the part of a guardian angel, helping her to get better. It's slightly campy. And extremely touching....
A BAND OF DJS... In addition to her solo feats, Kristine W is involved in a relatively new concept in dance music: a band made up of DJs. DJs Are Alive was the brainchild of Jesse Houk, best known as dance remixer/producer and artist The Scumfrog. Houk thinks one way to revive a waning genre that has become increasingly marginal and fragmented in the past few years is to assemble an all-star collective of multi-talented dance artists that will tour as a live band and focus on having fun. As part of the collective, the Scumfrog and a famous crew of DJs -- DJ Skribble, D:Fuse and Static Revenger -- will sing and play on guitars, keyboards and drums in addition to spinning behind the decks, improvising as they go. And Kristine W will play saxophone and sing as part of the band. The band had its debut public performance recently in New York, and more concerts are currently being planned, as is original music. For now, you can hear a new song and see footage from a December rehearsal at www.djsarealive.com....
DANCE GRAMMYS... A decade ago, with "Body Rockin' Beats," the Chemical Brothers earned its first Grammy, for Best Rock Instrumental Performance. The British duo just picked up two more Grammys, and in the process nearly swept the dance field. Yes, the dance field. This rock band took home the trophies for Best Dance Recording (''Galvanize'') and Best Electronic/Dance Album (Push the Button). While not as worthy a dance song as fellow contender Deep Dish's ''Say Hello,'' ''Galvanize'' is appealing enough. But Push the Button as best dance album? Admittedly the competition was light, with also-rans Fatboy Slim, Kraftwerk and Daft Punk all working to overshadow LCD Soundsystem's self-titled debut, the one truly cutting-edge album that deserved the nod. Honoring Push the Button betrayed the reality that the Grammys can't help but be little more than a popularity contest.
Meanwhile, Louie Vega won the only other dance award, for Best Remixed Recording. While Jacques Lu Cont's remix of The Killers' ''Mr. Brightside'' was better than Vega's remix of Curtis Mayfield's ''Superfly,'' the honor was the Grammys' way of giving overdue recognition to house music legend Vega. And if the Grammy had gone to Lu Cont it would have been two years in a row, making this newcomer the first to earn two remixer Grammys. That probably wouldn't have sat well -- and might have hurt Lu Cont's chances next year, when he will surely be nominated again if not for remixing, then for his production work on Madonna's latest set, for which he used birth name Stuart Price...
DANCE WAMMIES... Last week the local version of the Grammys -- the Wammies -- were awarded by the Washington Area Music Association. Lesbian Bev Stanton took home two of the four Electronica categories. She beat Rob Harris, Yiannis and Scott Henry to take the DJ WAMMY, and bested Deep Dish and Thievery Corporation to take the Artist/Producer WAMMY for her work recording as Arthur Loves Plastic. It was a bad night for Deep Dish all around, with the duo also losing the Recording WAMMY to Thievery Corporation for The Cosmic Game. And Deep Dish's guest vocalist Anousheh Khalili lost the Vocalist WAMMY to another name very familiar in DC's gay community: Rachel Panay....
---