Soundwaves
Depeche Mode, 'New Order v. Duran Duran' at Black Cat, Coldplay
''PRECIOUS'' PAIN, ''SUFFER WELL"... Depeche Mode is preparing to release the third single from last year's Playing the Angel. Yes, the third single. Maybe you, your favorite DJ and various music-playing stations are still savoring the savory first single ''Precious.'' But while you weren't listening, ''A Pain That I'm Used To'' came and went. It made a bit of a dent on the Billboard Club Play Chart, thanks to a smoking remix from Stuart Price (recording as Jacques Lu Cont), but didn't reach the pinnacle that ''Precious'' did before it, that time largely on account of Victor Calderone and Mac Quayle's bright and bouncy remix. Listening to both remixes, you'll find that, unlike the originals, neither bothers to change the progression from verse to chorus. They sound almost exactly the same, and you only know you're at the chorus because Dave Gahan crams more words into the measure. It makes you appreciate diversity in song structure, and it makes you wish Price and Calderone -- in this instance, anyway -- appreciated it too.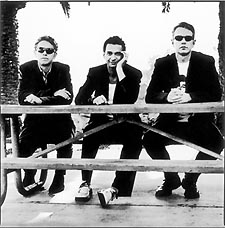 Depeche Mode
The band's forthcoming single ''Suffer Well'' is also the first release of a Mode song written by Gahan instead of chief songwriter Martin Gore. You wouldn't know it, though; Gahan does a fine job of recalling the Gore of yore. The song's foreboding synths and pleasurably painful lyrics recall the classics from Music for the Masses, especially ''Strange Love.'' So enlisting Canadian producer Tiga to remix the song is promising, since Tiga has a penchant for dark '80s-styled electro music. Let's just hope he differentiates between verse and chorus.
Given that it's only had marginal and intermittent success in the U.S. recently, Depeche Mode is doing its best to live up to its newest single's lyrics. ''Just hang on, suffer well/Sometimes it's hard, it's hard to tell.'' To help them achieve more, the band is continuing to tour, making a second stop in our area May 21 at Nissan Pavilion. The band is also preparing a live DVD for release in September.
And late next month the band will remaster and reissue several previous studio albums, recording them in 5.1 surround sound and including extra tracks and remixes on new DVD versions. Among these: ''Just Can't Get Enough (schizo mix)'' on Speak and Spell; and ''Never Let Me Down Again'' (Aggro Mix)'' and ''Pleasure, Little Treasure (Glitter Mix)'' on Music for the Masses....
SYNTH-POP CATFIGHT... They presumably won't play any Depeche Mode, but if you're a fan of that band then you'll be interested to hit the Black Cat this Saturday, March 11, for the equivalent of a British synth-pop catfight. ''FYM Productions presents: New Order vs. Duran Duran Dance Party and Cage Match.'' If so inspired (and braced for rejection), one could at least request DJ Dan's 4 A.M. Mix of ''Precious,'' since among other treats he incorporates New Order's ''Blue Monday'' beats at the remix's bridge. Doors open at 9:30. $9. See www.blackcatdc.com....
HOT ''TALK'' ABOUT COLDPLAY... Like Depeche Mode, Coldplay is gearing up to release its next single from its last album, X&Y. But you'll have to read about ''The Hardest Part'' some other time, because right now its third single, ''Talk,'' is, well, still all the talk in dance circles. And really, talk about Coldplay hasn't happened in dance circles since the band's American breakout track, ''Clocks,'' three years ago. That song only reached No. 31 on the Club Play Chart, and remixes of it were hard to come by. Not so with ''Talk,'' which is No. 3 on the same chart. And all-star remixes are just one-click away at iTunes.
Several reviews from iTunes customers have bemoaned that it's another case of a ''rock song ruined by techno.'' The comments are wrong on all counts. You might even say, to pharaphrase Coldplay, they're spoken in a language right doesn't speak. In the first place, ''Talk'' is a rock song that only exists because of techno: its catchy melody and signature riff come from ''Computer Love,'' an early track from Kraftwerk. Coldplay obviously commissioned remixes of ''Talk'' as a way of honoring those German techno pioneers. And Junkie XL, Francois K and Stuart Price -- here recording as Thin White Duke, his moniker for honoring David Bowie -- all show they were worthy of being tapped for the honor, turning out amazing remixes as good as the original.
But once again, it's Price who does the best work. His driving and building dance-rock remix progresses in his own dazzling and thoroughly characteristic fashion, yet he doesn't lose sight of either Coldplay or Kraftwerk. In homage to the latter, he incorporates computerized blips and bleeps, as well as a computerized voice that chants ''Talk to Me'' and spells out the name of the game. ''R-E-M-I-X''....
---