Soundwaves
Winter Music Conference, Barbara Tucker, Ultra Nate, Deep Dish, more
''PRECIOUS'' DANCE TRACKS... Every year in March dance music's leading movers and shakers go to party after party in Miami as part of the Winter Music Conference. And nearly everybody is focused on the same goal: to identify the tracks that will have the biggest impact on the club scene over the next year. In recognition of that, artists, remixers, producers and labels all save their latest and greatest tracks to release en masse in Miami.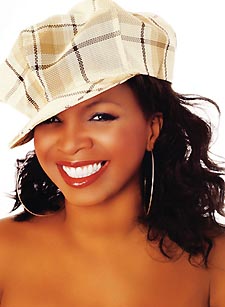 Tucker
So, based on what happened last month, just what might be some of this year's biggest tracks? Smart money is on Dennis Ferrer. Ferrer has two original tracks and several remixes that generated buzz in Miami. The latter includes what was also the biggest track in Miami last year: ''Most Precious Love.'' The song just refuses to die. Written by production duo Blaze and performed with vocal fireworks by Barbara Tucker as part of the AIDS-benefiting collective known as Underground Dance Artists United for Life (UDAUL), the song was originally released in late 2004. But it didn't gain much attention until Ferrer transformed it from a formulaic mid-tempo churchy soul-house number to a bright and bouncy synth-house stomper. Soon enough it was unavoidable at the clubs, topping the Billboard dance chart, and landing on compilation after compilation. Next month King Street Records will release still more remixes, including one from the hot new UK production outfit Freemasons, whose steeped-in-disco remix serves as the basis for a cute new animated music video for the single, which you can see by following the link at http://www.kingstreetsounds.com/news0406.htm. A cartoon Tucker sings from a club's stage about finding inner-love, but the video focuses on the outer kind, as two opposite-sex strangers find, and nearly make, ''precious love'' with each other on the dance floor....
ULTRA NATE'S LATEST ''PLACE''... Though we haven't heard the end of ''Most Precious Love,'' King Street has just released another single from Keep Hope Alive, the 2004 UDAUL benefit album. This time, it's Baltimore's Ultra Nate who provides the fantastic vocal fireworks. In its original form, ''Wonderful Place'' was one of the best songs from the album, full of sweet chords and bristling beats that accentuated Nate's warm voice and enthusiastic vocals. So far, the best remix we've heard is the Bobby & Steve & James Radcliff Afro Mix, which steadies the song upon irresistible, slightly jerky beats drawn from Afro-pop....
DEEP DISH WINS BIG... As big as ''Most Precious Love'' has been over the past year, it still lost out at the Winter Music Conference's International Dance Music Awards (IDMA). Nominated among an amazingly strong lineup in the ''Best House/Garage Track'' category, the voting public chose instead ''Say Hello'' by DC's own Deep Dish. That song also took the award for ''Best Progressive House/Trance Track,'' showing just how difficult it can be to put up borders around dance's subcategories. Deep Dish also won as Best American DJ, bringing their award total to three (out of a leading seven nominations), the same as Madonna, but one short of Paul Van Dyk, who most notably won as Best Global DJ and Best Producer. Another multiple award winner: Best New Dance Artist/Group the Pussycat Dolls, whose ''Don't Cha'' won as Best R&B/Urban Dance Track. For more results, visit www.wintermusicconference.com/idmanominees06.htm....
NOTEWORTHY COMPILATIONS... What else besides ''Most Precious Love'' was the talk of Miami last month and might soon be heard at a club near you? Three new compilations offer a starting point for answers. The UK-based Azuli Records has just released Miami 2006, its sixth annual set of tracks inspired by the Miami confab. Meanwhile, Om Records, the San Francisco-based label that just celebrated ten sweet and soulful years, has released Om: Miami 2006, a fantastic set of funky, percussive-happy and bass-drunk mid-tempo tracks that recall nothing so much as the energetic dance music that was popular 15 or more years ago.
But the Miami sound at its finest comes courtesy of the UK's Defected Records. Defected In The House: Miami 2006 is where you'll find Sergio Flores' new remix of ''Most Precious Love,'' which adds several more months of life to the tune by incorporating elements of Baile Funk, or Brazilian party music. The Defected compilation is also where you'll find two new stomping Dennis Ferrer tracks: the intensely pulsating ''Son of Raw,'' and the euphoric feel-good anthem ''Change the World,'' in which K.T. Brooks Sr. takes us to church with his preacher vocals.
Having established itself as one of Europe's very best dance labels within seven short years, Defected has just begun its campaign to fully impact the American market. And with Miami 2006, assembled and mixed by Defected founder Simon Dunmore, the label's campaign starts off not with a bang, but an explosion. This is one of the strongest compilations the dance genre has ever encountered. This nearly flawless three-disc set runs smoothly for three-and-a-half hours. At least every other track could very well be dance's next big hit. And all 46 tracks share an overriding sensibility: a serious love of disco.
And I mean flat-out, old-school disco, not just disco-fied contemporary house, which itself is naturally well-represented. Most tracks dazzle courtesy of the compilation's musically sophisticated and utterly timeless party band vibe, replete with chipper cowbells, festive horns, swirling strings and wild live bass. And, of course, the dozens and dozens and all manner of singers ecstatic to share pleasure and move on from pain with a club full of understanding revelers celebrating a shared existence. And ain't that just what dance music is all about?...
---