Soundwaves
Rihanna, Cascada, Duran Duran, more
REPLAY RIHANNA... Last summer, Rihanna, a native of the Caribbean island of Barbados, had a hit with ''Pon de Replay.'' It's not hard to understand why. The song managed to sound both refreshingly different and comfortably similar to the pop competition. It sounded different thanks to its fetching dancehall reggae beat. But lyrically and melodically it simply followed a hit path trodded most recently by Jennifer Lopez (''Play'') and Madonna (''Music''). Not just in the musical request to the DJ -- ''Hey Mr. DJ, won't you turn the music up?'' -- but also in cute lyrics about the joy of dancing.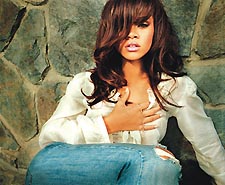 Rihanna
Now, less than a year later, Rihanna has done it again, proving she's no one-trick-pony. Her hit ''SOS'' sounds different because she thoroughly and ingeniously samples Soft Cell's ''Tainted Love,'' (Why hadn't anyone thought of that before?) and makes a lyrical nod to ABBA (''S.O.S.''), giving her song a fetching synth-pop ebullience and energy. The fact that it's built around a familiar sample that gay listeners know by heart suggests Rihanna could have cleverly created the song of the summer. The song, along with a couple Jason Nevins's remixes, is causing quite a stir in clubland, just as ''Pon de Replay'' did last year.
It also suggests that Rihanna -- born Robyn Rihanna Fenty -- is not just the Beyoncé-come-lately that you may have first taken her for. Like Beyoncé's before her, both of Rihanna's albums suffer under the weight of too many entirely derivative R&B ballads. Still, there are several rump-shaking tunes beyond ''SOS'' on the new set, A Girl Like Me. Which, it should be stressed, is her second album in less than a year. Rihanna, just 18, may not yet be quite as captivating as Beyoncé, 24, but she's working at least twice as hard to win our affection. After all, we're still waiting for a new Beyoncé set three years after her solo debut....
CASCADA'S HYPER HIT... Rihanna lost out to Cascada for the Best New Dance Artist/Solo honor at the recent International Dance Music Awards. Cascada is the recording name for the blonde, blue-eyed singer Natalie Horler, based in Germany. And her first single, ''Everytime We Touch,'' is the genre's biggest pop hit in America in years. It peaked at No. 10 on the Hot 100 a month ago and still lingers in the Top 20. The song -- and Cascada's music in general, including second single, ''Miracle'' -- is an uncomplicated and unsubtle hyper-fast brand of dance, built on trance and Europop. It seems custom-built for those with A.D.D. and for those who pine for the pre-A.D.D. dance days, a time nearly two decades ago....
PRE-A.D.D. DANCE DAYS REVIVED... Those pining for pre-A.D.D. dance days must be finding solace in the recent spate of dance covers, mostly from Europe, of decades-old pop hits -- a cover such as the 2002 hit from DJ Sammy and Yanou, who enlisted singer Do to recreate Bryan Adams's tune ''Heaven.'' It probably comes as no surprise that Cascada's music is co-written and co-produced by a German producer named Yanou -- one and the same. ''Everytime We Touch'' itself is a cover of a 1992 song from an obscure Scottish singer.
To date this spate of covers (and all of Yanou's work) has been released in the states by the label Robbins Entertainment. Remember the dance version of last year's Top Ten hit ''Listen to Your Heart,'' a Roxette cover from DHT featuring Edmée? Or Judy Torres's recent dance cover of Journey's power ballad ''Faithfully''? Both Robbins releases. But all this success hasn't gone unnoticed by other American labels. Ultra Records, for one, has just released both club and ballad versions of a new track from dance singer Kim Sozzi, best known for her dance hit with Mynt, ''How Did You Know?'' On her newest single, Sozzi covers Heart's power ballad ''Alone.'' As in, ''How do I get you alone?'' Some of us, though, are power-singing a different question to the same melody: How do we get them to stop?...
DURAN DURAN'S INSPIRATIONS... Perhaps one way to stop the cover madness is by reviving old dance tracks that were never very popular in the first place. You could do it as a covers album, if you insist. Or you could create a compilation, such as the one Duran Duran is prepping. (In addition to finishing recording an album of all-new material.) Nick Rhodes and John Taylor Present: Only After Dark scoops up songs that these two Duranies say inspired the '80s synth-pop quintet's early days. Included on the set are obscurities from post-punk pioneers David Bowie, Bryan Ferry, Brian Eno, Psychedelic Furs and the Human League. Then there's Donna Summer's ''I Feel Love.'' And a Grace Jones track. But for now, you'll have to pony up for an import, since there's no word on if there will be an American release. The set hits stores in the U.K. this Monday, May 8...
---