Soundwaves
Kevin Aviance attacked, Scissor Sisters, DC DJ Sasha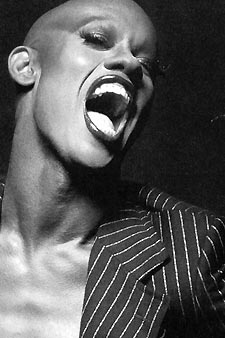 Aviance
AVIANCE ATTACK... It's that time of year when you just may be at your gay-proudest. Maybe you're so confident and comfortable you're even starting to question the whole point of Gay Pride-dom. And then, just like that: Along comes reality to kick you down, brutally putting any doubts to rest you might have had about society's lingering homophobia.
Last weekend, reality kicked dance singer Kevin Aviance, who was gay-bashed walking out of a gay club in Manhattan's East Village, a city -- and especially a neighborhood -- generally regarded as very gay-friendly. Apparently Aviance, born Eric Snead in Richmond, Va., wasn't even in his usual flamboyant drag and makeup. He was ''dressed like a boy,'' the New York Daily News reported, wearing shorts, a T-shirt and a hat. Dressed like that, the singer of club hits who got his start in D.C.'s club scene was obviously not recognized by passersby.
And that's the most disturbing part of the whole affair: there were passersby. Not one spoke up or tried to stop a half-dozen late-teenage boys as they yelled and chased after Aviance, 38, who frantically tried to hail a cab to get away. No one helped him as these neighborhood brats started throwing things at him and then punched and kicked him to the ground, according to news reports. At least one passerby later turned in one of Aviance's attackers, who then helped police find and charge three of his cohorts with first-degree assault as a hate crime, the Daily News reported. And another passerby helped Aviance to a nearby hospital. He suffered a broken jaw and bruises and underwent surgery over the weekend. Sadly, with his jaw currently wired shut, Aviance will not be able to perform as scheduled during next weekend's New York Pride festivities. But at least he is recovering....
ROCK, DANCE, SCISSOR SISTERS... Everybody's favorite mostly gay band will finally unleash new material this fall. The Scissor Sisters will release its second album, the cutely titled Ta-Dah, Sept. 25. A few weeks before the album's nod date, the glammy dance rockers will release ''I Don't Feel Like Dancing,'' written with and featuring piano tickling from one of their leading influences, Elton John. Yes, sadly we have to go all summer without new tunes from this neo-disco cutting crew. But at least that first single's title doesn't appear indicative of how the new music will sound.
''It's pure hands-in-the-air, ridiculous disco fun,'' says the band's sole female member, singer Ana Matronic, describing the song ''Paul McCartney,'' written by gay frontman Jake Shears as an homage to the famous Beatle. Strangely enough, Matronic told Rolling Stone it sounds nothing like a McCartney song. The quintet also recorded with David Bowie's guitarist Carlos Alomar, Roxy Music vocalist Bryan Ferry, and Kylie Minogue. It's unclear if the last two artists' contributions will factor into the final production.
''So many of the new songs are just really fun to play live,'' says Matronic. Considering how much fun the band was live to begin with, it all sounds so fabulous....
DJ SASHA, LIVE AND LEGAL... Unless you skipped out on gay nightlife this past Saturday -- have you no sense of pride? --you probably missed Sasha at D.C.'s Fur Nightclub. And chances are even more likely you'll miss him when he spins in Los Angeles next Saturday. But that night Sasha will become the first DJ to ever release a fully legit on-the-spot recording of a set. A limited-edition two-disc set featuring two-plus hours of music will be available for purchase as clubgoers leave LA's Avalon nightclub, or a month later at select record stores nationwide. The recording company Instant Live will pre-license all the music in Sasha's collection so that whatever he plays will be legal and ready for use. ''This culture, like it or not, was built on bootlegs and now downloads,'' Sasha says. ''Instant Live allows me to put my sets directly into the hands of the fans while supporting the music makers. With the artwork and packaging, it will be a great memento of the night.''
Born in England as Alexander Coe, Sasha is one of the techiest -- one might say geekiest -- DJs around. He's also the genre's leading trendsetter, progressive in more ways than just the style of house music he prefers: adventurous, rock-influenced pop at a moderate pace. He was the lead half of the original super-DJ duo, Sasha & Digweed, and he helped pioneer the idea of the DJ mixed compilation.
And now, the first truly live and legal recording from a DJ. It would be great if the idea catches on, since too often what you hear from a DJ on record is different from what you hear live. But the cost and time involved will only allow it to work for the biggest names in the business, spinning at the biggest events. So don't hold your breath for a take-home souvenir from any club outing in your near future. Unless, of course, you decide to make it a straight night.
But wherever you go, be careful. As proud as you may be, it can be a hateful world out there....
---