Soundwaves
Baltimore hosts indie-dance Virgin Festival, The Killers, Thievery Corporation, plus Fatboy Slim and the Imelda Marcos musical
VIRGIN'S KILLERS, SISTERS AND DJS... The headliners are the Red Hot Chili Peppers and The Who, and tickets are a steep $97.50. But chances are even you will want to be at the first annual stateside Virgin Festival, set for Saturday, September 23. Some 60,000 revelers will be drawn to Baltimore's Pimlico Race Course to see performances from a well-chosen lineup of indie-rock and dance-oriented artists. The Scissor Sisters will be there, just three days before the quintet's sophomore album drops. The Killers will be there, as well. And Gnarls Barkley, Keane, Clap Your Hands Say Yeah and The Brazilian Girls are others among 20 or so performers appearing across two stages over the course of 10 hours. And the festival, sponsored by Virgin Mobile, will also feature some of the world's most popular DJs in a separate tent, including Tiesto, John Digweed and Carl Cox. Tickets go on sale this Saturday, July 22 through Ticketmaster....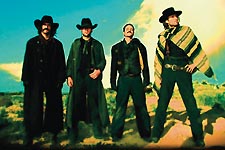 The Killers
KILLERS'S NEW APPROACH... At the Virgin Festival, the Killers will likely preview tracks from their sophomore album, due October 2. And Rolling Stone suggests the band's new music is perfectly suited for such a large festival. Whether it's as suited to fans of the band's original dance-rock sound isn't as clear. The magazine reports they've opted for ''bigger songs...trading synths and cold robotic vocals for full, swelling guitar melodies.'' The magazine quotes frontman Brandon Flowers as saying, ''There are people who want us to write 'Somebody Told Me' again and we just don't want that.'' The magazine reports that U2 and especially Bruce Springsteen were the band's guiding lights with the new album, though it also reports that some of the album's songs conjure Depeche Mode, David Bowie, even David Byrne. And first single ''When You Were Young,'' while a bit harder than earlier Killers, does feature the band's signature vintage keyboard sound and a thumping bass line. So dance appeal is not completely lost....
THIEVERY IN BALTIMORE... D.C.'s own Thievery Corporation will also perform at Baltimore's Virgin Festival. The 11-year-old duo of Rob Garza and Eric Hilton may preview new productions, since they are said to be working on a new artist album. Thievery has one of the most distinctive sounds among all electronica acts, and the two have at least sonically defined their own sub-genre, even if they don't like the names alternately given to it: chillout, downtempo, contemporary lounge music. Regardless of whether the pair are performing their own productions with featured vocalists or spinning their own remixes, the electronic fusion of sounds, drawn from dub reggae, bossa nova, jazz, salsa, Mid-Eastern and alt-rock, is always unmistakably theirs.
The duo's latest release is not a continuously mixed compilation. In fact, Versions is a collection of 18 exclusive Thievery Corporation remixes, many rare or previously unreleased. But over the course of 76 minutes the duo manages to reconfigure songs from as disparate a collection of artists imaginable -- The Doors, Sarah McLachlan, Astrud Gilberto, Herb Alpert -- and make them all sound as if they were kissing contemporaries, all brands of one global corporation....
IMELDA MARCOS, THE DISCO MUSICAL... David Byrne, frontman of the 1980s band the Talking Heads, is currently spending time putting together a new musical with Norman Cook, a.k.a. Fatboy Slim. It should prove to be as quirky as you'd imagine from those two, and actually more, given that the musical focuses on Imelda Marcos. Yes, it's about the life of the wife of former Philippines dictator Ferdinand Marcos. Well, except pitchforkmedia.com suggests the musical, Here Lies Love, doesn't go into any significant detail about her notoriously excessive shoe collection.
Instead, the music news Web site says the focus is on how surreal life inside a dictator's court is, and about Marcos' love of legendary New York nightclub Studio 54, where Marcos spent much of her time. ''A lot of it is about getting outside of yourself and losing yourself in the club, and the beats, and all that kind of stuff,'' Byrne said of the show's music. ''I imagine that's a similar experience to the heady experience of having all this power.'' Byrne said he intends to perform a concert version at Carnegie Hall this winter, but he's also currently shopping the musical around Broadway, for what he hopes will be a future theatrical production....
FATBOY SLIM'S GREATEST, LATEST... Cook, as Slim, is one of electronic music's most well-known artists. The Brit has just released The Greatest Hits -- Why Try Harder, featuring all of his playful hits big on pop radio and at straight clubs a decade ago. These include ''Praise You,'' ''Right Here, Right Now,'' ''The Rockefella Skank'' and ''Weapons of Choice.'' Hits, in other words, that were cute the first couple times you heard them, but because of their repetitive loops and limited ideas, quickly grew grating. The set also features two new tracks that actually show him trying harder -- they're among his strongest yet -- as well as his exceptional remix of Groove Armada's ''I See You Baby (Shaking That Ass)''....
---