Soundwaves
DJ Rob Harris, Niki Haris, Rachel Panay, Josh Harris
LOCAL DJ DOES GOOD, GOES NATIONAL... DJ Rob Harris regularly spins throughout the Mid-Atlantic region and in and around New York. On that front, Harris has just compiled his first commercially released compilation, celebrating New York's Soakin Wet August pier-dance party. He's been a co-headlining DJ for that event, organized by former D.C. resident and promoter Don Turner, the past several years.
Still, the Chicago-native Harris says he mixed Soakin Wet live right here in D.C., his long-ago adopted hometown, in the comforts of his living room and in the presence of friends. Harris's national name recognition will increase as a result of the quality of this Centaur set, Soakin Wet 3, and it will also likely lead to more gigs across the country.
But Harris remains D.C.'s own best-known DJ, a regular at most clubs around town, either as the star DJ or as a dancing-fiend customer. Both live and on Soakin Wet 3 Harris draws from various dance sub-genres to fashion a popular and savvy blend of hard and happy, of poppy vocals and tribal beats, which he calls ''twisted house.'' It's not dissimilar to the style of David Knapp, the Soakin Wet party's main headliner and compiler of the first two Centaur compilations celebrating the party. To be sure, Knapp's compilations were far more focused on being a hit parade of present-day club chart-toppers than Harris's debut is. Harris has several hits and several more soon-to-be hits here, but they aren't quite as obvious examples, and they were seemingly chosen as much to adhere to Harris's underlying lyrical theme as they were for standing out as individual highlights.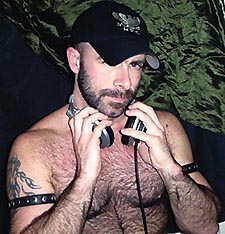 DJ Rob Harris
That underlying theme is one of escape: more than half of the 12 tracks here feature vocalists singing alternately about moving on from a lover and losing oneself in the music. ''Let the music take you for a ride,'' sings Ohsha Kai on the new club hit ''Free Your Mind.'' With Harris at the controls, you're sure to go far on that ride....
NIKI HARIS, POST-MADONNA... The standout track on Soakin Wet 3, without a doubt, is L.E.X.'s ''Let Me Hear the Music,'' featuring Niki Haris. Haris is the longtime Madonna backup singer and dancer who reportedly had a falling out with Madge after the Drowned World Tour. Since then she's been working on various gospel and jazz projects as well as a couple dance productions with Eddie X, the man behind L.E.X. ''Let Me Hear the Music'' is a hard-core banger of a dance track, but Haris more than matches the dramatic beats with her incredible vocal firepower and an inspirational tale of ''living for the music.'' With music this good, we're all living for your music, Haris....
RACHEL PANAY'S 'REAL THING'... Rob Harris also includes on his compilation a just-released track from Rachel Panay, the D.C. native who earlier this year moved to New York. ''The Real Thing'' is lyrically similar to her past club hits about the confusing power of love. But musically ''The Real Thing'' has more of an edge to it than ''Back to Love'' and ''I Still Believe,'' as Panay tries to convince a potential lover to take the plunge. ''You know you gotta, gotta get the real thing,'' she stutter-sings with conviction. You can't beat the real thing, folks....
JOSH HARRIS'S DANCING DIVAS... Another Harris in dance music is responsible for many of the multiple female vocalists vying for our gay affection these days. Josh Harris started on the scene a couple years ago, as part of the Passengerz remix team. But he first got our attention as Rachel Panay's chief producer. In recent months, he's been associated with another slate of hope-to-be divas, most notably Danielle Bollinger and Jenna Drey. Both made the gay pride circuit this year, and both are being promoted in typical fashion in the song-based beauty contest that is the dance scene. That is: our gal is different from the pack; she's got smarts and meaning to her music. She's more than just a pretty face with a hot body that she moves so sexily. But would you check out that glamour shot!
''I would say I'm the girl next door who isn't afraid of showing a little skin,'' says Danielle Bollinger, in promoting her debut album, When the Broken Hearted Love Again. Showing skin is working: she's scored a couple dance hits, including the title track and especially ''Kiss the Sky.'' Bollinger has a sweet innocence to her voice that suits her music about heartache, sounding as if she's learning as she goes. But her music is often bland and blah, with overheated emotion. And the Nashville resident, and former back-up vocalist for Faith Hill, seems at least as interested in country music as in dance.
Jenna Drey, on the other hand, says all the right things about dance. ''I think it's sad that grunge and alternative rock dominated in the '90s, pushing and segregating dance music out of mainstream pop. I only hope dance-pop will dominate again,'' she says in promoting her new album One Step Further. Drey's music isn't quite good enough to do the job by itself, but she does have an appealing presence and a commanding vocal presence. She's already had a couple dance hits, including ''Why Should I Believe You'' and ''Killin' Me,'' and there should be more to come....
---