Soundwaves
Kaskade, Sean Combs, Cazwell, Nicole Scherzinger of PCD, LOGO Channel, Jacob and Joshua
KASKADE'S NEW ULTRA OUTLOOK... It's a herky-jerky hip-hop-inflected pop track, and it would delight any admirer of Justin Timberlake, both the closet case and the openly fanatical. ''Don't be shy, girl,'' the singer cries in the song, fluttering his notes to best draw your attention to his plea.
But as much as it sounds like classic Justin, Timberlake had nothing to do with ''Move,'' which was instead a production of Ryan Raddon, who works as Kaskade. A leading house purveyor, Kaskade is about to significantly step-up his level of recognition within the larger dance community, and perhaps beyond. He's just signed with the genre's leading label, Ultra Records. An occasional DJ at gay-popular clubs and events, particularly in his San Francisco hometown and in Montreal, Kaskade will stop at D.C.'s Club Five Saturday, Oct. 14. The gig is part of an extensive fall DJ tour to promote his third artist album, Love Mysterious, which Ultra will release on Sept. 26. It's a more rock-oriented set of dance than the sweet and ''stylish house'' sound for which he became known during a half-decade stint at boutique label Om Records. More New Order or Deep Dish than M People or Masters at Work, you might say.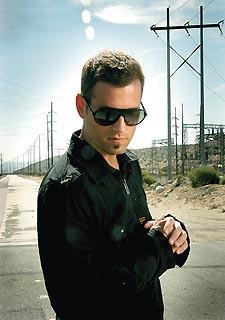 Kaskade
But as a parting gift Om Records has released a two-disc retrospective of Kaskade's career to date, which serves as the perfect introduction to the soul-house and pop-friendly sound of this king of San Francisco's music scene. Anthony Green is that Timberlake-conjuring vocalist on the fantastic ''Move,'' just one of many among 20 tracks that, with better marketing and with a mainstream culture more open to sweet pop sounds, could have -- and should have -- been hits you already know. It's not too late to get acquainted.
Green doesn't return on the forthcoming Love Mysterious unfortunately. But several other regular Kaskade vocalists do, including Joslyn, the breezy and demure vocalist responsible for Kaskade's biggest dance hits to date, including ''Everything,'' ''It's You, It's Me'' and ''Sweet Love.'' Meanwhile, newcomer Sunsun provides vocals for first single ''Be Still.'' Sunsun sounds too much like a little girl, and her overly breathy delivery cheapens what is otherwise a promising example of Kaskade's rich new sound: house-pop driven by tasteful and lush bass guitar. Here's hoping the second single packs more of a punch....
DIDDY DOES DANCE, SORT OF... It's been nearly four years since Sean ''Diddy'' Combs first threatened to dance for us. So far all we got was diddily squat. All puff, no product. Not that, mind you, we're actually complaining. Diddy never did issue a dance album, an idea he dreamed up after spending summers in Ibiza hobnobbing with house music's straight scenesters. We didn't expect it would move us anyway. Seeing and hearing the Bad Boy dance just sounds, well, bad.
But hold on: here comes Diddy's first album in five years. Due Oct. 17, Press Play is certainly not an all-dance album, since it reportedly includes emotional duets with Christina Aguilera, Mary J. Blige and Brandy, among others. But the album is being promoted as an album on which dance is definitely represented. In a profile, the New York Times reported that a couple tracks merge hip hop with ''Ibiza-style dance music,'' a merger the newspaper said ''sounded great.'' Outkast's Big Boi contributes one track, ''Wanna Move,'' which the Times reports as ''a stunning Southern-bounce-meets-Kraftwerk track.'' On Diddy's official MySpace.com page, you can hear another club-ready album track, ''Get Off,'' an unforgettable dark and gritty stomper on which Diddy screeches, ''Y'all tired yet? Y'all ready to go?'' The shouted answer from the chorus is, of course, ''Hell no!''
No word on whether the album includes any of the work that Diddy did over the past couple years with house legends Felix da Housecat, Harrison Crump and even D.C.'s own Deep Dish. But Diddy did hire pretty much all of the heavyweight producers in hip-hop to work on the set, leaving precious little room for true house or techno shining through. Which -- did we already say? -- isn't necessarily a bad thing....
DIDDY-FREE RAUNCHY RAP... Even if Diddy's dance ditties do make you move, there's still another dance-inspired hip-hopper who will prove to be even more moving. Cazwell is a raunchy rapper with amusing rhymes about all things gay, and a trampy campy look seemingly modeled after both Eminem and '70s gay porn. He says his disco-fired music is modeled after Deee-Lite and early Beastie Boys. Fellow New York raunch acts Avenue D and Amanda LePore are among the guests on Cazwell's debut EP, Get Into It, which will drop, appropriately enough, on Halloween, Oct. 31. And Cazwell's latest single is a cover of a decades-old disco classic ''Is It All Over My Face,'' which he reworks as ''All Over Your Face.'' His goal was ''to make it all sound like one big, dirty cum shot.'' You can see and hear the catchy mess he makes at www.cazwell.com....
DIDDY'S PUSSYCAT DOLL... Diddy signed up Nicole Scherzinger to sing on his new album's lackluster first single, ''Come to Me.'' Scherzinger is best known as the lead singer of the Pussycat Dolls, the appealing but nonetheless manufactured girl group that always seemed like just a stepping stone from which Scherzinger would launch her own solo career. And now, it looks like Scherzinger may have just popped the Pussycat Dolls' last button: Billboard reports she's already wrapping up work on that solo debut, on which she worked with various hip-hop producers, most notably the nearly overexposed Tim ''Timbaland'' Mosley....
LOGO PILES ON THE DRAMA... If you'd rather do without all the hip-hop, then LOGO just may have the show for you. There are already enough reasons for pop music fans to watch the premium gay channel, which frequently and prominently airs music videos. And while Jacob & Joshua: Nemesis Rising isn't certain to be must-see TV, it sounds like it could be entertaining, especially considering that it should help increase the pop music pool of known out musicians, something in inexplicably short supply. Sure, it also sounds a little contrived, and a lot like marketing gone mad. Watch as Jacob and Joshua, photogenic gay twin brothers, try to make it in the music biz as a duo, Nemesis! Watch as they struggle to overcome their differences -- Jacob's a little bit pop, Joshua's more rock 'n' roll. Watch as they confront a music industry reluctant to promote out musicians. And as if that's all not enough drama, watch as they must deal with an especially religious family of Jehovah's Witnesses. Should they come out to momma and papa? Oh, dear. But LOGO will be promoting the hell out of the show, which premieres Oct. 16, and if the music is any good, and if the boys have charisma, well, consider yourself warned....
---