Soundwaves
Moby, Debbie Harry, Depeche Mode, Jane's Addiction, Jean-Marc Cerrone, Nina Simone
BEST OF MOBY'S SCHTICK... ''I kind of wanted it to sound like ABBA meets the Pet Shop Boys.'' Can you imagine Moby creating such delightful disco? Coming from such an earnest East Villager, it may end up as nothing more than a West-End dream of Swedish sugar-pop. But Moby's ''New York, New York'' has at least more than just a sweet musical idea behind it. Blondie's Debbie Harry is out front of it, on vocals. And it's also about the city's ''degeneracy and debauchery.''
The new ''New York, New York'' will be released as a single next month as well as appear on an album with other tracks you already know from Moby. Go: The Very Best Of includes all the hits spanning Moby's 14 or so years of mixing and matching electronic found sounds: ''Porcelain,'' ''Bodyrock,'' ''Honey,'' ''Natural Blues,'' and more. Set for release Oct. 24, according to Billboard, the package will include a second disc of remixes from electronica's European heavy hitters, from Tiesto to Jason Nevins to Timo Maas to Mylo....
DEPECHE RE-PRESSED... Speaking of electronica's European heavy hitters, Depeche Mode is set to release its own retrospective collection. Yes, the British electro-rockers already released a two-disc singles collection nearly 10 years ago. But The Best Of, Volume 1 covers a full 25 years of evenly spaced-out hits, from early entries ''Just Can't Get Enough'' and ''People Are People'' to more recent fare ''Dream On'' and ''Suffer Well.'' And all on just one disc. To be released in November, the collection will be preceded by a soon-to-be-hit, the deliciously Depeche-named ''Martyr.'' Meanwhile, next week the band will issue the DVD Touring the Angel: Live in Milan, recorded last year....
JANE'S ADDICTION RELAPSE... Moby's and Mode's best-of sets are just two of several such collections to come in coming months. Issuing greatest-hits sets is a no-brainer proposition for both labels -- money rarely comes as quick or easy -- and consumers. What better for gift-giving season, after all? Still, not every collection seems a shoo-in for success. And from clear out of left field comes Up from the Catacombs: The Best of Jane's Addiction. Perry Farrell's band, formed 20 years ago, may not have had a hit since well before Moby had his first since then Jane's Addiction only issued a rarities collection and a one-off reunion set. And the band only has three other albums to its credit. But that credit goes a long way in the alternative rock pantheon on the basis of one jamming hit alone: ''Been Caught Stealing.'' With 15 other tunes to treasure from this just-released collection, an addict could get hooked all over again....
REVIVING CERRONE... Greatest hits sets can also work to stir new or renewed attention to seminal but under-appreciated artists, especially when much care and conviction is given to a set's assembly. You should already know Jean-Marc Cerrone, for example. But if you don't, Bob Sinclar will correct that soon enough. Cerrone by Bob Sinclar celebrates the French producer's music by reworking and repackaging 21 of his biggest tracks (''Love in C Minor,'' ''Love Is The Answer,'' ''Supernature''). More than five years after it was released in Europe, the compilation will hit American stores Nov. 14.
Though it could do the deed all by itself, Sinclar's set is far from the only push to give Cerrone greater recognition stateside these days, thirty years since he got his start in the industry. Five of Cerrone's previous albums will also be reissued this November, and there are two events planned for New York: first, a party and live performance this fall. And then next fall, according to a press release, Cerrone himself is planning to produce, along with producer Nile Rodgers and assistance from Mayor Michael Bloomberg, ''a mega-dance party''....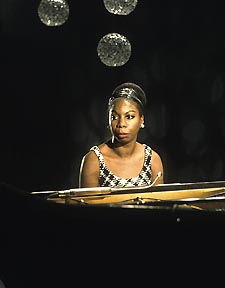 Nina Simone
NINA SIMONE, REIMAGINED... A compilation to come from RCA/Legacy Recordings hopes to stir new interest in an under-appreciated artist -- the late, great Nina Simone, the African-American singing-songwriting showstopper whose range of musical styles -- from jazz to R&B to folk to European pop -- was as varied and hard to sell to the pop mainstream as was her anger with and activism against American racial politics. Still, it wasn't unusual to hear Simone on dance floors during the disco and especially post-disco eras, and again more recently, thanks especially to choice remixes included on the popular Verve Remixed sets. Nina Simone: Remixed & Reimagined is intended to carry-on the Verve-inspired rekindling of Simone's oeuvre, featuring remixes from more electronic heavy-hitters, chiefly Francois K. and Tony Humphries.
Due Oct. 31, Simone's set is to be the first in a series of remixed sets to come from other RCA/Legacy artists. No others have been publicly named, but a glance at the label's roster suggests some intriguing choices, both obvious -- Toni Braxton, Barbra Streisand, Judy Garland -- to those less so, though definitely good for a laugh. Aerosmith and AC/DC are among the latter. ''Dude Looks Like a Lady'' and ''Big Balls'': can't you just imagine there's an untapped and sizable market waiting for remixed and reimagined versions of those tunes?....
---