Soundwaves
George Michael, JC Chasez, and the Billboard Dance Music Summit
GEORGE MICHAEL'S POTTY MUSIC... Oh no, not again. According to the Associated Press, late last Saturday night George Michael was found in London slumped over the steering wheel of his car -- just as he had been found eight months earlier. And just as then, he was arrested for possessing marijuana.
So, among other prospects, Michael has guaranteed tabloid titters will continue, especially considering that last April he also hit three parked cars. And yet it all comes at a time when Michael was finally getting serious attention for his music -- or, at least, music-related antics. Just two weeks ago in Barcelona he kicked off his first tour in 15 years, celebrating 25 years in the business. Michael's performance of ''Shoot the Dog'' includes imagery of President George Bush in bed with British Prime Minister Tony Blair.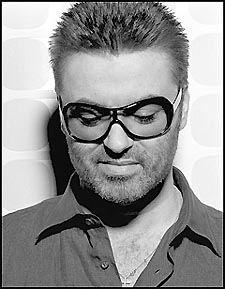 Michael
We didn't say it was a novel press-generating stunt.
North American dates of the 25 Live tour are in the works for early next year, according to Billboard, but in the meantime there's new music to feast on in addition to potty humor. On Nov. 14, Michael will issue Twenty Five as a two-disc compilation or a three-disc set. Three new tracks will appear on both sets, including a duet with Paul McCartney. A fourth new track will be exclusive to the three-disc set. Both are, obviously, more expansive than his earlier collection Ladies & Gentlemen: The Best of George Michael. This latest spans his hits in Wham! to 2004's Patience. The label will also release a two-DVD collection featuring 40 of Michael's music videos, including those from Wham!....
NOTICE ME, SAYS 'N SYNC-ER JC... At least for the moment, Justin Timberlake is the new king of pop, and newly out Lance Bass is the new king of fops, as the British might say. Actually, Timberlake is probably both king of pop and fops, but let's spread the wealth a little. So what's another once well-known but now overlooked boy-bander to do, five years after 'N Sync's last bow? Joey Fatone has looked for bit acting parts, while Chris Kirkpatrick.... Well, who knows? Who cares? For his part, Towson-native JC Chasez has decided to keep on keeping on, never fearing Timberlake's shadow. In fact, JC has enlisted J.T. to add some luster to his just-finished sophomore set, according to Billboard, with plans for release early next year. The still-untitled set is the follow-up to his heavily promoted yet underperforming debut Schizophrenic. Chasez wrote or co-wrote all the tracks on the album, and told Billboard the emphasis is on multi-genre melodic pop -- much as the appropriately titled Schizophrenic was. ''It establishes a sound that is specific to me, a mash of all things,'' Chasez says. ''I hope it'll be fresh for radio and listeners. In '97 and '98 pop ruled. But now hip hop is the phenomenon and Top 40 radio doesn't play pop records anymore.''
So Chasez has set out to create pop by enlisting today's leading hip-hop-focused producers, including Timberlake's right-hand man Timbaland and Dallas Austin. How's that? First single ''Until Yesterday'' was co-written with Timberlake. ''Just because one of us does well, it doesn't mean there's no room for the other to do well,'' Chasez says, clearly pinning hopes on Timberlake boosting his prospects. If all else fails, perhaps he can count on recapturing some attention through a long-rumored 'N Sync reunion? Not likely, Chasez suggested to Billboard. ''It ran its course. It's like, okay, we went to high school, and now it's over''....
HIP HOP AND DANCE... Chasez's gambit to create fresh pop through hip-hop is not so unusual, actually. It's essentially the same way top-of-the-chart dance music is being shaped these days. In fact, Timbaland has created at least two of the year's biggest dance hits: Timberlake's ''SexyBack'' and Nelly Furtado's ''Promiscuous.'' That was one of the sobering topics discussed at this year's Billboard Dance Music Summit, held last month in Las Vegas. ''Dance music used to be cutting edge,'' bemoaned RCA executive and dance-music-champion Hosh Gureli, as quoted by About.com's DJ Ron Slomowicz. Not anymore. Chris Cox even took part of the blame. According to Slomowicz's, Cox, a regular gay-party DJ and a prominent remixer, told dance summit attendees: ''There are a lot of bad dance records out there. I know because I made some of them''....
BETWEEN A ROCK AND A HARD BEAT... A stagnating, or worse, dance scene can't just turn to hip hop for salvation. Name recognition means everything. ''If 'SOS' was by an unknown, instead of Rihanna, it would have been labeled a dance record, and it would have been less successful,'' claimed Cory Robbins, head of dance label Robbins Entertainment. In a Billboard interview printed in advance of the dance summit, Robbins also said that dance-friendly rock acts such as the Killers and Bodyrockers are helping both to bring more people to dance music and to change the genre by incorporating more rock influences.
Also changing the dance scene, and the music industry as a whole: MySpace.com. Robbins talked about the surprising success his label had with German trio Cascada's mainstream hit ''Everytime We Touch.'' ''I didn't think it would happen in America,'' he told Billboard, citing the song's hyped-up sugar-rush sound as totally foreign to American radio. But MySpace kids started posting it, and the word-of-mouth eventually inspired mainstream radio stations to pick it up. In the end, nearly one million people have downloaded the track, ruining keyboards and whatever else purchasers' sticky fingers touched in their wake....
---