Soundwaves
Baltimore brings the Black Out Tour, David Knapp and Virgin Festival. Pittsburgh hosts Artic Babylon tour
Charmed city... At least two gay club tours traveling around the country will stop at Baltimore's Hippo nightclub. First up: DJ Seth Gold's Black Out Tour, which will knock the lights out Saturday, June 2, with nothing but glow-in-the-dark visors and glow sticks to light the dancefloor. (What, is it 1995 all over again? Rave on.) Actually, Gold, 26, is angling for club chickens -- 30-and-under, according to his website -- not old cock-a-doodle roosters. His aim is to build on his previous college-themed parties and his less-club, more pop-centric sets. But in the dark, no one will know your age. It'll be our secret.
Then, two weeks later, on Saturday, June 16, during Baltimore's Pride festivities, comes DJ David Knapp to the Hippo, as part of Centaur Records' Global Groove Tour. The happy, diva-delirious veteran DJ Knapp likes to keep things simple, light and poppy -- and he focuses on playing tracks that are or will soon be chart-toppers on the Billboard Club Play chart. On the surface, of course, there's absolutely nothing wrong with that -- it's better to be more familiar than not with the music that's playing in a club. But don't bother buying Knapp's Global Groove: Live set, released to promote the tour. Knapp's annual Global Groove sets have become the standard-bearer for gay compilations, providing the most accessible, most diverse collection of tunes. But this year he's more singularly focused than ever on shouting d-list divas. Where are the quieter singers? The rockers? The underground tribal tracks? And where are the hits you want to hear over and over again? S Blush's ''It's My Life'' sounds like an also-ran dance hit from a decade ago that you're still tired of. And the second track is from a decade ago -- a particularly bland cover of Whitney Houston's ''It's Not Right But It's Okay.'' The saccharine remake of the Dixie Chicks' ''Not Ready to Make Nice'' obliterates the meaning -- as well as the justified meanness -- of the original. To paraphrase the chicks, Knapp, you're making us mad as hell, going round and round and round....
VIRGIN'S GANG BANG... Yet another event happening in Baltimore is the annual Virgin Festival. This year's edition has been bumped up a month and expanded to two full days to make it a true summer festival. The Police, the Smashing Pumpkins, the Beastie Boys -- this year, as last, the headliners don't really appeal to us. But even more than last, much of the rest of the lineup does. Oh, not so much the second day, Sunday, August 5, although it does include Dubfire and Sharam of Deep Dish, spinning together, among other highlights. But with Sasha & Digweed -- yes, together again, at least for this -- and Sander Van Doorn and Felix da Housecat, Saturday, August 4, is the day to go if you can only go to one. That is, if you can only go to one: If they release one-day tickets, they'll go on sale May 19. For now, only two-day tickets are available at www.ticketmaster.com. And we didn't even mention Saturday's inclusion of gay house legend Danny Tenaglia or our particular favorite, the dance-rockers LCD Soundsystem. If you can pony up $175, then off to Baltimore's Pimlico Race Course you go....
Babylon and on... Meanwhile, in Pittsburgh, the tour Artic Babylon will stop May 25 at Club Hot, with spins from rising star Roland Belmares. While Manny Lehman, Brett Henrichsen and Chad Jack are all rotating with Belmares on the Artic Babylon tour, Tony Moran ranks above all of them as the real star of the tour. He continues to improve and excel as a DJ, having put together an exceedingly accomplished set nearly two months ago at New York's Black Party, no mean feat.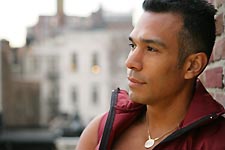 Tony Moran
But not all is beat-sweetness and light for Moran at the moment. Moran just lost his partner of seven years, New York businessman and philanthropist Beau Clarke. Clarke, 61, died May 1 in London of causes that are still under police investigation, according to an EDGE Publications report. Moran is sticking to the DJ gigs on his schedule, though he has just postponed his first DJ compilation in three years. Easily one of this year's most anticipated compilations, The Event was originally due out by now from Tommy Boy. It will drop at the end of summer. Our condolences Moran: We'll be waiting, and ready to dance to The Event just as soon as you are....
---