Soundwaves
Rachel Panay, New Order, Duran Duran
LOCAL GIRL MAKES GOOD... It's closing in on a year since ''The Real Thing'' became Rachel Panay's third Billboard Club Play Chart top ten hit. Time for a new track.
So, how about ten? With a new album on the way, D.C.-native Panay has more than quadrupled the original material in her oeuvre, and in just half the time it took her to record and chart with her first three singles, beginning with ''Back to Love'' in early 2005. Panay moved to New York last year, but she continues to give back love for gay D.C.'s initial support. She'll perform at the Pride dance party at LOVE this Saturday night, June 9, as well as the Pride Festival Sunday, June 10. She's sure to perform her hits plus her new single, ''It's Got To Be Love,'' a giddy ditty about love at first sight that couldn't get any more effervescent.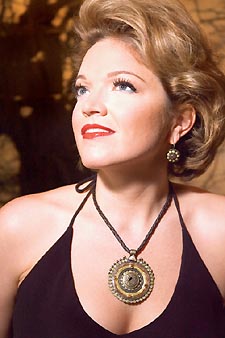 Rachel Panay
Hopefully she'll also sneak-peek a few other tracks from her debut artist album, Back to Love, to be released June 19 by Act 2 Records. Maybe you doubted she could do it, but there's no doubt she'll exceed your expectations: Back to Love is chock-a-block full of sure-to-be hits, one track after another you want to listen to again and again. Even the first recording that got her attention has been transformed: ''The Walk of Shame'' is no longer as embarrassing to experience as it was originally, thanks to local gay DJ Yiannis's stark, mostly unashamed, even a bit proud club-banging production. Chances are you've never heard the original radio edit of ''Back to Love'' either, which is better than the remixes you know.
Most of these songs, about love and lust, romance and desire, were co-written or produced with Josh Harris, her partner in the first three hits. But if you didn't know better, you would think the very hot British production team Freemasons produced this album, which is steeped in happy, passionate, infectious disco-driven dance delights the likes they've been churning out on their own and as remixers for Faith Evans, Angie Stone and others. That includes ''Thank You,'' a sweet and bouncy shout-out to Panay's supporters in D.C. But the album's best track was produced by Guido Osorio. (Remember Kim English's ''Unspeakable Joy''?) Once released, ''Repeat Performance'' should be her biggest club hit yet -- and not just because she's singing about a one-night-stand that turns into something more. If your one-night-stand produced as much sexual pleasure as this high-energy, peak-hour track produces dance heat, you'd want a repeat performance, too....
LOCAL BOY HITS THE ROAD... Cobalt's Flashback retro party continues to dominate Tuesday nights in this town, but that's not enough for the club's manager and Flashback DJ Jason Royce. He's ready to dominate Wednesdays, too -- in Baltimore, at least. Charm City will experience its first Flashback party this coming Wednesday, June 13 at Central Station, in the thick of the gayborhood and in the middle of the city's Pride week. As such, there will be a special performance by Gioia, singing the hits (''Point of No Return,'' ''Come Go With Me,'' ''Let Me Be the One'') from her '80s group Expose, which incidentally has recently reunited after more than a decade apart. Future incarnations of Baltimore's weekly Wednesday Flashback party will feature D.C.'s own Darryl Strickland spinning a continuous mix of original music from the '80s and '90s. ''People should expect a great time no matter their age,'' says Royce. Anita Ward, Chic, Toni Basil or The Jets may not be familiar names to a younger audience, but Royce cites those artists as having songs even whippersnappers can sing along to. The Baltimore gig will feature retro prices on cover and rail drinks -- just $3 each -- and is just part of Royce's continuing work in making his retro party a traveling exhibition, adding to monthly Flashback parties in York, Penn. and occasional stops in Philadelphia, Provincetown and, most recently, Chicago....
NO MORE NEW ORDER?... Waiting for the Siren's Call spawned several dance hits and new or at least renewed attention for dance-pop pioneers New Order. But that album, released in 2005, looks like it will be the band's last. Though the official word is that the British quartet is still intact, the band's bassist Peter Hook is clearly out of the game -- and when one of the most influential bassists in modern pop music and an exceedingly integral part of your band since 1980 calls it quits, can you still keep going? ''I'm relieved,'' Hook wrote in a post to his MySpace page late last month, following up on rumors he started last fall. ''Really hated carryin' on as normal with an awful secret, so let's move on, shall we?'' The New Order Wikipedia entry quotes another band member and others associated with the band as being shocked by the news but determined to carry on, with or without Hook....
DURAN DURAN STUTTERS ON... Another British group from the '80s is continuing to record despite the loss of a key founding member. Andy Taylor left Duran Duran -- for the second time -- last fall, just after the quintet had met with pop mega-producer Timbaland and Justin Timberlake. Apparently three songs were produced with Timbaland, including one featuring Timberlake on vocals -- and those are still set to appear on the next album, which was otherwise re-written and re-recorded after Taylor departed. The follow-up to 2005's Astronaut is now expected in September. The first single should drop in July, perhaps in time for the band to debut it next month at either an official Princess Diana memorial concert or the Live Earth climate change benefit...
---