Soundwaves
The B-52's, Moby, Hot Chip, Paul Oakenfold and Steve Osborne
TIN ROOF RUSTED -- AND READY... In 2004, Kate Pierson told Metro Weekly that ''now the stars have aligned'' for her band, The B-52's. The self-proclaimed ''World's Greatest Party Band,'' which tours frequently, would release an album of all new material the next year, or 13 years after 1992's Good Stuff. Based on what Pierson told us, this sounded like great stuff. She called it ''kick-ass dance music, like the B-52's but it's updated to be more modern, more dance-oriented.''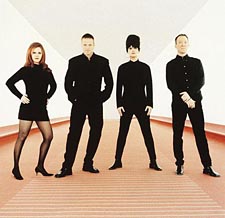 The B-52's
Three years later, we're still waiting. To paraphrase the New Wave-inspired party rockers, who in turn inspired the Scissor Sisters, Junior Senior and so many more, the world is still roaming. At last, the roam is almost over. The fun, frolicking foursome from Athens, Ga., has finally found a distributor for the set: Astralwerks will release Funplex February 26, 2008. The band's guitarist and lead songwriter Keith Strickland apparently dreamed up the album's sound four years ago after taking in heavy doses of New Order's 2001 Get Ready album, featuring dance hits ''Crystal'' and ''Someone Like You.'' So he then set about hiring that album's producer, Steve Osborne, who most recently produced KT Tunstall.
Rolling Stone reports the sound is more focused and atmospheric than previous B-52's, though with plenty of quirkiness still shining through. With out -- and out-loud -- singer Fred Schneider still involved, how could it not? Songs included on the 11-track set include such rousing titles as ''Pump,'' ''Ultraviolet,'' ''Deviant Ingredient'' and ''Dancing Now.'' Strickland calls it ''loud, sexy rock and roll for your pleasure zones, with the beat pumped up to hot pink''....
STARRY-EYED DANCE HITS... Funplex producer Steve Osborne spent most of the '90s working with fellow Brit Paul Oakenfold as part of the production team Perfecto. Now the name of Oakenfold's own record label, Perfecto recently released, in conjunction with Ultra Records, this overrated yet nonetheless important DJ's Greatest Hits & Remixes. Over the past decade and then some, Oakenfold has been just about the most popular DJ -- apparently he holds that title in the Guinness Book of World Records -- and he helped establish our current notions of just what dance music is all about. But his work is all over the place -- it's inconsistently good, and it's often unfocused and overdone. As this continuously mixed set of 20 tracks attests, his remixes are often spunkier and more dramatic than were the originals, and either a bit or a lot busier. Just as often, he doesn't contribute much to -- and even detracts a little from -- what were already dance gems from the likes of U2, Massive Attack, Olive and Dirty Vegas. He simply adds a new rhythm pattern, or speeds up what was already there. Though sometimes it works well: From a new remake of Radiohead's ''Everything in Its Right Place'' to a new remix of Justin Timberlake's ''My Love,'' even trippier than the space-aged original. The latter is definitely ready for lift-off in a big-room nightclub like our own Ibiza, where Oakenfold will spin Thanksgiving Eve, November 21. Ready steady go....
HOT CHIP'S JOY OF REPETITION... Before Funplex, Astralwerks will release the junior album from the British synth-pop quintet Hot Chip, whose quirkiness is undeniable even if it is downright restrained compared to the B-52's. These lads are more in the mode of Pet Shop Boys, though straighter and certainly more playful. Astralwerks will release Made in the Dark on February 5. A press release calls the album ''faster and rockier than The Warning,'' the duo's modestly successful sophomore set from 2006 that featured the wonderfully repetitive hit ''Over and Over'' and deserved far more attention than it got. Track titles on the new set are as wryly promising as ever: ''Bendable Poseable,'' ''Touch Too Much,'' ''Whistle for Will.'' ''The songs are propulsive, repetitive, rhythmical, methodical, wonky, intimate, beautiful and uniquely Hot Chip,'' reads the press release. We don't doubt it....
MOBY'S STILL GOT IT... Moby has released further details about his next album, as well as launching a regular club event in New York. Who cares about Moby these days? Well, you would, if you had heard him spin at the triumphant return of Buzz at Fur in late September. Moby was the headlining DJ, proving not only that the songwriter/producer/music marketer extraordinaire can spin -- he can actually spin with the best of them. He kept the crowd roaring and raving pretty much nonstop, whether he was spinning classics or today's harder-edged thumping techno. Last month the New Yorker launched what appears to be a monthly Thursday night event at one of New York's best-kept-secret club spaces, the Hiro Ballroom. Moby calls the event Degenerates.
If that still doesn't make you care about Moby, well, chances are you will again come spring, when Mute will release Last Night. Just as his live set was far better than expected, there's reason to believe the same will be true with this. Moby writes the new set ''is much more electronic and dance-oriented than my last three records,'' with ''big, piano-driven, rave anthems,... some atmospheric songs and some techno songs that sound like buildings falling down.'' Bring on the dancefloor destroyers....
From YouTube:

Hot Chip: Over and Over
---