Soundwaves
Lasgo, Pet Shop Boys, Louie DeVito, t.A.T.u.
LASGO LIVE!… "Follow You," a song on Some Things (Robbins) sounds remarkably similar to Sonique's "Sky" of a few years ago. Lasgo's version has none of the power of Sonique's. Odd, considering that Lasgo last year gave us "Something," which was as powerful as dance songs get. Nothing odd about this: "Something" was the best dance song of last year, all forceful lower-register key synthstabs and dazzling drum pattern to contrast the tremulous lyrics and vocals. Still, I have the suspicion that "Something" was written first, as every song on Some Things seems to strive to reach its high bar. "Alone" and, oddly, the two-minute, fluttering keyboards "Intro" track come closest to clearing the bar, but they all fall back down to bounce on the absorbing, trancey beats that cushion the songs here. Lasgo, from Belgium, creates some of the sweetest, warm-weather dance-pop you'll find at the moment, as tasty as their native land's chocolate. The boys, writers and producers Peter Luts and David Vervoort, look to be perfect candidates for the Gay-or-European Web game popular a few years ago. And singer Evi Goffin sends off high-spirit vibes from her reedy pipes and her oft-exposed, pierce belly button.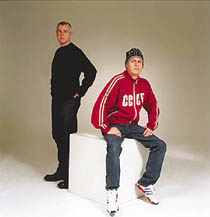 ONCE MORE, PET DISCO… The point of Disco 3 (Sanctuary Records) seems to be a plea to win back Pet Shop Boys' longtime fans after the duo's recent spate of maudlin albums. Whereas the Boys' earlier Disco and Disco 2 relied solely on remixes of previously released songs, Disco 3 features five new songs, with the remaining tracks remixes of songs from last year's acoustic-sleeper Release. Actually only three songs come from Release. The remixes (from Felix da Housecat, Superchumbo, even the Boys themselves) are lively, and the new songs -- although recorded at the same time as the tracks on Release -- are a surprising jolt of fresh air. Why wasn't the buoyantly insistent, Barry White-sampling "Positive Role Model" included on Release? Why, also, didn't they include the hilarious "Try It (I'm in Love With A Married Man)?" The latter is all electro in sound, and of course it is: it was written twenty years ago, before the Boys were out and proud. (Any guesses why it wasn't released then?) If you felt spurned by the Boys last year, this is the year to forgive them.  
FOX SHOWS ITS AGE… Why would any sane person willingly humiliate himself by appearing on Fox's American Idol? I fail to understand, but then, having just turned 30, I'm truly too old anyway. Did you know they only accept candidates between the ages of 16 and 24?  Of course, that may eventually change if a threatened lawsuit -- surprise, surprise -- comes to fruition. A 54-year-old Miami professor has filed a complaint with the Equal Employment Opportunity Commission, charging Fox producers with age discrimination after they wouldn't let him audition. The Chronicle of Higher Education reports that he's currently mulling over a lawsuit. By the time it comes to that, though, the show will probably have been rejected by the public.
MUSCLES UNDERGROUND… Damn! DJ Louie DeVito didn't include any pictures of himself on his N.Y.C. Underground Party 5 (Musicrama). His last installment was one of the strongest-selling compilations of the past year, and no small credit goes to the shot of his massive manliness on the cover. Then as now Nu Yawker DeVito has included his heapin' treasure chest of the biggest songs in danceland, and this time out he's pumped it up on two discs. He's always included intro and outro medleys in his Underground series, but now with two discs, he seems less sure of the idea: there's no intro on either disc yet an outro on both, including Bad Boy Joe's "Megamix" at the very end. Why DeVito feels the need for this medley on every compilation is just one of several headscratchers here, from his strange classification of "underground" dance music to his neglect of our superficial interest in his visage. But with so much sinewy muscle to keep us preoccupied ("Wonderland," "Take Me Away," and, especially "It Just Won't Do"), we DeVito devotees can overlook the fat.
BUM-RUSSIAN THE CHARTS… All that make-out time in t.A.T.u's "All The Things She Said" video is helping the two kissing Russian lesbians find surprising success stateside. The duo's song is at No. 30 on the Feb. 15 Billboard singles chart, and the album 200 Km/H In The Wrong Lane (Interscope) continues its quick ascent, last week cracking the Top 40. It's not quite the attack t.A.T.u. is leading in Europe, where the lead single debuted at No. 1 in the U.K. – gleefully forcing Destiny's Child's Kelly Rowland to No. 2 – and the album is a European chart top ten. Look at 'em go!
---