Soundwaves
Norah Jones, Erlend Oye, Jay Jay Johanson, Kaada
NORAH REMIXED?... Last summer Norah Jones's record label commissioned a dance remix of her hit "Don't Know Why." According to a New York Times profile, Jones was unhappy with the remix, so her label agreed to shelve it. The Times said the remix "sounded silly. A computer-generated drumbeat churned behind Ms. Jones; her voice was swathed in reverb, and she had suddenly developed a house music diva's stutter: 'Don't know why-why-why.'"  Though the article doesn't say who remixed it, I have little doubt it sounded as "absurd" as Jones is quoted as calling it. Still, I wish we danceheads could make that call for ourselves, you know? Maybe another remixer could take a stab at the song?
FROM NORAH TO NORWAY... We didn't expect much from Erlend Oye's debut, Unrest (Astralwerks), considering his affiliation with Royksopp, the Norwegian outfit who gave us the merely passable Melody A.M. (Astralwerks). And sure enough, I didn't like Oye's album -- at first. Oye gained fame as a pop-folk singer in his native Norway, and his melancholic vocals made Royksopp's "Poor Leno" and "Remind Me" the standout tracks on Melody A.M. they were. Unrest is, mostly, not jump-out-of-your-seat-and-dance dance music. It's slow-simmering mid- and barely up-tempo songs, what has become known as chillout dance. Oye is actually a blend of chillout and '80s-revived electro, poising him as THE dance artist of the moment. We've proclaimed before our predilection for electro, though we had thought it a passing fancy, last year's fad, this year's folly. The truth is, electro is just reaching its zenith, and the current pacesetters are mostly French and Norwegian, as improbable as that may sound. Oye creates a delicate, sumptuous atmosphere on most songs on Unrest, including the haunting lead track "Ghost Trains." Oye is a stunning poetic lyricist, whether he's talking about the politics of social parties, musical composition as sport or a romantic breakup. The classic house sound of "The Talk" keeps it jumping, while the lyrics pop: "No better way, no other time/No other call, no better line/As soon as now, within your room/It can't go on, I'm not in love with you."
SCANDI UNDIE LOVE... Oye has emerged stateside amongst a crew of fellow Scandinavians with an electro bent. Jay Jay Johanson is another that will soon join the parade, intent on celebrating the musical style of his Swedish forebears ABBA. Sounds good, right? No. Johanson, a cross between last-decade's Pet Shop Boys and Portishead as well as '80s-era Erasure and The Cure, sounds great. Johanson's debut, Antenna (E-Magine), won't be out until late April, so we'll save our full review for later. But a teaser of this sensational artist can be had in 2(X)ist underwear's first TV commercial, currently airing exclusively on MTV. "Automatic Lover," the first song to come from the album, provides the commercial soundtrack. The song is Very-era Pet Shop Boys through and through, with the moody verses giving way to the bright chorus like a summer downpour gives way to a sun-kissed rainbow. Sublime.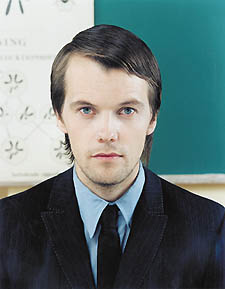 KAADA, JAZZ TERRORIST... And now for something completely different than, well -- as presumptuous as it is -- anything you've ever heard before. Every artist strives to be original, unclassifiable. To be noticed. You can't help but notice Kaada and his debut, Thank You for Giving Me Your Valuable Time (Ipecac Recordings). John Erik Kaada was formerly known for his role in a pioneering jazz band; one Norwegian newspaper called him a "jazz terrorist." Though as a solo artist he's moved on to electronic instruments, you can hear his avant-garde jazz influence, as well as his classical music training. Thank You is a little bit Moby-gone-do-wop-and-Motown, minus the techno. It's a little bit mod-rock of the 50s a la "Hairspray," a little bit modern-day drum 'n' bass. It's a little bit of everything over the past century. The song "Burden" features a vocalist screeching the song title in falsetto, but it sounds like he's singing "I doodle." Which is, musically, what Kaada does. Kaada works with no apparent organizing theme, other than serving us a pop pastiche of styles from yesterday, today and -- maybe -- tomorrow. It shouldn't work, but it does. His tongue-in-check title track is a throwback to an earlier era or two when civility was more common, if superficial. The best song here, "Honk," parodies in Stuart Smiley-style the self-affirming vibe of the past decade, with its call, "You're a good person," and response, "I am a good person." The song is shockingly fresh, with its free-style jazz percussion, R&B vocals and rock 'n' roll intensity. Kaada's whimsical, no-stone-unturned approach to pop music-making is noisy and reckless on occasion, but even then the sound is fun and exciting. You'll be listening to this CD over and over again, not because you like it -- you'll listen because you like it and you can't figure out just why.
---