Soundwaves
Dirty Vegas, Paul Van Dyk, Danny Tenaglia, more
MIAMI WINTER MADNESS...Maybe you're just back from Miami and the 2003 Winter Party. Lucky bitch. Or maybe you're just about to leave for Miami and the 2003 Winter Music Conference (WMC), dance music's biggest event of the year. Luckier bitch. Not only had you better take full advantage of your visit to see nearly every famous DJ and dance music performer under the sun. You also better report back to us on the award winners at both WMC and the competing event, DanceStarUSA's American Dance Awards. Unlike the Grammys, the WMC gets the nominees about right in every category. Though DanceStarUSA doesn't (thrice-nominated DJ Sammy?), at least it features creative categories such as Best Celebrity DJ -- as in, 'I'm not a DJ, but I played one on film' -- or Best Use of Music in a Commercial. Any guesses on who'll win this? See all nominees at www.wintermusicconference.com and www.dancestar.com/usa.
DIRTY DEEDS...Speaking of Dirty Vegas, who dominate both Miami dance events, the U.K. trio sent out a long-distance dedication to house music's roots after winning the Grammy for its Mitsubishi "Days Go By" hit. The foreign lads said they hope their win helps dance music emerge from its underground status in America. The group's month-old debut mixed compilation, A Night at the Tables (Ultra), could help do the deed, too, considering that it starts off stronger and more fetchingly than any other we've heard in a long while. Kylie Minogue's "Love at First Sight" is stripped of all melody but her vocals in Scumfrog Beauty & The Beast's fierce remix; the song has never sounded better. The weaving and organic percussion that dominates the first half of the CD is a musically exceptional blast of fresh air. Too bad the air grows stale by the CD's halfway point. As we move along, we're exhorted -- and don't you hate being exhorted by a dance song? -- to "Be Yourself (And No One Else)" by Celeda, and we're tempted to sleep by Vibe Residents' "Temptation."
TELL ME WHY..."Paul Van Dyk is sometimes billed as 'the world's biggest D.J.,' and it's true, or close enough, even if one is not exactly sure why."  The inestimable New York Times's Kalefa Sanneh got to the heart of the matter a few weeks ago. Only the other Paul (Oakenfold) and Fatboy Slim match Van Dyk's hold on dance music everywhere but here. America tends to prefer its DJs less mellifluous, less cushiony, less...effete (see Tenaglia below, or think Junior Vasquez). Berlin's Van Dyk may protest being classified as a producer of trance music (or Hi-NRG or Euro), but whatever you call it, his is not the sound of most American dance floors. His latest, a first decade retrospective compilation, Global (Mute Records), provides the reasons why. While the DVD celebrates Van Dyk's jet-setter lifestyle, too many of his songs go nowhere but up and down keyboard scales. It's sumptuous music, pretty music, happy music, and why not -- Van Dyk is impossibly pretty himself and he surrounds himself with beautiful people. His videos even come with a velvet rope, and neither you nor I nor any dog other than a Kerry Blue Terrier will get past it. None of this is to suggest that Van Dyk doesn't deserve more of your attention. Though they are practically interchangeable, "We Are Alive" and "Tell Me Why" dazzle the senses and make you as happy as when you first set foot in a nightclub. To Van Dyk virgins, Global is the perfect introduction: The DVD alone includes a "movie" of all 13 album tracks, five music videos, a couple movie trailers, a DJ interview and random street chatter about how god-like Van Dyk is.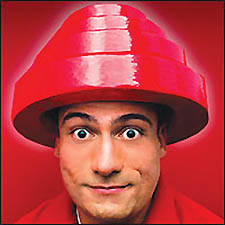 HOUSE ARREST...Danny Tenaglia reveals his age on his latest CD (he's 42), a critical fact considering the purpose of Choices: A Collection of Classics (Ultra). But this two-disc set aims to reveal more than aging turntable know-how. It features the house dance songs that inspired Tenaglia to continue as the much-vaunted DJ that he is -- and its liner notes, heavy on emoticons, celebrates his DJ mentors. Who cares? :-0 I know we're supposed to love Tenaglia, and certainly many do. But on Choices, Tengalia completely bypassed the big, and the best, dance hits of the past several decades, choosing mostly obscure B-sides. Nothing wrong with that, since Tenaglia is a verifiable underground-house DJ: his disposition towards oppressively dark, garage-house tracks light on melody, heavy on mechanics, is an acquired taste. This compilation simply goes to show that the good old days of house, though good, weren't better than the now. And the now is becoming great, as languorous, soulful house music shows signs of reemergence, reviving the warmth of layered R&B that disco curled up in. :-) Tenaglia inadvertently proves this by including two recent tracks here, "Make It Right" and "Elevation," that are far greater than the sum total of the others.
---