Soundwaves
New releases from Dido, Kim English, Beyonce and more
POP LADY COMEBACKS… We're still waiting to hear of an American record label picking up Sonique's sophomore album, released last month in Europe. In the meantime we've learned of a few other promising developments. First, it's official: Kim "Unspeakable Joy" English will release a full-length album, My Destiny (Nervous Records), later this summer. Nervous will issue remixes of English's newest single, "C'est la Vie," later this month. In late September Arista Records will release the long overdue sophomore album from U.K. chanteuse Dido. The label has already released "White Flang," the first single from the album, Life for Rent, which is said to continue Dido's introspective pop stylings, setting her up for a possible -- and worthwhile -- duel with Annie Lennox come Grammy time. Finally a real blast from the past. The Bangles are also due for a September release of a first album in some 13 years. Already released in Europe and Japan, Doll Revolution (Koch Entertainment) will include a bonus DVD for the American release. The erstwhile '80s girl band still features all four original members, who harmonized many hummable hits, none more memorable than "Walk Like an Egyptian." All the cops in the donut shop say…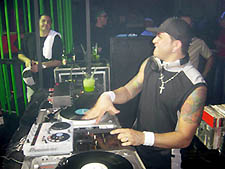 DJ Skribble
AMERICAN POP'S STOP… More than 227 years after the founding fathers declared independence from England, America has nearly closed its pop-culture borders, turning deaf ears to music originating elsewhere. There are the occasional fads that except the rule -- Latin pop a few years back, Jamaican and South-Asian influences in hip-hop now -- and they prove the point: Politics is not the only thing worsened by isolationism. Don't believe it? Take a turntable look across the pond with American Anthems (Ultra Records). Don't be fooled by Ultra's hopeful title for the compilation as the label is merely distributing stateside this two-disc set, commissioned by the legendary U.K. Ministry of Sound. Two high-profile American DJs (MTV's DJ Skribble and David Waxman) may have racked up the track listing, but American Anthems is as American as house and techno are today. Which is to say, not American by much. Chicago and Detroit may have created these two main dance genres– molded into modern-day form by New York. But Paris, Berlin and London clearly set the tone now. Few are the songs here that have had an American airing. Wayne Wonder's "No Letting Go" is one, though Al B Rich's Club Mix sounds little like the Jamaican original, which features the same rhythm as Sean Paul's "Get Busy." A few other tracks will likely gain some recognition by year's end, and most of the others should. Panjabi MC's heady, subcontinent banghra beats-based "Beware of the Boys," surely will, though with the original rap from Jay-Z that's missing in the Triple X Remix.
EURO TRANCE… David Waxman also mixed another Ultra Records compilation, Ultra.Tranced:2, that could fool the casual listener into thinking that trance is the strongest dance form going. Well, okay, this intensely melodic, fast-paced pretty music pretty much is top of the pops in Europe. Waxman has included so many of the same songs here also found on American Anthems that there's little sense in bothering with both. (It's an obvious hallmark of Ultra Records, since its Ultra.Dance 04 -- to drop next month, with mixing by the biggest-selling compilation DJ Louie Devito -- will be loaded with many of the same tracks, yet again.) The biggest draw for Ultra.Tranced:2, besides its status as the best self-defined trance compilation in a good while, is Disc 2, a DVD featuring eight videos of trance tracks. The music industry seems to be waking up to the fact that "add-ons" lighten the load, and sweeten the deal, for many potential consumers of its stubbornly inflated double-digit CD pricing scheme. Because dance music videos go unseen by even most American adherents, Ultra Records is to be commended for its decision, even if the eight videos here are, to a one, boring and predictable. The prevailing sentiment is that skimpily attired Euro-blondes have more fun. No thanks.
BEYONCE'S HUMBLE PIE…Beyonce's "Crazy in Love" is one truly timely "American Anthem" not included in that collection, but inescapable everywhere else. The always understated Destiny's Child frontwoman was as humble as ever in an interview with Billboard magazine. "I wasn't sure that people were going to understand ["Crazy in Love"] because it was so different -- it doesn't sound like anything else," she said. "But it's a great song and people get it. I guess they were happy to hear something fresh." In fact, the song's horn-blaring samples and dizzying vocalization do sound pretty fresh in 2003, though very much like three-decades-old R&B. And, by George, Beyonce, people get it, too. Crazy, ain't it? Well, you sure worked it out better this time than last summer's try. So watch that you don't "blow your horn" too much there, girl.
---