Soundwaves
Live disco concert on tour in Baltimore, Deborah Cox's remix CD, Pepsi's TV concert series, and more
PEPSI POP'S POP… Dance pop can get no love. There are the periodic taunts from hyper-macho rock 'n' rappers, and the frequent lashes from anti-pop "pop music" critics about "Abba-esque group harmonies" of the Britney Spears sphere. And just last night ushered in the latest jab, though you probably missed it -- the show itself, not to mention its subtle slap at dance. Every episode of the WB TV network's blatant advertising vehicle "Pepsi Smash" will feature performances from and interviews with five hit artists, drawing almost exclusively from R&B, hip-hop and rock. "There aren't a lot of broadcast TV outlets for artists," the show's producer told Billboard, suggesting his show could help boost the struggling music industry. Ah, but don't expect the WB to break new ground. No loosely defined "dance artist" has been scheduled, and rare will be the underground act on tap. Instead, we'll hear from the same people we've heard from too much already on the one music outlet we've had for years -- MTV. Think Ashanti, Evanescence, Bow Wow, Michelle Branch. Pepsi is probably to blame, since the WB show was the pop maker's idea in the first place.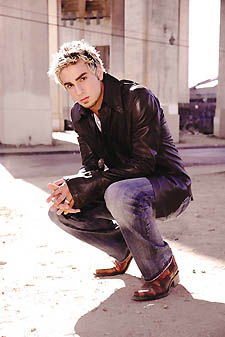 Wade Robson
In any event, better to hold out hope for an upcoming MTV series. When it was originally announced back in April, this show was said to be about "dance music," though logic, and recent information, suggests it may be just about "dance" instead. The man -- boy actually, since he's only 19 -- behind the show is cutie-patootie Aussie Wade Robson, Britney's and N'Sync's choreographer as well as an aspiring musician and filmmaker. The show, tentatively known as "The Wade Robson Project," will begin filming at the end of the month with a competition among aspiring dancers. What about aspiring dance poppers? No word on that. Given recent events, best not to hold your breath.
STAYIN' ALIVE… We can always relive the past when the present fails to pop, I suppose. And if you missed the 2003 Capital Pride Festival's dueling disco divas, or you want to see them again, you're in luck. Thelma Houston and Pepper MaShay will tour with the national disco tour, "Get Up 'N Dance: The Summer's Biggest Party." The Village People, Martha Wash, KC and the Sunshine Band, The Pointer Sisters, Anita Ward and others will relive the magic and celebrate good times. The hitch: you gotta catch a ride to Baltimore, since that's the closest they'll boogie-oogie-oogie to D.C. The glitch: The organizers are still finalizing plans for the actual venue, to be announced this week. They have announced the date, though: Friday, August 15. You may ask, just what is MaShay, who had no part in disco, doing in the mix? The obvious answer is that she was able and willing to perform, while Donna Summer wasn't. And "Bad Girls" has to be sung ya know? Beep-beep, uh-uh.
XANADU-EW-WUH… Another reason MaShay will perform at the disco tour: it's incredibly lucrative. Next time you hear groans about illegal musical file sharing contributing to Starving Artist Syndrome, take it with a grain of malt beverage. Forbes reports that today, artists make so little from record sales, profits of which mostly go to record labels, that they are turning to perpetual touring, with or without new material or a current recording contract. Even long-past-their-prime stars, performing in smaller venues, rake in anywhere from $25,000 on up to $100,000 a gig. Forbes reported on the profits being reaped by'80s acts Olivia Newton-John, Sheena Easton and Taylor Dayne (the latter two are also modern-day dance dabblers), thanks to frequent individual performances at Native American casinos and Las Vegas lounges. And they didn't even mention Pride parades and disco tours. Nice work if you can get it.
IT'S OVER NOW… She's not on tour, and she's not likely to appear on any TV music program, even though she would be a natural choice. But Deborah Cox will get your attention in an even better way, as she releases her first full-length album of dance tracks next Tuesday, July 22. It far surpasses the bonus CD of remixes included in early editions of last year's One Wish (J Records). Unlike similar efforts from other artists, Cox's Remixed (J Records) is one long continuous mix, from the inconsistent mixing duo Al B. Rich (Rich Pangilinan and Albert Castillo). It's effectively a "greatest hits" package, packed as it is with all her hit club remixes since the mid-1990s, or at least radio edits of them, from her lesser-known debut, the David Morales-remixed "Who Do You Love," to the well-known Hex Hector work, including "Nobody's Supposed To Be Here," "Things Just Ain't The Same," "Absolutely Not," and her latest, "Play Your Part." The set also includes three new tracks, including her cover of Phil Collins' "Something Happened on the Way to Heaven" that has just been released as a single. The album is the second "baby" to drop for Cox this month: She gave birth to a boy, Isaiah, July 1.
---