Soundwaves
Gwen Stefani, Seal, Echo and the Bunnymen, and the producers behind pop
POP POWER PRODUCERS… When a pop star needs a hit, she turns to a hit-making pop producer. A pop producer does basically the same work as a dance remixer -- toying with melody, vocals, tempo, rhythm, all to make the song work for its intended audience. But only in the past decade or so have producers become as essential as remixers are on the dance floor, and only recently have they become so well known. Much credit for this has to go to Sean "P. Diddy" Combs. Back when he was Puffy and before he became a Daddy, he paraded himself in the spotlight alongside the pop stars he was working for, in a way foreign to Nellee Hooper, Trevor Horn, Jimmy Jam & Terry Lewis and other silent-but-strong pop producer predecessors. Unlike P. Diddy and his new generation, the old guard still keeps some distance behind its pop-star employers. So you probably aren't aware that Horn, for example, produced one of this week's most eagerly anticipated albums, Seal's Seal IV (Warner), as he has past Seal albums, as well as Depeche Mode. And t.A.T.u., giving the thespian-lesbians a shine they probably didn't deserve.
With the increased attention to the craft, and as the craft increases to merge with out-and-out songwriting, more people are jumping on the producing bandwagon. And then jumping off -- to become artist themselves. The Virginia Beach-based Neptunes are the most active -- and the best -- producers, having transformed Justin Timberlake and fellow teeny-bob Mouseketeers into somewhat reputable hip-hop-pop acts. And the Neptune's Pharrell Williams is making a name for himself, as an appealingly old-school quavering-falsetto singer. But the Neptune's competition is growing by the day, and not just from the also great Virginia Beach-based Timbaland (Missy Elliott, Justin again) or The Matrix (Avril Lavigne, Liz Phair 3.0). The next big fish in producing land? Andre 3000 of Outkast. The modern-day hip-hop reactionary's latest contribution to hip-hop will come Sept. 23, when he and his Outkast partner Big Boi will offer a two-disc set, Speakerboxxx/The Love Below (Arista).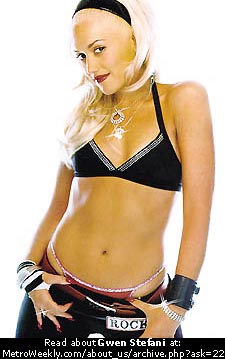 Stefani
But Andre's debut as a pop producer will come next spring. Pop-music's Best Dressed Gwen Stefani has auspiciously enlisted Andre 3000 to produce her long-awaited debut solo album, suggesting that she is as fashion-forward with music as with cloth. That's not much of a surprise, since her group No Doubt has always been musically savvy, growing with each successive album. For her solo album on Interscope, Stefani is collaborating with No Doubt bandmate (and ex) Tony Kanal as well as with lesbian songwriter du jour Linda Perry, who has once again worked with Pink on Pink's next album, Try This (Arista), due in November. Billboard reports Stefani's album "may also include tracks with Missy Elliott," which would be just grand. Besides helping produce the album alongside silent-but-strong producer-types Dallas Austin (TLC, Madonna) and Damon Elliott (Destiny's Child), Andre 3000 will also make a guest appearance on a song he wrote, "Long Way to Go." The song is about an interracial relationship, according to Billboard, and was originally intended for Andre 3000's The Love Below set, but he "didn't feel like my audience was ready to hear this type of song." That's quite a cop-out. Methinks his audience will hear it anyway…
P. DIDDY DANCE UPDATE… Since we dropped his name, we must make mention of P. Diddy's forthcoming dance music album. There, we mentioned it. Obligation fulfilled. On to the next, infinitely more welcome subject…
ECHO BUNNIES… One of the seminal '80s Britpop groups, who've influenced artists ranging from Coldplay to Moby to Radiohead, will celebrate its 25 years together with a world tour. Echo and the Bunnymen didn't see much chart success in the U.S., but did gain airplay with "Lips Like Sugar" and its cover of The Doors' "People Are Strange," among other hits. All of the group's first five albums will be reissued in October, when they launch the U.S. leg of their tour. Group frontman Ian McCulloch toured earlier this year in support of his solo release, Slideling, (spinArt), kicking off the American leg of it at the 9:30 Club in May. But either the audience wasn't up to snuff or there were other scheduling snafus or oversights, because the group will not stop in DC, sadly. The closest they'll get is Webster Hall in New York on Oct. 25…
THE WEB AND OTHER MUSIC INDUSTRY 'ILLS'… Adult porn makers "are much smarter than the music industry," according to one Web porn exec quoted in the New York Times. "They see [file-sharing networks] as money to be made" by distributing through them sample images to attract paying customers to their sites. Among the music industry's other tactics, the newspaper reported on its latest salvo against illegal downloading: encouraging Congress to shut down file sharing networks like KaZaA, equating them with Joe Camel and the tobacco industry, luring underage consumers and hooking them on "ills," in this case pornography. As KaZaA's founder told the Wall Street Journal: "Basically what the [music industry] should do is outlaw the Internet. That's what they want to do"…
Doug Rule can be reached at drule@metroweekly.com.
---