Soundwaves
A World of dance compliations: Paris, Miami, Ibiza and Washington, DC
Dance Segregation… Does dance music, like the weather, change based on where you are? Does dance music in Miami Beach sound different than that in fellow sunspot Ibiza, or that in Paris differ from that in London? How about Washington? Several record labels suggest the answers are yes. But we have to ask: Don't they think dance music has enough gated subdivisions? A house-head may avoid techno because he's never been invited to the techno party, which isn't very inviting to a novice after all. And a dance-popper may discount trance out-of-(glowstick)-hand, sound unheard, because she assumes, wrongly, that you have to be altered to appreciate it (it only helps). Then there's the crux of the problem: most danceheads don't even know the distinctions between the dance genres. That's not surprising, since there is an arbitrary, velvet-rope type quality of exclusion at play.
Can't we leave geography out of it? Actually we should, based on the evidence of the latest attempts at dance segregation. For example, Moonshine Music recently refashioned its popular Bargrooves series, with each of four releases through next year documenting dance music from a different Western city. San Francisco and Milan will be honored in the next two compilations, while one focused on the sounds of Paris was just released. Bargrooves: Espace Prive is a sexy two-disc set that manages to hint at what Paris has become in dance circles: a vestige for early house music sounds, updated sometimes as slow-dance chillout, and other time as unfortunate sax-y smooth jazz.
The problem is that there's ultimately little difference between this Paris set and the previous release, Bargrooves: Al Fresco, ostensibly celebrating London. In fact, the latter features a smoothed-out French song, Ame Strong's "Tout Est Bleu," and the former features an ode to drum 'n' bass, which originated in and pretty much never strayed from London clubs. (Even more confusing, the song itself, "Definition of Dub," comes from the Swedish group Physics.) This supposedly geography-celebrating series doesn't take itself as seriously as one would think, obviously. And it gets worse. In the liner notes to London's Al Fresco, one featured track is celebrated as one that would sound great at "3am on a warm Ibizan evening," and indeed it would; on Paris's Espace Prive, the assembled collection is celebrated as "drenched in pure San Fran soul." So will the coming San Fran collection be stymied in London fog? It only sounds like a bad joke.
George Acosta is one of the few remaining priests of pure, unadulterated trance. Over the years the reach-for-the-heavens sound has become far more grounded, incorporating rock and Moby-style techno-pop. But not in Acosta's world. Latin-pop and tribal house are the key signatures of Miami, but don't tell that to Acosta either. His most recent compilation, George Acosta: Miami (Ultra) unabashedly features the theatrical sounds of European trance-pop, a sound that has barely changed in a decade. But we're supposed to be in Miami, remember. The compilation does manage to reflect the sunny, unblemished optimism of the place at least, with song titles summing up the experience: "Rush," "Stealing Beauty," "Let the Light Shine In," "Velvet Morning."
Meanwhile Ibiza, through the eyes of Pete Tong's Essential Selections (Moonshine), underscores the changes over the years to trance, now barely recognizable as the choice of raver kids everywhere. Tong's collection suggests that this reigning Spanish dance musical capital is grittier, funkier and altogether sexier than Miami, at least as presented by Acosta. But are they really that different? It's hard to imagine. Tong is himself a Londoner except during the summer, where in Ibiza he turns out mid-tempo soulful house jams that sound timeless, harking back to the '80s heavy synthed-era one second, '90s trance the next, with ascendant dance-rock of today throughout. I'll bet he plays the same come wintertime in London.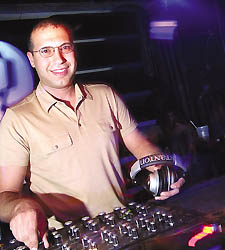 It's almost unheard of to encounter a dance compilation celebrating Washington, D.C. Which is why we automatically praise Black Hole Recordings for giving us One Night at GLOW, even if it does seem created as little more than a promotional vehicle for Club Insomnia's Saturday Glow party. A sticker advertises, "Buy this 2CD and get $20 off admission when you bring a friend to Club Glow!" Still, it'd be just fine by us if Nation's Velvet takes inspiration and releases a similar compilation, perhaps mixed by resident DJ Wess. GLOW, mixed by its resident Pete Moutso, is a solid, satisfying exploration of the throbbing beats of trance, both old-school and new (are you taking notes, George Acosta?). Trance isn't really the sound of D.C. nightlife beyond the Euro-diplo straight set though, and very few of the assembled artists on GLOW appear to be from the area either. There is "Sleaze" by a group named Washington, which seems fitting enough. But the idea of sleazy Washington and the reality of "Sleazy" by the Deep Dish-wannabes in Washington is nothing new, and neither is much anything else here. That is, except for the invigorating, stomping trance remix of Andain's "Beautiful Things" by the Photon Project. In addition to the desire to root for the home-team compilation and to take advantage of the coupon to GLOW, this track makes Moutso's compilation the one to favor.
---